Evenflo Versatile Play Space designed for both indoor and outdoor versatility, the versatile play space offers over 18.5 square feet of safe, enclosed fun. Exclusive reversible legs have outdoor stakes for lawn stability and anti-movement/non-scratch floor pads for any interior floor surface.
Evenflo Versatile Play Space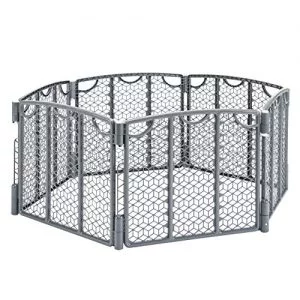 Quick and easy setup and fold, with our unique hinge design-simply, unfold and connect together the six interlocking UV weather-resistant panels. Smooth edges and molded handle making it easy to take anywhere for safety on the go. No tools required.
Features
Reversible legs feature outdoor stakes on one side and no-scratch floor pads on the other.
A portable design ideal for kids and pets.
You can use this product indoors and outdoor.
Push-button entry.
2-panel accessory extender set.
Product dimensions: 35.5 x 29 x 8 inches .
Item weight: 16.88 pounds.