Dispose of your diapers the clean and neat way with the easy saver diaper pail by safety 1st. The safety 1st odorless diaper pail keeps the smell of soiled diapers out of the nursery. It is a convenient one-step diaper disposal system and requires no twisting and turning – just drop the diaper in and go.
Safety 1st Easy Saver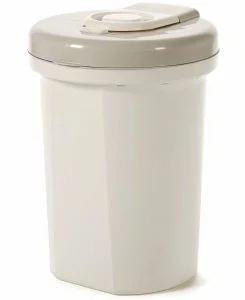 Parents like Safety 1st Saver Diaper Pail that contains the smell as much as advertised. It also provides a more modern look than plastic bins and the child locks help keep out curious toddlers (or older children completing a double-dog-dare). It's durable and high quality.
The pail does not require refills. You can use regular plastic bags to line the pail and dispose of them when you need to. It can handle up to 20 newborn diapers before it requires emptying.
The safety 1st odorless diaper pail is made of plastic, and it could pass for a simple trash can. It has a wide opening that will make disposal quite easy. You do not need to have an insane aim.
Features
Product dimensions: 38.1 x 46.7 x 27.6 cm.
Item model number: 23019.
Item weight: 1.32 Kg.
Material composition: Lead-Free.
Target gender: Unisex.
Easy one-handed use.
Easy standard plastic bags.