The Tommee Tippee Simple diaper pail is the simple, stylish and space-saving solution for keeping your baby's room, clean and odor-free. Multi-layered film and a smart seal lid keep nasty odors contained, saving you numerous trips to the outside trash bin. The diaper pail is also suitable for the disposal of diapers, cotton wool, wipes, and all other trash.
Tommee Tippee Simplee Pail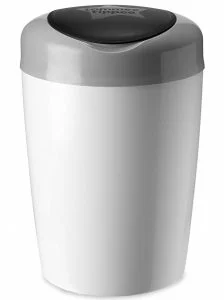 The Tommee pail holds up to 18 diapers reducing trips to the outside trash bin but is small enough to be located in a nursery cupboard or in a discreet location in the bathroom.
All odors are contained by both the multi-layer film and the smart lid stopping any nasty odors from escaping. The Tommee diaper pail refill cartridges offer great value as they can hold up to 180 diapers. The refill cartridges are available in twin and four-pack formats.
Features
Product dimensions: 41.7 x 29.5 x 25.7 cm.
Model number: 555215.
Material: fabric, wool.
Item weight: 2.18 Kg.