HABA Airplane Baby Swing – Indoor Mounted, Adjustable Polyester Baby Swing With Spinning Propeller. Let your little pilot's imagination take flight in this fun, plush airplane baby swing and watch as your little one flies to and fro with delight. 
HABA Aircraft Swing – Indoor Mounted Baby Swing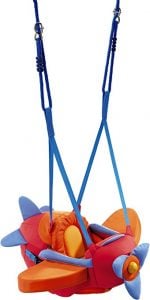 Adjustable straps let you adapt the seat to your child's size, while the expertly crafted designed keeps your child safe, so you don't have to worry about packing a parachute.
The HABA Aircraft indoor mounted baby swing is one such swing. It is super safe for toddlers to use as long as it is set up well. The swing is designed to look like a colourful little safari plane. Your child will certainly feel like a pilot swinging in it.
This toddler swing can be adjusted in different ways. It can be adjusted to make it bigger and more comfortable for a growing baby. You can also adjust its distance from the floor to make it more comfortable or safe for your baby to use.
The way this swing is designed enables parents to hang it both indoors and outdoors. You can hang it in from the ceiling, the doorway, or that steady tree branch out on the lawn. However, if you decide to hang it outdoor, remember to always unhang it and bring it inside when done because not every part of it is waterproof.
Features
Product dimensions: 20.9 x 16.2 x 14.1 inches .
Product weight: 6.17 pounds.
Target gender: Unisex.
Maximum weight bearing capacity: 50 Pounds.
Additional product features: Swing.
Made from washable polyester.