Ingenuity especially designed the Simple Comfort Cradling Swing to make mom's day more simple and convenient, without breaking the bank. This innovative oversized seat with adjustable recline rotates 180 degrees to keep the baby in a better view of the mom, and the baby can swing in not 1, not 2, but 3 directions.
Ingenuity SimpleComfort Cradling Swing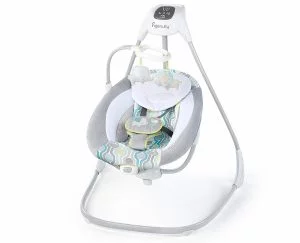 The super lightweight frame has wheels and a convenient easy-to-pull handle which makes it simple to move this full-size swing from room to room. Moms, you never have to spend money on batteries with the included AC adaptor.
From the Gentle Touch control panel, customize baby's experience with soothing vibration, 8 melodies, and 3 nature sounds. Get a few hands-free moments with a swing timer that can be set to 30, 45, or 60 minutes.
True Speed technology maintains 6 consistent speeds-even as the baby grows. Whisper Quiet technology allows the baby to swing in silence. The mobile is adorned with 2 adorable plush characters for baby to engage with while they are cradled in soft fabrics.
When things get a little messy, the seat pad can be removed and tossed in the washing machine. The tasteful fashion is sure to complement the decor of any home and is perfect for a girl or boy.
Customer Reports
Andi M.
Lifesaver for sure! My parents have this at their house since my mom babysits my daughter while at work. My baby is above average size-wise so she won't get the use a "regular" baby would as she is almost outgrowing it and she's barely 10 weeks old. But she does love it and helps my mom get some things done while she naps or plays in the swing.
Earl and Karen
The baby loves it. Keeps her occupied and helps with getting her asleep. It arrived in a timely manner and was very easy to assemble.
Yvonne
I purchased this for a friend and it included everything I was looking for. I love that it has a power cord and not battery powered. It also has wheels so it is easy to move from room to room. Easy to assemble and lightweight. Very good value for this product.
Christina H.
Love this swing. It's compact but still a full-size swing. The colors are cute and it was so easy to put together! The only thing is, every once and a while it does stop swinging for a few seconds but then starts again. Not a big deal for me.
Features
Product dimensions: 27 x 29 x 35 inches.
Product weight: 8.73 pounds.
Item model number: 11149-1.
Maximum weight recommendation: 19.84 Pounds.
Battery life: 60 hours.
Seat rotates 180 degrees for 3 swing directions.
6 Speeds.
8 Melodies (Music).
3 nature sounds and white noise.
Easy to move around the house.
2 position recline to soothe.
Soothing vibrations.
Learn more about the best baby swings and bouncers in our review.