Mika Micky Bedside Sleeper and Portable Bassinet easy Folding Portable Crib. This crib, unlike any of the prior-reviewed models, is designed to sit directly next to a bed. This way, parents can easily tend to their child at night and when the child is in need of assistance. The crib is situated high off of the crib, sitting on top of two sets of wheels.
Mika Micky Bedside Sleeper Easy Folding Portable Bassinet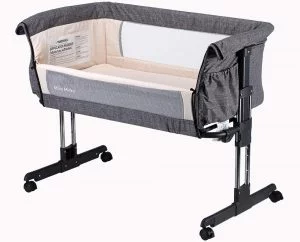 New parents are greatly satisfied with Mika Micky Bassinet's bedside sleeper. Many mothers enjoy the ease of access to their newborn child for feeding in the middle of the night as well as tending to their unsettled baby.
This bedside sleeper can also be turned into a standard bassinet alone, and you can move it from one place to another easily. Mika Micky Bedside Sleeper Easy Folding Portable Crib is lightweight – perfect for traveling.
It comes with 7 adjustable height positions to suit the adult bed. It is excellent for long-term use as it can be used from birth up to 5 months. It features a stable and sturdy bottom along with a soft mattress so that your baby can sleep soundly.
Mika Micky Portable Bassinet and Crib is among the best bedside sleepers due to its added convenience and flexibility of the drop-side and adjustable mattress height. Boasting 7 different height positions, the bassinet can adjust anywhere between 24 to 33 inches which will ensure it will match the height of your bed perfectly. 
Being a bedside sleeper means it's excellent for parents who want to have their baby next to them while sleeping and also for breastfeeding moms or moms who underwent a C-section and need the extra rest for a few weeks after coming back home.
Baby cribs are an indispensable item in the nursery when you welcome a new baby to the family. Even though babies will outgrow the crib relatively fast and then move on to a cot, they will still spend between 2 – 3 years in one so this is a quality baby crib is important.
Mika Micky Bedside Sleeper Portable Crib is designed for babies up to 33 lbs or until they physically outgrow the bassinet and can sit up by themselves. Then it's time for a larger baby crib.
Features
| | |
| --- | --- |
| Product dimensions | 38.2 x 24.8 x 5.5 inches |
| Product weight | 25.2 pounds |
| Shipping weight | 25.2 pounds |
| Best for | Suitable from Birth to 5-months |
| Height Adjustment | 7 Positions |
| Batteries Required | No |
| Wheels | Yes |
Customer Reports
Amazon Customer
I absolutely love this for my baby. It is so nice to have him close enough for me to check on him without getting out of bed. The bassinet is of better quality than I expected ( never heard of the brand and was a little concerned). It looks great and was easy to assemble. It is sturdy and secure. The wheel locks are strong and it comes with additional straps to hook under the bed mattress so the bassinet with not budge. The mattress is firm and the cover is removable and washable.
Derrik A.
I chose this over the Halo bassinet and am so glad I did. First, it cost significantly less. That aside, it works perfectly for a post-C section mom looking to not have a wall of the bassinet between her and the baby which requires more sitting up in bed. It was easy to assemble, is very solid and has a large sleeping space that will accommodate a growing baby. Highly recommend!
Chelsy Rae Binyon
Super fast delivery. Easy to assemble. Perfect for somebody who doesn't have an actual bed frame like me. It goes super low and super high extremely stable I had ordered another one the halo I believe and it was way too bulky. It zips down on the sides for easy access to your baby again especially if you have a bed with no frame. The mattress is a little firm but You could easily put a soft pad or a blanket and you don't want anything too soft anyway or surround her baby with too many things so they don't suffocate. I'm super happy and would recommend the sleeper side bed bassinet to anybody! Very satisfied!
Liddlewildcat
I bought this for my granddaughter. Her mom (my daughter-in-law) is breastfeeding. This baby bed lines up with my son and daughter-in-law's bed so she can just unlatch the baby bed wall and it lays on the regular bed. My daughter-in-law can reach over and get my granddaughter without and problems. She had a cesarean and this bed has made it easier for her to breastfeed my granddaughter. It has 7 different levels, so it will fit all beds!
Check out our review of the best baby bassinets on the market right now.