Often times, it is always hard to get the right pushchair for your baby that is suitable for all terrains, be it muddy, sandy, or rocky. Are you an expecting mother tired of checking the right pushchair for your little one?
Bugaboo buffalo is the right choice. Are you a grandparent looking for the right gift for your sweet grandchild? Bugaboo buffalo is a nice option. It is ideal for outdoor walks, and it is designated in such a way that it has special features in case of picnics; thus bugaboo has various special features that makes parenting much easier and you don't have to worry when you decide to go out for a walk with your husband.
You can always stroll and have a close view of your baby while you enjoy your moment together as a family.
Description
The Bugaboo Buffalo is a four-wheeled pushchair that has been modified for comfort and is suitable for all terrains. It might be a muddy ground, sidewalk, or a sandy beach but the four-wheel; the swivel wheels in front (two wheels) and the rear wheels at the back (two wheels) are non-puncture wheels that are strong for any terrain type.
At times it looks impossible to get a pushchair that has the necessary features, the seat for the baby with a sun canopy to shield the baby from sunshine. It also has a strong under-seat basket that can hold your bag or goods in case of sidewalk shopping, so you don't have to worry about you loading grocery bags on the hand bar and having a fear of the stroller swaying.
Bugaboo Fox 2 Complete Full-Size All-Terrain Stroller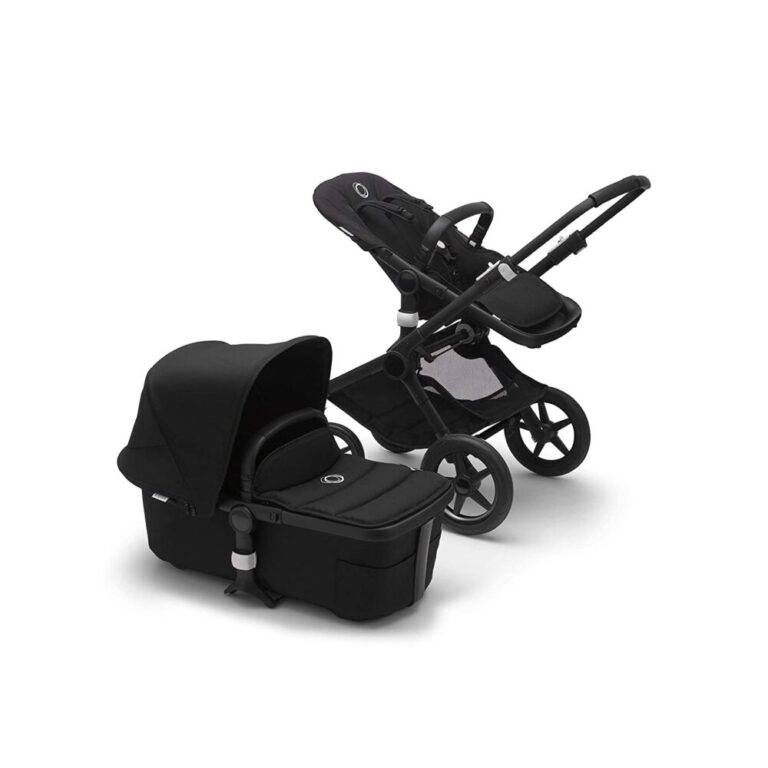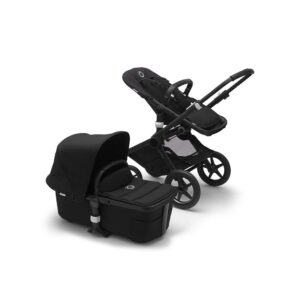 The Bugaboo is the world's first stroller with an official safety authorization to store up to 6kg on the hand bar and as much as 10kg in the under-seat basket. You can as well see that this is the right choice. The handlebar has the necessary adjustments in case you want to adjust the pushchair to your desired height.
The seat unit has the pram which is suitable for little babies from birth till 4 to 6months because it has the necessary features that provide the basic comfort and make it easier to nap because the seat unit can be tuned in a way that might prop the pram backward to provide the perfect napping position for the baby with the sun canopy shielding the sunshine.
Although most times, to get the stroller out of the bus or into the elevator might seem stressful because of the manoeuvers but still the swivel wheels make it easier to manoeuver. While pushing your baby, there is a handle in the backrest that can switch the seat unit to face you directly so that you can have a direct glimpse of your baby.
You can imagine how wonderful it is having a nice conversation with your little one while enjoying the stroll together. So also the shoulder straps are useful because it keeps the baby in position and to stay firm to avoid injuries in case of bumps or to avoid any form of injury. In the case of outdoor picnics, you don't have to worry about having your baby in your arms throughout the day. The seat is made in such a way that it is detachable, and you can place the seat next to you with your baby strapped while you enjoy your picnic together.
Some of the parts of the Bugaboo Buffalo are listed below.
Seat unit
Under-seat basket
Bassinet
Handlebar
Chassis
Ram cover
Sun canopy
Wires and clamps
Wheel locks
Apron
Swivel wheel
Rear wheels
Pram
Carry handle
Shoulder straps
In case you need more accessories to add to the one available in the Bugaboo, you can get the following to ease your convenience.
Cup holder
Parasol
Car seat adapter
Specifications
Easy Assemblage
One of the special features of the Bugaboo Buffalo is its easy assemblage. It has an instruction manual that shows the required steps in setting up the pushchair in a simple and understanding way, so you don't have to worry about setting up a pushchair for your little one.
Perhaps you get confused. You can always watch a demo that shows the necessary steps in setting up the bugaboo without stress. The instruction manual is easy to understand with the ordered steps. So you have no problem with assemblage.
Manoeuver ability
Most pushchairs are known to be three-wheeled, but the bugaboo buffalo is a four-wheeler. I'm sure you're thinking how easy it's going to be being able to manoeuver bends and corners. The wheels are non-puncture wheels with swivel wheels that make it easy to move freely around corners and bends.
The wheels are firm and yet flexible, so you don't have to worry about the wheels getting stiff, stuck, or withdrawing back while cutting corners. The non-puncture wheels are firm and give easy strides to the pushchair even while you push your baby.
Folding/Unfolding
Perhaps you're on your way to a grocery store or park, and you don't have to worry about how to carry your pushchair. The pushchair can be folded easily into two, and all you have to do is put it in the trunk of your car. You can fold it without stress and also unfold. It is easy to fold because the seat covers are with the sun canopy are strong but really flexible for easy folding and unfolding.
Comfort
Starting from the sun canopy, to the seat unit, under-seat basket down to the wheels is all made for comfortability. The sun canopy is to shield the baby from excess sunlight, and in case of rain, the rain cover is available, which protects the baby from being drenched whenever it's drizzling or raining.
The handlebar is used for adjusting the pushchair to the required height, and you don't have to worry about stooping or crouching while strolling with your baby.
The seat unit has various features; when your baby feels sleepy you can fix him in the nap position while he enjoys the breeze from the stroll and at times when your baby wants to enjoy the view around him from the bugaboo, you can put him in the seating position with his shoulder straps on while your baby enjoys the beautiful scenery together with you without missing out a bit. The Bugaboo buffalo has enough comfort to offer to your baby.
Storage
The under-seat basket is one of the wonderful features of this bugaboo because it can carry as much as 10kg of load, and you don't have to worry about filling your hands with grocery bags while you pull your baby. You can easily put your grocery shoppings inside the under-seat basket while you push the stroller.
Durability
The Bugaboo is known for its durability. It is durable, strong, suitable for children from birth until as old as 4years. It is perfect for an ideal parent even though it is one of the most expensive pushchairs in the market still it is worth its money and total package and once it's bought, you have a 3years warranty.
A lot of parents who got Bugaboo for their first kid are still using it for their second and third kinds because of its high durability. No doubt, a lot of parents love bugaboo because it is tested, trusted, and reliable.
Style
The Bugaboo is of the latest trend and best features that provide an easy ride, storage, easy folding, instruction booklet with simple to follow images, easy assemblage with a 3year warranty.
Importance
Easier parenting
With a stroller within reach, you don't have to disturb yourself carrying your baby in your arms while you stroll or looking for someone to keep your baby with, it is stressful at times, but having a stroller, you can always go out with your child whenever you wish.
Reduces stress and tension
A pushchair relieves stress a lot. You don't have to stress yourself shifting your baby to different hands at intervals while strolling or in the mall.
Easy movement
More time spent together as a family.
Pros and cons of bugaboo buffalo
Pros
√ comfort
√ great storage space
√ seat with shoulder strap (easy to loosen and tighten)
√ extendable seat canopy
√ adjusting hand bars
√ manoeuver ability
√different recline positions
√ no puncture wheels
√ durability
√ easy assemblage
√ easy folding
√easy access to your baby(the stroller can rotate and you have your baby facing you whole you stroll on)
√ detachable seat
√ seat with different features (nap position, sleeping position)
√ purchase comes with a 3year warranty.
Cons
√ large
√heavy when folded
√heavy to lift
√ expensive
Usage
The Bugaboo Buffalo is suited for strolls, walks no matter the terrain. Once assembled properly, you can go out for a walk with your little one with the shoulder strap fixed in place in case the baby leaps in excitement or joy.
In the case of blazing sunshine, you can extend the sun canopy to provide the necessary shade from the sunlight. So also, while it's raining, the rain cover will protect your baby from being drenched, and then during winter, the fur canopy, which is an extra accessory will provide the needed warmth for your baby. Mostly the Bugaboo buffalo is for babies from as young as a month old to a 4year old.
This bugaboo offers a lot of advantages in that it lasts longer, and the babies up to 4years of age can still use the pushchair. So far, it is unisex and not sex restricted, so any baby can enjoy the pushchair till they're old enough as of 4years of age.
Maintenance
Ensure to brush dirt away from rotating, gliding, sliding parts and joints to avoid it getting the parts stuck and filled up with dirt.
Use a soft brush to brush away all the dirt from the wheels and chassis.
Get a soft towel and dip in lukewarm water, then use it to clean the chassis, after that get a dry towel and use to dry the remaining water.
Remove cloth parts and wash with lukewarm water.
Get a clean towel and dip in lukewarm water, use it to clean the metal parts.
Use a soft towel to dust the seat unit
Use a clean towel dipped in water and wrung water-free to clean the under-seat basket.
Do not use strong chemicals like bleach to wash or clean the stroller.
Safety tips
Make sure you read the instruction booklet and follow the necessary guidelines.
Do not use your bugaboo buffalo on the stairs.
Always endeavor to apply brakes while placing and removing your child to avoid any form of accident or injury.
Although the Bugaboo buffalo provides a suitable position for naps but don't let it replace your baby's cot, bed, or nursery.
Never keep your child in the seat unit unstrapped.
Be careful of the risk of an open fire and naked wires
take note of broken plastics or bent metals to avoid injury.
Do not use the product if any part of it is missing.
Do not leave your child unattended.
Make sure you use the brakes when necessary.
Conclusion
The Bugaboo Buffalo is a top-notch all-purpose stroller. Although it might be expensive, it has the necessary features like the recliner positions, hand bars, shoulder straps, the under-seat basket, the extendable sun canopy, the wheels which provide comfort for both the baby and the parent.
The Bugaboo Buffalo is one of a kind, and of the other strollers, it is the world's first stroller with an official safety authorization to hold up 6kg on the handlebar and 10 kg in the under-seat which is really amazing. Asides that it is used as a travel system for babies when used with a car seat adapter.
All these wonderful features are what single out bugaboo buffalo and what makes parenting easier. Bugaboo buffalo is the parents' choice.