Being a mother is a beautiful feeling, which comes with so many responsibilities. A baby needs proper care for almost 12 months at the start. In the first six months, a baby needs the utmost attention, whether it's the food or the clothes, everything should be considered.
As hygiene plays an important role in the growing months. Traditional ways took so much time to do everything.
In such a case, going with the purchase of a quality Baby bottle sterilizers can come in handy. It helps to clean the bottle from all those bad germs and bacteria, which can cause any health issue to your baby.
As sterilizing is important, you should do it once in a while. It is necessary to sterilize the bottle before its first use. After the growing months, when the baby starts to put everything in the mouth, there is no point in using sterilizers.
5 Best Baby Bottle Sterilizers – Top Rated
There are many sizes available in sterilizers, so invest in a product that will fit your kitchen space as the small sterilizers are more portable and easier to use and can also reduce efforts. Ergonomic design helps the parent to keep it easy clean. There are many sterilizers that offer an auto-cut feature which turns off when it is not in process.
Using a quality baby bottle sterilizer can easily mix the formula milk and come in handy to avoid ruining the quality of food. There are a huge number of options available in the market, and if you want to choose the best, then being selective is important for sure.
We are considering build quality, design, effective usability, and various other factors to come up with the right product. Let's have a deep dive –
1. Philips Avent 3-in-1 Electric Steam Sterilizer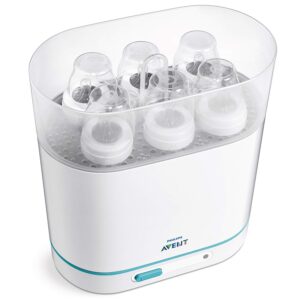 With the brand credibility of Philips and positive reviews about the Philips AVENT 3-in-1 Electric Steam Sterilizer, you can claim it as the genuine product of choice. It has the capability to kill 99.99% bacteria and other harmful germs without the use of any chemical, which makes it highly reliable for your baby.
The best part is, it can easily sterilize feeding bottles under six minutes. After that, it turns off to avoid all kinds of issues.
Features:
24 Hour of protection from germs if the lid stays closed.

It has 3 in 1 adjustable modular design

It has a capacity of 6 Philips Avent 11-ounce bottles.
Pros:
Absolutely easy to use design to ensure the best purchase.

Made up of food-grade material for safer use.

It turns off automatically after sterilizing bottles.

Polypropylene is used in the manufacturing of it.
Cons:
The auto-turn of the feature doesn't work sometimes.
Only compatible with Avent 11-ounce bottles.
2. Papablic Baby Bottle Electric Steam Sterilizer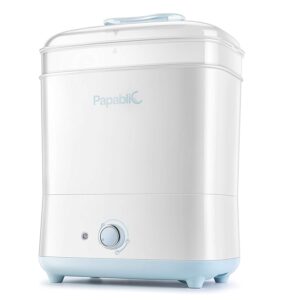 Our next deal is slightly expensive, but it is one in all kinds to rely on without having a single issue. With the purchase of Papablic Baby Bottle Electric Steam Sterilizer and Dryer, you can expect complete cleaning, easy to use design and compatibility with various sized bottles.
It has a capacity of cleaning 11 bottles at a time, which ensures safer use. Even, it has an adjustable knob which makes the whole work easier for the first-time user. The only drawback is a slightly expensive price point.
Features:
Large capacity of cleaning 11 bottles at a time.

3-IN-1 design, easy to adjust with a knob.

It can sterilize with steam in a couple of seconds.
Pros:
Storage is very clean for sure.

Smooth interface, absolutely easy to use.

Sterilize with steam and quite effectively.

Compatible with different sized bottles.
Cons:
Build quality is not that superior to the price.
3. Eccomum Baby Bottle Sterilizer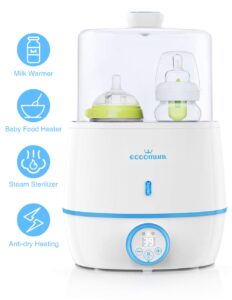 With the six in one functionality, Eccomum Baby Bottle Warmer & Bottle Sterilizer is a great product that comes as the perfect product of choice. It has a double bottle design & steam sterilize, which can enhance your overall experience.
Even, it has an LCD display which can bring all the basic details at the front screen to enjoy. All these things are making it one of the great deals as compared to the other ones. Even, it comes for an affordable price point, that's why you can rely on it.
Features:
It comes with a Small LCD display

It has 6-in-1 Functions.

Fast heating process for quick time use.
Pros:
The small display helps to get all the basic details.

Come for a genuine price point as compared to others.

Quick heating makes it work quite effectively.

Anti-Dry Heating for safer use.
Cons:
The issue is with the compatibility of heating bottles.
4. Dr. Brown's Deluxe Bottle Sterilizer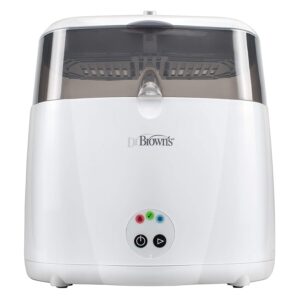 This product is made with polypropylene plastic or borosilicate glass, which is BPA free, which reduces heath issues. The sterilizer has cycle indicators and also auto cut-off when the cycle is completed. With a design of removable tray, this product is so much easy to clean; it also designed as the bottle can be in a perfect position to get the stream easily.
With a dimension of 13.3×12.8×10 inches, the tray can easily hold the nipples, body parts, and even pacifiers, however, it can be a good choice to keep all the parts clean at once.
Features:
Effective design for easier use.

Plenty of advanced features.

Take less time and come with a warranty.
Pros:
Tongs and measuring cup is beneficial.

Great for larger bottles

Much improvement from the previous model
Cons:
The cycle is fast, but it takes some time to cool down everything.

Water dropping when opening the lid because of flip-open design

Heating problems after some time
5. Baby Brezza Baby Bottle Sterilizer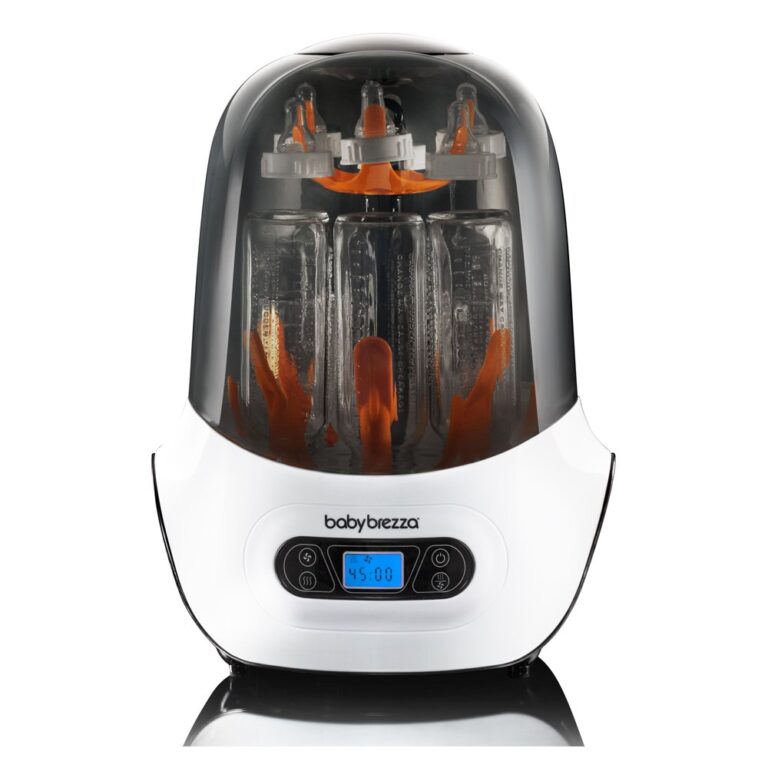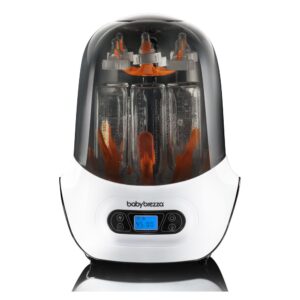 With a universal fit for all glass, plastic, and newborn baby bottles, this product offers so many features. With a large capacity which can easily sterilize six bottles at once. LED control panel will let you easily access all the control which it offers. It uses a stainless-steel heating plate, which is rust free and hard water build-up, which can assure you the fine life f the product.
The best thing about this sterilizer is that it dries up the bottles and pump parts, which save more time than the others. The natural stream it produces kills 99.99% bacteria and also stays lean for twenty-hours if it is unopened.
The four in one functionality helps it to be used as sterilizer only, sterilizer and dryer, dryer only, and also as a storage system.
Features:
Small display for details.

Compatible with many sizes.

It has a dryer machine inside.
Pros:
Dryer function works superfine

Easy to use design ensure the best use.

Genuine built quality for effective use.
Cons:
The price is quite high for this product.
Final Words
As we all know that mothers are always conscious about the life of their babies. Sterilizing a bottle is just a part of a mother's duty to keep their babies safe so that they won't face any health-related issues lately.
Above given are some of the baby bottle sterilizers according to the features, capacity, and reviews to lead you in the right direction.
There are three common types of sterilizers. Steam sterilizer, U/V portable sterilizer, and cold-water sterilizers. Before investing in any product, check the different qualities for all these different sterilizers to buy the one according to your budget and need.