The Zoe XL2 Best Double Stroller is the ultimate, compact, everyday, pop in and out, run and errand, travel around the world, double stroller for on-the-go parents that are tired of their bulky twin stroller.
Our customer needs a double stroller that is well built, includes high-end quality construction, features and add-on accessories without the heavyweight of other "lightweight" double strollers and full-sized tandem strollers.
ZOE XL2 Best Double Stroller – Everyday Twin Stroller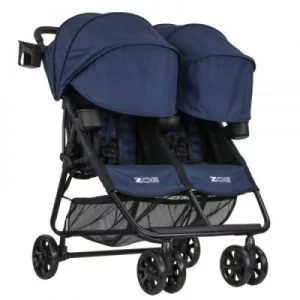 The XLBest double weighs only 19 lbs. That's right 19 lbs. That is less than most "lightweight" single stroller. For all of the moms, dads out there that have experience with just about any other double side by side or tandem stroller.
This is a huge idea, you truly have to feel how lightweight the XL2 Best Double in person to believe it.
Features
Disney approved the stroller.
50 lbs per seat carrying capacity.
Independent seat recline.
Independent canopies.
Adjustable footrest.
Infant and older age recommendation.
Seat dimensions: 12″ Width x 9″ Depth.
Rear-wheel diameter: 6 3/4″.
Travel backpack & storage bag.
Ventilated rain and snow weather cover.
Shoulder carry strap.
Parent console.
1/2 Belly bar.
Product dimensions: 10 x 10 x 10 inches.
Product weight: 11 pounds.