The original Diaper Dekor Plus hands-free diaper pails are beloved by parents everywhere. Thanks to the Step and Drop function, which makes them the easiest to use, and the ABS Plastic which does not absorb odor like cheaper plastic.
Diaper Dekor Plus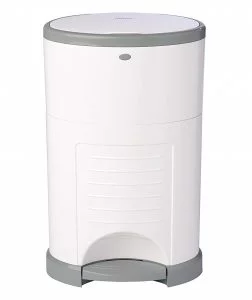 Dekor is truly the best system on the market. Now the Dekor Plus is available in an array of beautiful decorator 'colors.' Easy to empty when full, easy to install a new refill when you run out and the convenience of a continuous refill liner which allows you to use just the amount you need – reducing waste.
A handy lockout hidden under the top cover helps keep curious toddlers out. A large opening will easily accommodate larger disposable and cloth diapers, not just tiny newborn diapers. Pop the diaper insert out when you are out of the diaper stage and you can continue to use your Dekor as a beautiful trash can. Many users like Dekor for pet litter boxes too.
Features
Product dimensions: 61 x 38.1 x 27.9 cm.
Item weight: 454 g.
Item model number: 2-12026-1.
Material: Phthalate Free, Latex Free, Lead-Free.
Target gender: Unisex.
Step and drop function.
Lockout feature.
It can be used for pet litter.
Turns into the trash can.