The HALO Bassinest Swivel Sleeper is a revolutionary bassinet and the only of its' kind, With 360 rotation and swiveling capabilities the more the bassinet moves – the less you do making nursing and tending to baby easier from bed during your recovery period. 
Halo Swivel Sleeper Bassinet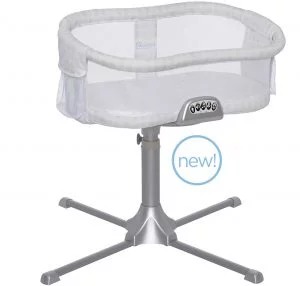 The Halo Bassinest Swivel Sleeper is equipped with lowering sidewalls that are easily moved up and down with a gentle touch and can be locked into position if desired for added safety. Mesh sidewalls allow for easy visibility for baby and parents as well as maximum breathability and ventilation.
The height of the bassinet is adjustable from 24" to 34", but check to make sure it will work for your bed, especially if your bed is really high or low. The bassinet also has to mesh walls so that you see your child and to provide greater breathability. All versions feature a removable mattress with a fitted sheet.
Features
Product dimensions: 35 x 19 x 12 inches.
Item weight: 47.2 pounds.
Batteries: 3 AA batteries required.
Target gender: Unisex.
Material type: Polyester.
Style: Bassinet.
Shipping weight: 47.4 pounds.