The Chicco TRE is designed to keep up with fast-paced families from everyday outings all the way to race day. A lightweight aluminum frame, sleek three-wheel design, deceleration hand brake, and 16″ pneumatic rear tires make it easy to maneuver. And dual FlexCore suspension adjusts for smooth or rugged terrain.
Chicco TRE Jogging Stroller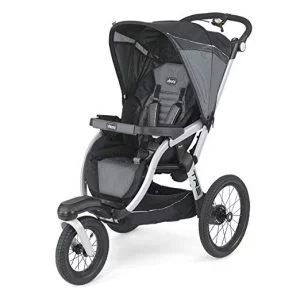 For smaller babies, the TRE accepts all KeyFit and Fit2 infant car seats. A full-coverage canopy with a zippered extension panel and flippable mesh vent/tinted window provides comfortable shade from the sun.
The TRE features an exclusive Control Console with hand-operated functionality that's easy to access while strolling. The front swivel wheel can be locked/unlocked from the console for on-the-go adjustment.
Features
Built for performance.
Accept an infant car seat.
Puts Maneuverability at your fingertips.
Exclusive control console with hand-operated controls from the parent tray.
16″ rear pneumatic tires for high-fitness jogging.
Hand-operated park/deceleration brake and swivel look.
The seat is removable to create a lightweight frame carrier.
Adjustable FlexCore suspension for varied terrain.
Product dimensions: 47.5 x 25.5 x 42 inches.
Product weight: 28.5 pounds.
Front-wheel diameter: 12 inches.
Rear-wheel diameter: 16 inches.