When you have places to go, the Ingenuity Power Portable Swing-Braden Portable Swing is easy to take with you. The compact frame is easy to transport, with all the same features you'd expect from a full-sized swing. Your baby can rest easy while enjoying automatic swinging motions.
Ingenuity Power Adapt Portable Swing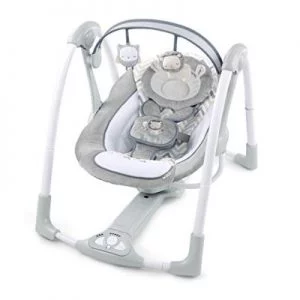 Braden Portable Swing designed for ease of use, you can enjoy the dual benefits of plug-in technology and batteries use the AC adapter when near an outlet or switch to battery mode when away.
The 5-point harness and non-slip feet ensure your baby's safety, and comfort is in full swing with the ultra-soft seat pad. The swing grows with your baby thanks to weight-adapting technology, and the extra head support can be removed when the baby outgrows it. Your baby's happy place can be at home or on-the-go with this swing. Wash fabrics with cold water, gentle cycle.
Like the Ingenuity Comfort portable baby swing, this one too has a five-point safety harness. This harness is padded comfortable and well-made to secure your baby on the swing. Your child won't fall off this swing even when the speed is at maximum.
Features
Product dimensions: 26 x 23 x 22.5 inches.
Item weight: 6.68 pounds.
Target gender: Unisex.
Maximum weight recommendation: 19.84 Pounds.
Batteries: 4 D batteries required.
Item model number: 10846-3.
Battery life: 260 hours.
Foldable mini swing.
Switch between AC adopter and batteries.
Extra quiet automatic swing.