The Baby Trend Diaper Champ Deluxe is a popular diaper pail and one we like. Even though it fails to meet our high standards for odor control, it isn't terrible, and with frequent bag changes and realistic expectations, the odor control is reasonable and manageable.
Baby Trend Diaper Champ Deluxe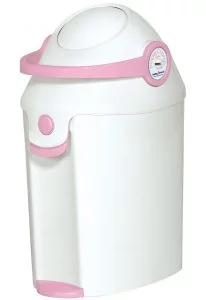 This baby trend diaper champ deluxe is odorless and easy to use. Large capacity holds up to 30 diapers. Use diaper champ refill for maximum odor control or use any 13-gallon trash bag. No assembly required.
The big draw of this pail is the ability to use kitchen trash bags, and we like the convenience and savings for the lifetime of the unit. With its one-hand operation and a flip-top lid for bag removal, this has one of the least expensive products we reviewed that still functions well.
Features
Product dimensions: 11 x 14.5 x 21.6 inches.
Product weight: 6.2 pounds.
Item model number: DC50500K.
Material: Plastic.
Imported.
Large capacity holds up to 30 diapers.
Perfect for stinky diapers.