As you can possibly guess from its name, this baby swing is more of a rocker than a swing. Despite this, I chose to include it in this list because it does the same job as a baby swing. And when I introduce you to some of its most unique features in the next few minutes, you will definitely be happy that I included it.
Tiny Love Nature's Way Bounce and Sway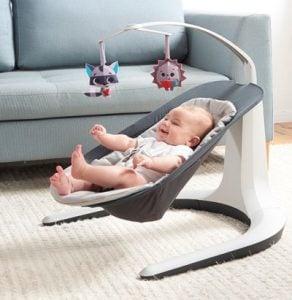 Perhaps the most fascinating thing about this Tiny Love Rocker is the fact that its seat can be reclined to multiple positions. This means it can be customized to make it more comfortable for the baby. For instance, its deepest reclined position is a near-horizontal position. This position is perfect for naptime.
The Tiny Love Nature's Way Bounce and Sway Bouncer is the dual mode bouncer that combines two natural motions: sway and bounce. It only takes a gentle touch to create a natural swaying motion. And as babies move and play, they generate soft bounces. The activity arch features two colorful rattling toys that are perfect for stimulating your baby's vision.
Nature's Way Bounce and Sway also feature an engaging sound module with three different music categories to choose from. Cheerful music is perfect for playtime, and a choice of soothing tunes or white noise is great to help a sleepy baby nod off. Combined with the natural swaying motion, Nature's Way Bounce and Sway provide the ultimate soothing.
Features
Product dimensions: 6.7 x 15.8 x 28.6 inches.
Product weight: 13.01 pounds.
Maximum weight bearing capacity: 25 Pounds.
Power source type: Battery.
Natural generated motions.
The child's movement creates a playful motion.
Calming vibration mode.