Edu-Play 3-in-1 Convertible Swing is more than just a fun activity for kids; it is also valuable for growth and development. Swinging helps with the development of perceptual skills, spatial awareness, and both gross and fine motor skills.
EDU-PLAY Baby Outdoor Swing Seat 3-in-1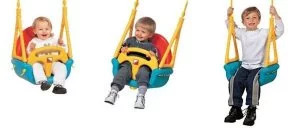 The Edu-Play 3-in-1 Infant-to-Toddler-to-Child Swing is the perfect choice for your baby's first swing because it grows with your child. Unlike most other convertible outdoor swings, the Edu-Play can be used through three stages of child development: – Infant Swing – for ages 6 months to 3 years – Toddler Swing – for ages 3 to 5 years – Child Swing – for ages 5 to 7 years.
The Edu-Play Swing over the competition is the unique design of the triangular handles. Patented by the European Patent Office, the Edu-Play Swing's design ensures that the ropes stay taut without bending or kinking, making the swing more secure. 
Everything you need to assemble and install the Edu-Play swing is included. It can be hung from a sturdy branch or attached to a swing set. When used as an infant swing. The seat can be adjusted at an incline to better support your baby. 
The sturdy T-bar keeps your baby restrained snuggly and securely. Simply remove the T-bar to turn it into a toddler swing. Remove the back, and it's ready for a young child to enjoy. 
The rope handles are fully adjustable, so the swing is always at the perfect height. Made in South Korea in accordance with strict safety standards, the Edu-Play Swing is made of high quality, non-toxic, water-resistant plastic. The bright and lively color combination will look great in any outdoor setting. Swing into action and order the Edu-Play 3-in-1 Convertible Swing today.
Features
Product dimensions: 19 x 15.5 x 10.5 inches.
Item weight: 6.95 pounds.
Shipping weight: 6.95 pounds.
Item model number: SW-1422.
Easy set-up.
Highest quality.
Grows with your child.