The iProven ear with Object mode thermometer has dual-mode to measure the temperature, one is ear mode and the other is a head mode. So it is an ear thermometer with forehead function. It's our Editor's Choice of the best ear thermometers for its upgraded infrared lens technology, which offers better accuracy for temperature measurement.
iProven Baby Forehead and Ear Thermometer with Object Mode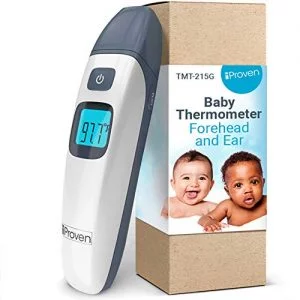 The iProven baby forehead and ear thermometer can also be used as a room or as your baby's bottle thermometer. It has underage testing to guarantee accurate and consistent measurements. The thermometer lights up to warn you if your baby has a fever and features backlit light to allow you to use it at night.
An iProven ear thermometer is a handy tool with ergonomic design. When you need to take a temperature, just grip the ear thermometer body and press a button. Head for head mode or Ear for ear mode.
If you select the ear mode, the temperature can be measured easily in just one click of the Ear button. if you select the head mode, please make sure you hold the thermometer near the forehead for three or more seconds to get better accuracy.
Features
Product dimensions: 17.3 x 6.1 x 4.6 cm.
Batteries required: No.
Item part number: TMT-215-P.
It comes with object mode.
Easy to use.
It comes with a fever warning.
Mute function.