The iProvèn DMT-489G is applicable for all ages. First, it is perfect for parents with little children because it is extremely convenient to take the temperature of your youngster without them even noticing. The Easy back-light screen makes it possible to do so effortlessly at night. Second, this product works just as great for adults.
iProven Baby Forehead and Ear Thermometer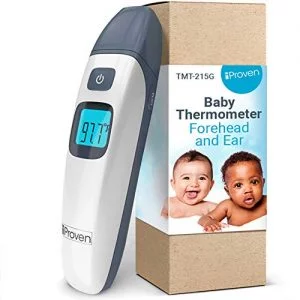 Whether you use the head mode for getting a quick indication (holding it for three seconds).
 The ear mode for getting a spot-on measurement (in one click).
The iProven DMT-489 forehead and ear thermometer are quick and convenient, and you only have to wait one second to see the temperature. The biggest downfall we noticed was the accuracy. We've taken the kids' temperatures twice in a row and have noticed a difference of almost one degree, which is definitely not as accurate of a reading as you'd get with an oral thermometer.
When it comes down to it, we just like the convenience that the iProven DMT-489 forehead and ear thermometer provide. We do have a backup digital thermometer just in case we feel that the readings might be a little off and are wanting a more accurate read.
Features
Package dimensions: 15.8 x 4.9 x 4.1 cm.
Item weight: 118 g.
Item model number: DMT-489g.
It has 2 functionalities. It has both a Forehead and an Ear function.
Extensively clinically tested and FDA approved.
Extremely easy to use.
Professional medical equipment.
Hassle-free.