Honeywell HCM350W GGerm-FreeCool Mist Humidifier, White this Honeywell Germ-Free Humidifier features UV technology that helps kill up to 99.9% of bacteria, mold, and fungus that in our water. 
Honeywell HCM35W Germ Free Cool Mist Humidifier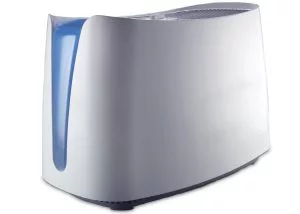 The untreated water flows from the tank into the UV water path where it is exposed to ultra-violet light which kills the mold, bacteria, and fungus in the water.  The now sanitized water enters the base where it is absorbed by the wicking filter. Then the dry indoor air is drawn through the filter absorbing the moisture in Honeywell Cool Mist Humidifier.
It has anti-microbial features and is capable of producing 99.9% germ-free cool mist due to its patented germ killing chamber technology. Hence, you can now enjoy the same benefits of having more than 95% of bacteria in the mist killed as the warm mist humidifier, but without the safety risks of burn injuries.
Considering the quality of the Honeywell Germ-Free Cool Mist Humidifier, this is a relatively inexpensive humidifier. Evaporative models are usually not the most powerful humidifiers, so you do not have to worry about over humidification or condensation of water around the humidifier.
Features
Product dimensions: 44.4 x 23.8 x 30.1 cm. 
Product weight: 4.26 Kg.
Product Type: Home & Kitchen Features.
Works great for Baby cough, Cold, Congestion.
Quiet operation.
Designed for medium size rooms.
3-year warranty.
It comes in two colors: White or Black.