Vicks Warm Mist Humidifier is the best warm mist humidifier for a baby's nursery or bedroom because you can use it with Vicks VapoSteam which you put into the medical cup for liquid inhalants to generate medicated vapor to relieve coughs and congestion that babies are vulnerable to due to their undeveloped immunity system.
Vicks Warm Mist Humidifier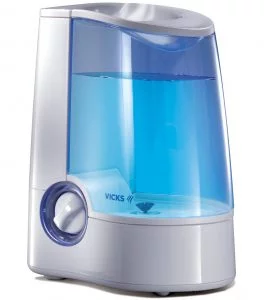 You can also add essential oil inhalants like peppermint or eucalyptus for soothing sleep and additional therapeutic benefits. Another feature that makes Vicks Mist Humidifier suitable for nurseries and bedrooms is the whisper-quiet operation since it does not use a fan.
Despite its expansive coverage of medium to large rooms with protection which lasts up to 12 hours owing to its one-gallon water tank capacity, the unit is compact in size and only weighs 4.25 pounds which makes it easy to set up or move it from one room to another.
In the fight against the flu, your home is a major battleground. Millions of flu particles can linger in the air and on surfaces we touch day in and day out. Recent studies suggest that humidifiers may play an important role in reducing the survival of the flu virus. 
While there is no cure for the common cold, fortunately, there are things parents can do to make children and themselves feel more comfortable. Using a humidifier is definitely one of them. In fact, when a child comes down with a cold the American Academy of Pediatrics recommends running a cool-mist humidifier to provide temporary relief from cough and congestion for better breathing and more comfortable sleep.
Features
Product dimensions: 30.5 x 20 x 36.2 cm.
Item weight: 1.93 Kg.
Item model number: V745A/V745-JUV.
Manufacturer: USA.