As an ultrasonic humidifier, the Pure Enrichment Cool Mist humidifier promises "whisper-quiet operation." Plus, the unit has a modern design, appealing to those who want their humidifier to be more like eye candy instead of an eyesore.
Pure Enriched Cool Mist Humidifier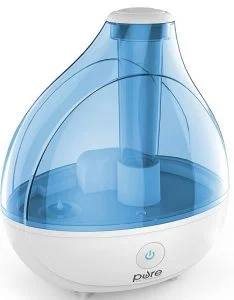 The Cool Mist humidifier reservoir is the ideal size for humidifying most bedrooms, while still being easy to fill by hand. With two output settings, users can choose the best one for their needs. The low setting operates for a full 16 hours, which is more than sufficient for the average night's sleep.
The automatic shut-off ensures safe use, turning the machine off whenever the water level gets too low or the reservoir is removed. This ultrasonic cool mist humidifier by Pure Enrichment has one of the best ratings on the market and is the highest-selling on Amazon. 
This premium humidifying unit is powerful and aesthetically pleasing.  Through its ultrasonic cool mist technology, it safely moisturizes the air for up to 16 hours of continuous use. 
It's 360-degree mist nozzle and dual-speed control make it easy to adjust the direction and speed of the mist to give you maximum comfort.  It has an automatic shut-off that allows it to shut off when the water level is low or the water tank is removed.   
Features
Product dimensions: 27.7 x 23.4 x 17.5 cm.
Material: As shown in the image.
Model number: PEHUMIDIF.
Item weight: 794 g.
The number of items: 1.
Ultrasonic Cool Mist Humidifier.
Automatic Shut-Off.
Night Light Function.