Disperse warm and cool mist throughout your living spaces to create a soothing atmosphere at home with the LEVOIT Hybrid Ultrasonic Humidifier. 
LEVOIT LV600HH hybrid Ultrasonic Humidifier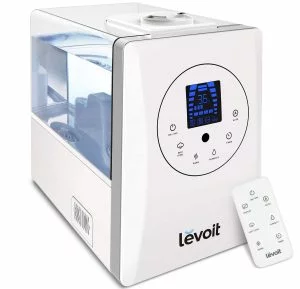 The warm soothing mist ultrasonic Air Humidifier helps eliminate most germs/bacteria, viruses, mold spores, and mineral dust around your living spaces. If you have trouble sleeping at night, the cool mist will alleviate congestion or cough by keeping your throat and nasal passages hydrated. Moisturize your skin and reduce static electricity in your home with the cool mist function.
The Levoit Humidifier has 2/3 of the things we wanted as it's a humidifier and diffuser – but it doesn't have an air purifier. It was one the only humidifier we found in this price range with a built-in diffuser.
It looks so modern and sleek. Plus it's compact "not big and bulky like many". You could bring this in a suitcase when you're traveling. It's like a Mac instead of a PC.
Compared to other humidifiers in this price range "like the homedics warm and cool mist humidifier" it holds more water. I don't know about you but I hate constantly refilling the water tank, so I like that it holds more water without being bulky.
Features
Product dimensions: 28.7 x 17.8 x 26.7 cm.
Product weight: 2.23 Kg.
Item model number: LV600HH.
Ultrasonic warm & cool mist.
Made in USA.
Huge 1.6-gallon water tank.
Remote control option.
Timer option included.