The Crane Penguin Cool Mist Humidifier is a natural way to relieve runny noses and dry coughs. It injects healing moisture into your home with a touch of creative charm. This model is compact, quiet, and effective in rooms of 250 square feet or less. 
Crane USA Filter Free Cool Mist Humidifier for kids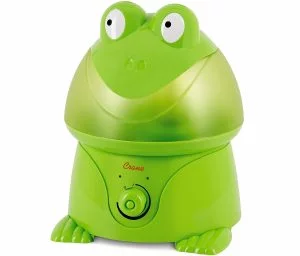 This Crane Penguin humidifier appeals to the imagination of children but even more importantly, it works. A trusted consumer rating agency gave this model top scores for mist output, convenience, noise, and hard water operation. The total runtime per 1-gallon tank is 11 hours, so keep it running throughout the night and even longer for long-lasting relief.
Humidifiers are an ideal choice for relieving the discomforts of nasal congestion, dry itchy skin and hair, chapped lips, nose bleeds, and dry throats. Recent studies by the Center for Disease Control have also shown that relative humidity levels between 43% and 60% help prevent the movement of germs, including the flu virus. 
Humidifiers are especially important for Newborns because they are Obligate Nasal Breathers, breathing only through their tiny noses for their first 4 – 6 months. Any congestion can make breathing, feeding, and sleeping incredibly difficult for your little one.
Antimicrobial Material in the Base to help reduce mold and bacteria growth by up to 99.96%*. This compact, BPA-Free unit uses ultrasonic technology to add humidity to the air, is more efficient than a household light bulb, and includes a built-in auto-shut-off feature that engages when the water tank is empty to ensure safety.
Features
Product dimensions: 9 x 12.8 x 9 inches.
Product weight: 5 pounds.
Shipping weight: 5 pounds.
Item model number: EE-0865.
Whisper Quiet: Runs up to 24 hours.
Auto shut-off.
Humidifies: Up to 500 square feet.
Clean Control: Prevents bacteria growth.
No Filter: Doesn't require a filter to function.