Seventh Generation Free & Clear Overnight Diapers to feature our most absorbent core specially designed to keep baby protected and dry all night long. The bedtime diaper's fluffy, the high capacity core is made with FSC certified sustainably sourced wood fluff pulp (FSC C115279).
Seventh Generation Overnight Diapers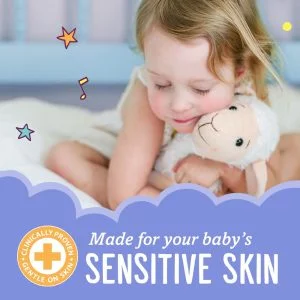 We are working to promote environmentally sound and socially beneficial management of the world's forests. Our NEW Protection for All design features our adorable friend, Sylvia the Sheep, and a rich color pattern making it easy to tell nighttime diapers from regular diapers.
Seventh Generation Free & Clear Diapers are made for baby's sensitive skin and contain 0% chlorine bleaching, lotions or fragrances you and your parents can sleep easy, baby. Caring for a little human is a magical undertaking, and we've developed an entire line of diapers and baby personal care products to bring peace of mind to your journey.
Seventh Generation full collection Free & Clear diapers, training pants, and overnights are designed to grow with your family. For every life-changing milestone, you deserve baby care you can trust. The absorbent core of our diapers is not bleached or processed with chemicals containing chlorine.
Features
May leak from the top edge.
May cause rashes.
Feels rather thin.
Product dimensions: 9.8 x 4.2 x 8.9 inches.
Product weight: 2.2 pounds.
Shipping weight: 8.3 pounds.
Item model number: SG-146C.
Best for babies 22 to 32 pounds.