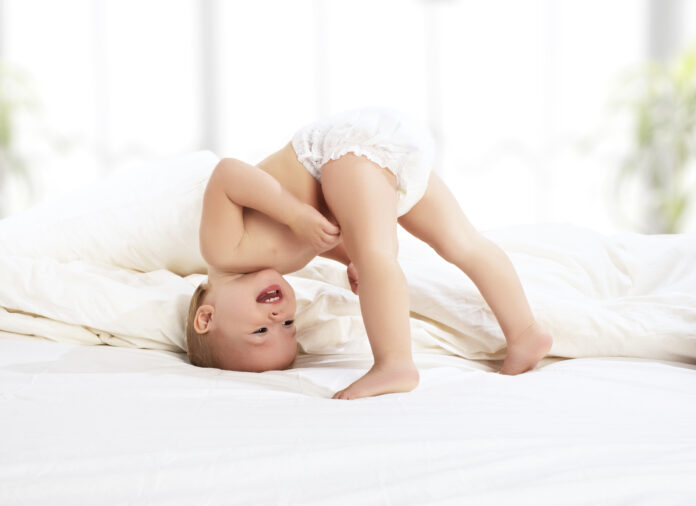 Do you remember your life before kids?
Stylish dress ups, high heels, perfectly manicured nails, and always organized rooms.
Fast forward to your life now with kids!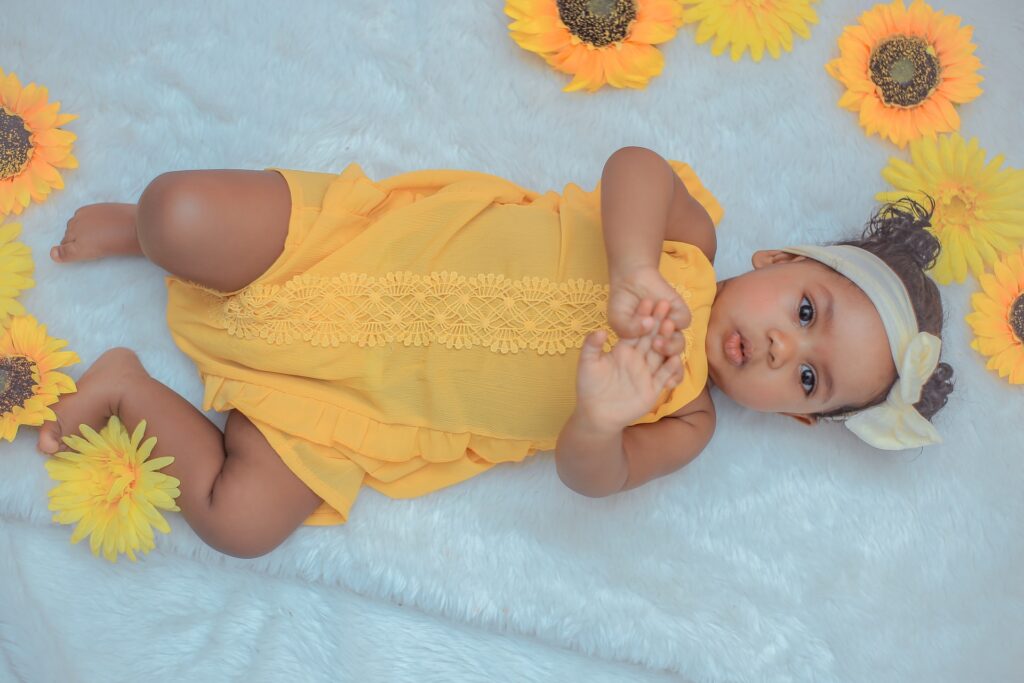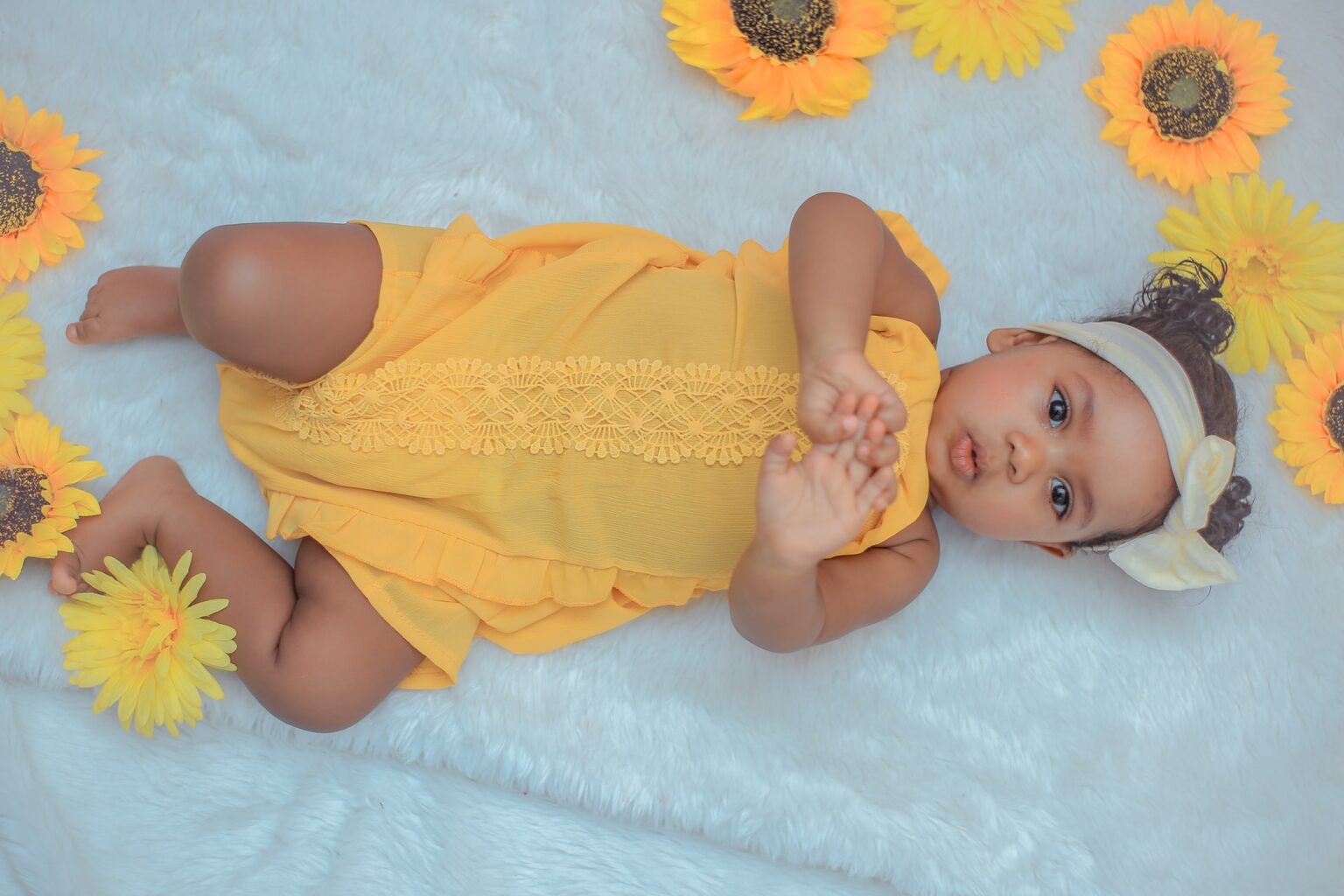 Diapers, medicines, messy hairs, dress being pooped, and vomited multiple times a day!
I can very well imagine the scenario, being a mom. That's how life changes and every Mom loves it this way, I'm pretty sure.
After babies, we all start thinking alike. What to feed them, when to bathe them and how to keep them stay healthy. With so much of a changed life, there are so many tough yet interesting decisions you make once you have your baby in your arms.
The first one being the most practical in my list:
How to keep my baby's bottom protected and well covered?
A good diaper is definitely the right way to keep your baby's butt and outfits clean. A wet and leaked diaper is a mess that can drive you nuts. Whether you are feeding or rocking him or her to sleep, you have to keep your baby in your lap. A diaper, of course, is the right choice to avoid the heck of cleaning poops, in case leaked out. Not just your baby, but you and your room can be a great mess in that case.
Nobody else would even bother helping you out, to clean this mess!
I have tried a number of diaper brands for my kids and now I'm almost like an expert with all the nitty-gritty on my fingertips. I started off by relying on some Trusted Brands and ended up cursing them. Sometimes it was the sensitivity issue that irritated my little darling and sometimes it was the poor quality that made me and the kid annoyed.
I even had tried keeping my baby diaper free for the whole day. But then I myself realized the significance of a good quality diaper on a baby's health.
Why is Diaper a Safe Choice for Toddlers?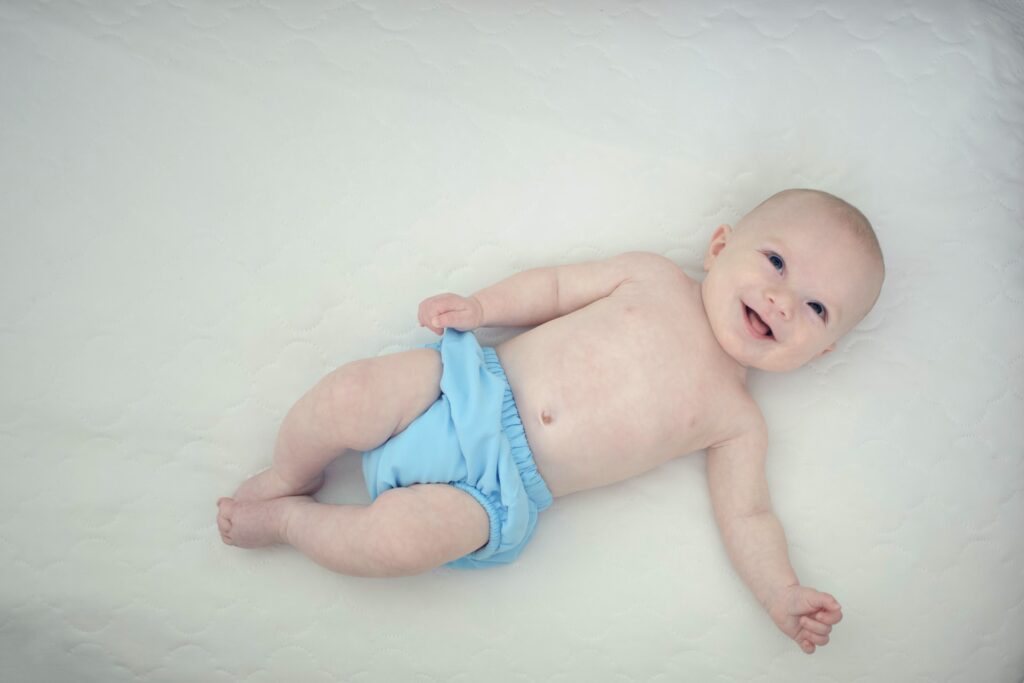 The use of disposable diapers is now common among different societies. In fact, life without them is almost impossible for Moms now. They offer ease and comfort both for the babies and mothers in everyday life.
Although you may come across certain people who believe cloth diapers to be the safest one, still the benefits of a disposable diaper can't be overlooked.
1. Environment Friendly
The improvements made in the design of nappies have made disposable diapers a better and safe option for the environment too. Though there has always been a debate going on about the use of cloth diapers over disposable nappies, but still these type of diapers are not big harm to the environment.
Organic diapers are also in use these days which are considered an environmentally safe product. These diapers are completely free from chemicals and are made of natural products. The natural materials used in these diapers make them softer and safer for babies. This also avoids problems among children like skin sensitivity or nappy rashes.
2. Hassle-free life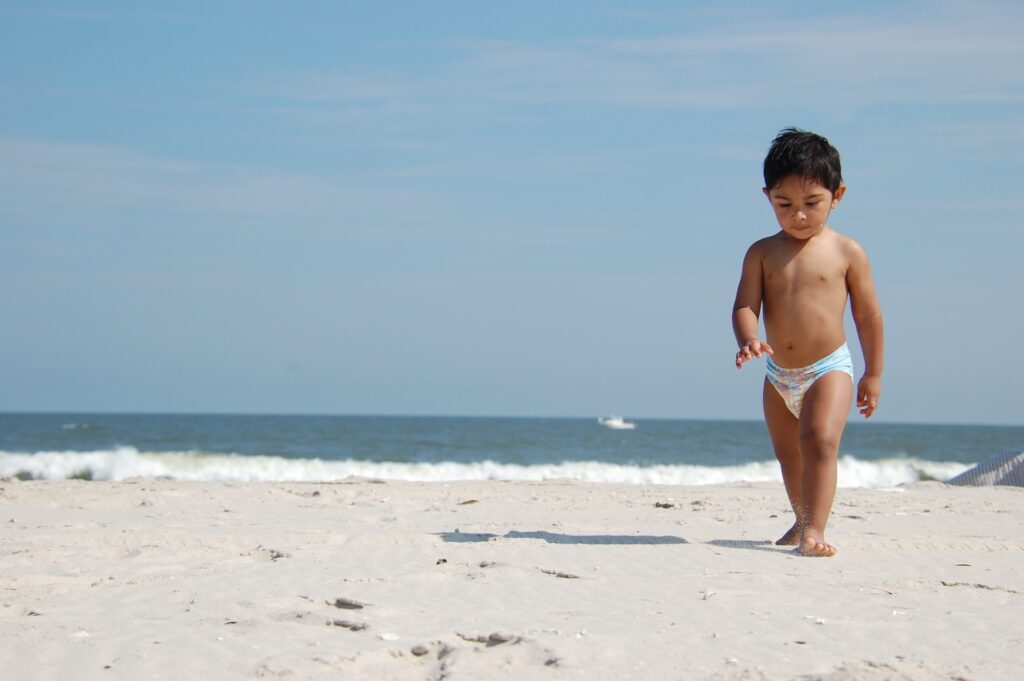 Disposable nappies, unlike cloth nappies, are more convenient to use. They offer ease at every step in life. Right from purchasing to their disposal, they are too convenient to handle.
They are commonly available not only in the local departmental stores but also online. So you can get rid of the hassles of looking around the stores to get them in the first place. Once used, they do not offer any trouble while discarding them. Cloth diapers are definitely a hassle washing and drying them. There are no such demands in the case of a disposable diaper.
3. Less time utilized
With disposable diapers, you can save much of your time for multiple other chores. A cloth nappy will keep you busy washing and drying them up to be available when the baby needs.
A busy mom only needs to have enough supply of diapers available at home. Just wrap the bottom of your baby in a diaper and forget the rest unless the baby cries for your services for a nappy change!
A truly practical solution!
4. Portable Solution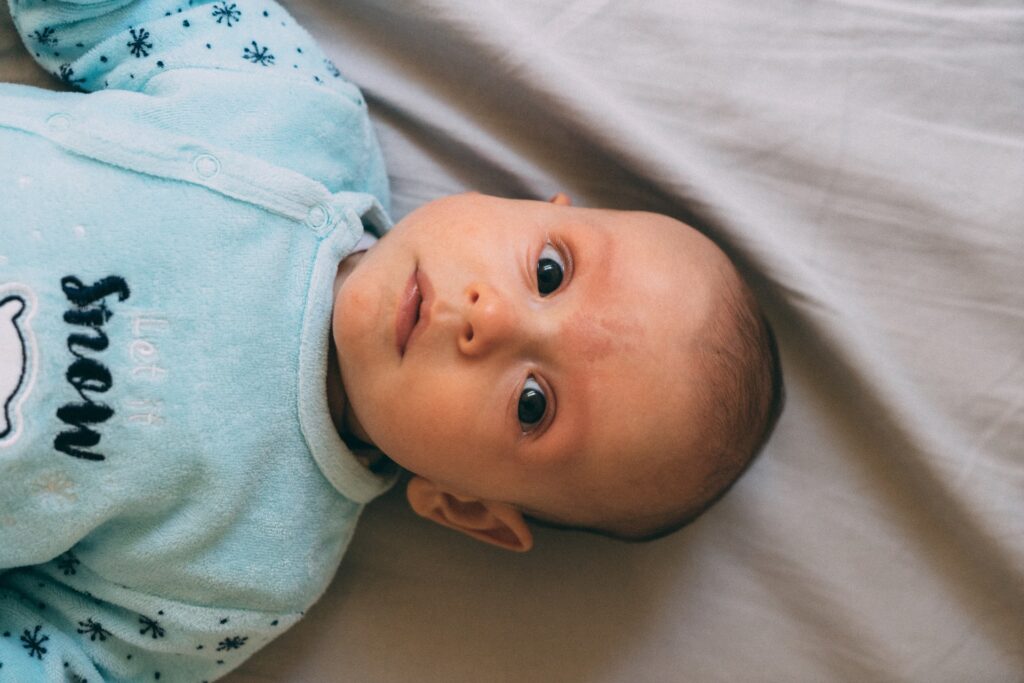 Disposable diapers don't need much space in your handbag. For a short trip to the market or a friend's place doesn't demand you to carry a huge bag of nappies. Simply keep one or two diapers individually in your purse and it will not bother you at all.
5. Cost-Effective
Though cloth diapers are famous for saving cost, still disposable diapers are not far behind them.
When compared with cloth diapers, the cost of saving time, energy, and comfort must also be considered. With that perspective in mind, disposable diapers are found to be far better options than any other alternative to nappies. It doesn't cost a burden on your pocket.
How does a Diaper work?
A disposable diaper helps to absorb the water content excreted in the form of urine. Diapers are made up of an absorbent chemical called sodium polyacrylate. The contemporary diapers are designed to be thinner and more absorbent.
Sodium polyacrylate has the potential to block the gel. This ability helps in avoiding liquid to move in case of diaper's saturation with water.
Top 10 Baby Diaper Brands for your Baby Comforts
1. Pampers Swaddlers Sensitive Disposable Diapers Newborn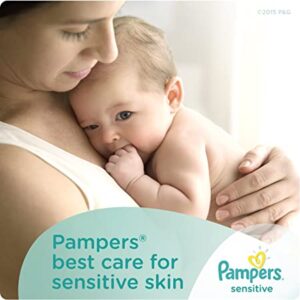 This is the best diaper for newborns with sensitive skin.
This pamper is all about comfort- not just for your baby but for you too. Unlike conventional diapers, this one doesn't require the baby to inform you about the need for changing it. The wetness indicator informs you when to change the nappy.
The brand has always been a trusted name for its products for babies. Your little angel's skin can stay healthy with this blankie soft gentle and hypoallergenic diaper. It is so smooth and comfy that the baby stays happy all the time.
The best fact about this diaper is its adjustability around the soft belly of baby. It is designed to be an umbilical cord safe. They also offer ease in wrapping your baby's bottom under them without the need for adjusting the leg cuffs.
Slight trouble: It's expensive.
2. Pampers Swaddlers Disposable Diapers Newborn Size 1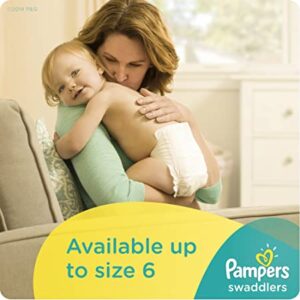 Here comes another best diaper range for babies from 8-14 lbs. This one comes in an Economy Pack with 216 counts that make it pocket-friendly stuff.
Pampers promise of giving you the best every time is not forgotten here. These disposable diapers are blankie soft that ensures your baby's comfort and pleasure in all situations.
The most distinguishing feature of this diaper is it's unique to absorb away liner that keeps your baby protected from the mess of wetness. This feature keeps the baby stay comfortable and lets the skin stay dry.
Although the diaper is designed to absorb wetness for 12 hours a day, still you need to know when it's the time for a nappy change. The wetness indicator, another helping feature for you, indicates you timely about the need to change the diaper. Also, it has the contoured umbilical cord feature that ensures a safe and protected wrap around the baby's belly.
3. Andy Pandy Biodegradable Bamboo Disposable Diapers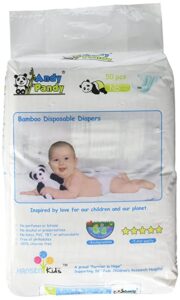 With the promise of no rashes, Andy Pandy is going to be your tiny tot's favorite choice. The softness and comfort this diaper can give to your baby's butt are not possible with anything else.
Not only safe for your toddler, but the brand also promises environment safety. Hence it is one of the best biodegradable diapers available in the market.
Don't doubt the absorbent power of this diaper because of its silky touch. It's as strong and effective in performance as it feels. And this superior quality is not a result of any additives in it.
Surprised to know this?
Yes, this product is free from any preservatives, alcohol, Latex, or PVC
And that's why it is safe and smooth for your baby's skin. Skin rashes or sensitivity are no more than a dream now!
Bamboo's diapers are odor resistant. A big WOW, for sure!
I know how painful it is for any Mom to stand that typical obnoxious odor coming out of a used diaper. But thanks to Andy Pandy's Bamboo diapers that cares for every Mom. Its odor resistance makes life easy and free of the nasty smell.
When Andy Pandy is giving you so much, how come it forgets about the wetness indication? Of course, the wetness indicator is there to alarm you about the time for a diaper change.
Are you still worried about blow out or leakage in the case of Bamboo's diaper?
Give all your worries to us!
This diaper has a unique 3-D fitting design that ensures perfect adjustment around the baby's body and lowers the chances of any leakage.
The bamboo fiber used in this diaper allows the circulation of fresh air which ensures dry skin. The elastic waistband is another premium feature that allows comfortable wrapping around the little waist. This elastic bamboo is moisture-wicking and thermal regulatory too. Thus, it diminishes any chances of leakage or wetness.
When it has so much of quality features, then it must be an expensive diaper too. Is that what you are thinking about?
A big NO to this thought. The Bamboo's diapers are smart in your pocket too. Since it does not tear or leak easily, it doesn't ask you for frequent diaper changes.
So it means you are using less of these diapers for quality service throughout the day. It also saves your cost of purchasing rashes cream.
What a smart and friendly investment!
4. HUGGIES Little Snugglers Baby Diapers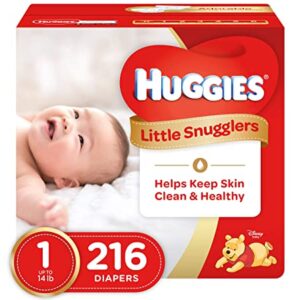 You can witness a soothing sleep of your baby when swaddled in Huggies diapers. It is the best alternative to the cloth diapering as it offers maximum comfort and a perfect fit.
Designed to fit the babies weighing 6-9 lbs., Huggies Snugglers are famous for keeping the skin dry and free from rashes. This becomes possible only through the soft cushion material that keeps the baby's bottom protected. The dry-touch liner absorbs all the moisture and that's how it keeps the baby happy by absorbing all the moisture on the diaper.
Wetness indicator, skin breathability, secure waistband, and extreme softness are a few of its obvious features. But that's not the only stuff to offer. A lot more yet has to come for your little champ.
Huggies Snuggler diapers have a leak lock system to allow absorption and avoid any chances of leakage for 12 hours. Also, the double grip system helps in combating the leakage issues.
Your baby will love donning it because of the Disney character of Pooh over it. So now the little buddy will look classy yet comfy.
5. Huggies Overnite Diapers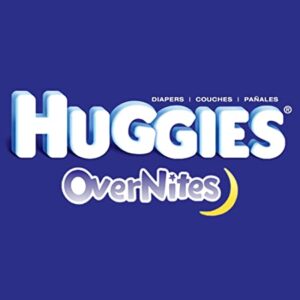 A promise for sound sleep for baby and Mama both!
A quality diaper is one that makes not just the day a fun moment but also nights soothing and relaxing. Huggies Overnite diapers give the night comfort your baby needs and let him sleep undisturbed. And when a baby is sound asleep, only then a Mummy can be at rest.
Like the previous one, this brand too promises the same quality features. This promise is made possible through a number of amazing features including Leak lock technology that ensures a mess-free life. When the diaper has the potential to absorb the moisture, why not you enjoy a mess-free life? It has a double leak guard feature that makes overnight leakage an impossible thing.
The double grip system allows adjustability at up to 4 points to offer maximum grip. This is really a unique feature; making this particular diaper the most distinguished one. So no matter how much your baby loves to move and toss around, the diaper will stay in place and keeps the baby happy and trouble-free.
So if you want a diaper that is night and travels friendly, then bring these diapers for your baby and witness your baby's happiness all day and night, wherever you go!
6. Luvs Ultra Leakguards Disposable Diapers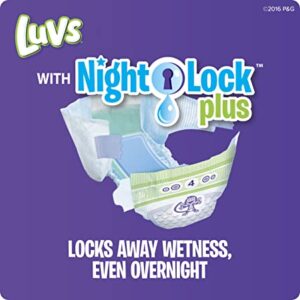 Motherhood is not a bed of roses. There's nothing more challenging than comforting a crying baby.
Toddlers usually get cranky when their diapers get leaked especially at night. Now that's usually considered a Mom's job to make sure the diaper is perfectly fine to ensure the sound sleep of a baby.
Sound sleep means sound and healthy kids. So Luvs ultra Leakguards diaper is the perfect choice for sound sleep and a healthy kid.
This diaper offers ultra-absorbance with its Night-lock plus feature that makes a baby comfortable for long hours while sleeping. It has a leak guard core that ensures the baby's skin remains dry even after hours of use.
And if you are not satisfied with the diapers' performance, the brand will refund your money.
Sounds impossible? But that's really possible.
The brand cares for you and your investment too. At first place, there is no chance that you dislike the product. But in case if you find it unsatisfactory, your money is never wasted.
What a relief!
The stretch sides of this disposable diaper are large and refastenable. This makes a smart and snug fit possible to make a kid enjoy time with these nappies. Also, the design carries fun pictures to make them look attractive to the kid.
So a diaper can be a toy too. But parental care is a must to restrain the kid from taking the diaper into the mouth.
7. Pampers Cruisers Disposable Diapers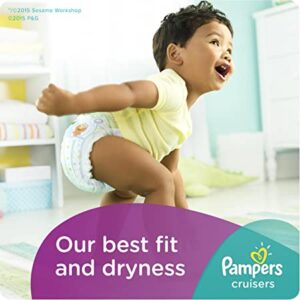 Pampers take care of children at every growing stage. When your baby needs even size 7, the brand is still going to serve your little champ.
Pampers Cruisers Disposable diapers have the potential to keep the bottom of grown-up babies, with even 41 lbs. weight, safe and protected.
This diaper has extra absorbed channels that evenly distributes wetness that avoids leaking it out like any other normal diaper.
Babies, especially growing ones, love their freedom. They want to roam around without any hurdles. A typical diaper may cause the legs and bottom of the baby to become stiff. But Pampers Cruisers are designed to give kids that freedom.
Now your baby can run around freely as the diaper has a unique 3-way fit that adapts to the waist, legs, and bottom for an easy and hassle-free movement.
You will love the stretching and softness in every diaper of this brand. It is so stretchable, adjustable, and soft that makes it a perfect fit for your child's bottom. Also, the flexible leg cuffs gently seal along the sides of the baby's legs to help prevent leaks.
8. Seventh Generation Free and Clear Baby Diapers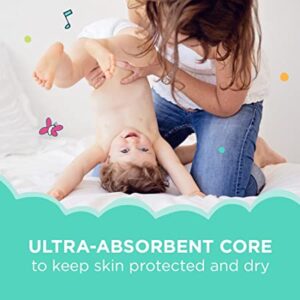 Babies are as soft as roses. And they deserve to be treated with the same tenderness. So how can a mother compromise while getting the diapers for them?
Seventh Generation baby diapers are the most gentle diapers ever available in the market. The soft quilted liner is made with unbleached cotton to keep the baby's skin as smooth and protected as ever.
The brand promises to keep it safe for kids. A 100% chlorine or artificial fragrance-free diaper is made to ensure that the baby's skin remains delicate and free from exposure to any chemicals.
The diaper design is proof of environmental care and concern of the brand. The seventh-generation believes our kids must stay safe and so do the animals too that appear on the design of the diaper too. These diapers are made of sustainable products that are obtained without compromising the forest habitat and the relying animals.
Rashes on the baby's bottom are almost impossible to appear with the use of these diapers. Rashes only appear when the skin remains wet. The ultra-absorbent core pulls moisture and keeps the baby's skin completely dry. Thus there's not even a chance to think about rashes!
The Diapers from this brand are truly free and clear from any harm to your baby!
9. Up and Up Diapers
A convenient and economic diaper is almost like a blessing.
Up and up diapers are exactly like that!
An economic diaper coming in a pack of 37 diapers is a great offer. Up and up diapers have everything that suits you and your baby's needs.
These diapers have cotton enhanced dryness layer that makes the bottom wrapping experience easy for parents and comfortable for babies.
These diapers are safe for sure as they are hypoallergenic and made by using Aloe and vitamin D. The soft stretchable waist and sides let the toddlers move freely and offer a snug fit. This stretch fit along with liquid-resistant dual leg cuffs ensures zero leakage.
These are so comfortable and healthy to a baby's skin and the credit goes to the absence of any chlorine or harmful chemicals while designing them. The safety of these diapers is thoroughly tested and certified by toxicologists.
Hence Up and up diapers are a safe product for your little angels!
10. Mama Bear Diapers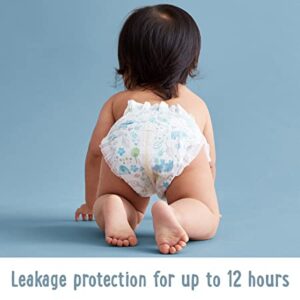 Diapers that are just right!
A promise from the brand is true in reality.
The diapers from Mama Bear are trusted, leakage proof, and excellent in comfort. They promise 12-hour leakage protection and make it happen too. This is because of the absorbent core and pocketed waistband guard that provides perfect protection the whole day long.
A diaper's adjustability is visible if it's a perfect fit for your baby's size. These diapers are made to fit every size because of the flexible leg cuffs and stretchy sides.
They are healthy for the baby's skin as they are hypoallergenic and free from chlorine or stuff.
Mama Bear diapers guarantees to make your baby happy and do very well in keeping the promise. Your little cub can enjoy and stay happy with these diapers on their bottoms.
What precautions must be taken while using Diapers for Babies?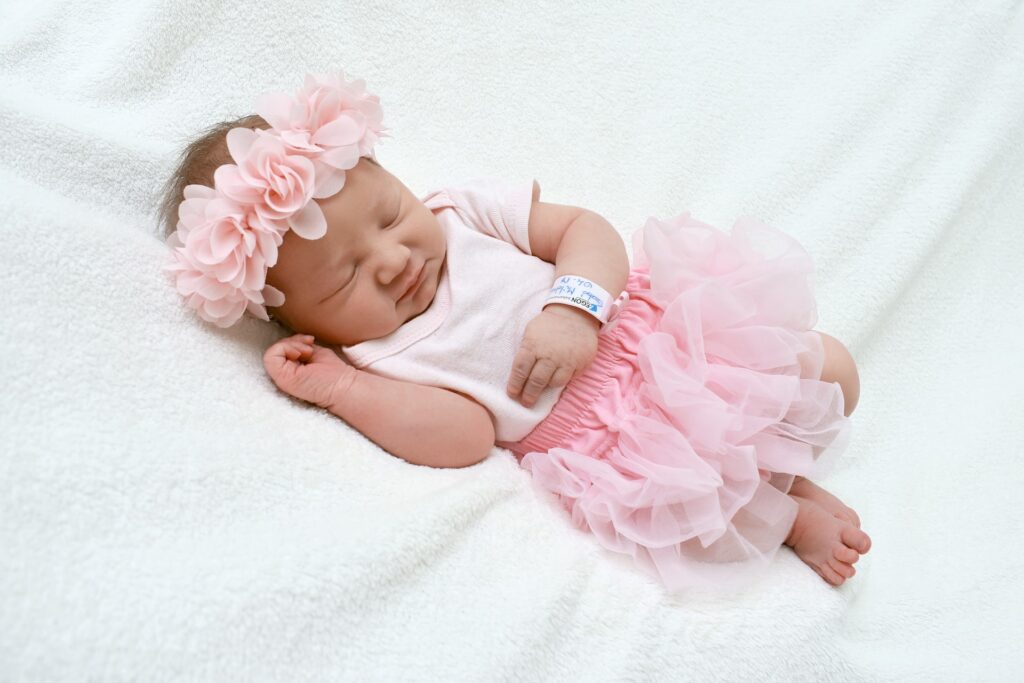 The one common reason parents prefer to wrap the babies' bottom in diapers is Convenience.
Yes, of course, diapers make things so convenient for parents. Raising a child is not an easy job. It is not only about feeding them on time. It involves endless tasks that are all essential to ensure a healthy brought up of a child. Among all such tasks, one is dealing with the baby's call for nature.
Babies depend on everything on parents. When they need to pee or poop, the parents have to make sure that they are providing the babies with something that is hygienic, comfortable, and manageable. Diapers definitely offer you these benefits which make them a preferred choice for parents.
But should parents be completely carefree after wrapping the babies in diapers?
Absolutely NOT!
Things Parents Need To Be Cautious About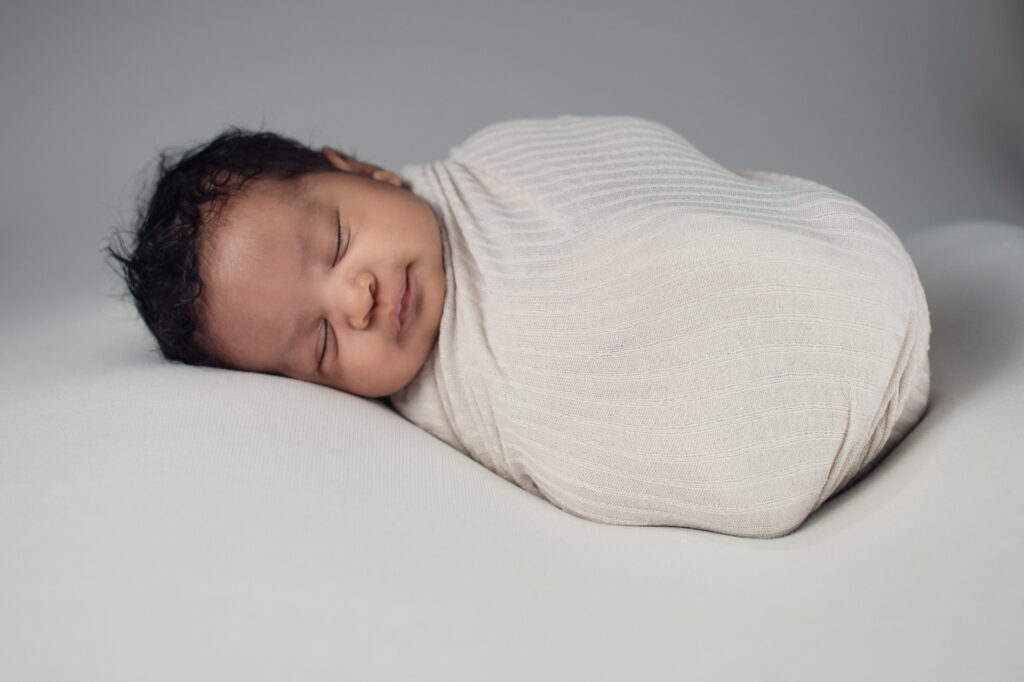 There are several things parents need to be cautious about while using diapers for toddlers. Let's have a look below to be aware of the safety measures with diapers:
1. Change it often
Don't wait for your child to poop to change the diaper. Diapers need to be changed even if you find them empty. A good quality diaper may offer you 12-hour protection from leakage but don't wait that long.
By changing the diaper after every 4-5 hours is a safe practice. This can avoid bacteria to grow on the baby's skin. Otherwise, the baby's skin may develop rashes or skin sensitivity issues.
2. Clean it carefully
Whenever you are changing the diaper, make sure you clean your baby's bottom carefully and thoroughly. Using a soft wipe, free of alcohol is a safe way to keep the baby clean. If you want something natural, then using cotton balls soaked in warm water work the best in the case of newborns.
Make sure you clean the bottom parts from front to back properly. This is important to get rid of the bacteria in order to avoid urinary tract infections.
3. Keep an eye on Skin Rashes
If you are habitual of changing diapers promptly, your baby is likely to be safe from skin rashes. Proper cleaning is another way to stay safe. But in case, your baby gets rashes on the skin, it's advisable to use zinc oxide ointments to heal those rashes.
4. Use an Appropriate fit diaper
Diapers must be comfortable and snug fit. Remember, if the diaper is not the perfect size, the chances for leakage are higher. So make sure you select the right size of the diaper for your kid.
Babies love to explore as they grow up. Don't limit their movement by using a diaper that is not comfortable while moving. The diapers which are stretchable and have leg cuffs are a better option. This ensures easy movement of babies with diapers too.
5. Don't always rely on Diapers
Your baby's skin needs to breathe and stay open for some time. It is not necessary to wrap the baby always in a diaper. Let the child stay open and free of diapers for some time daily. This will also make him or her habitual of indicating the need to urinate or poop.
6. Don't let the child play with a diaper
Diapers, especially when having animals or Disney characters painted on them, are definitely an attraction for kids. They want to play with them. Make sure they don't take them in the mouth.
No matter how safe a diaper is for the child's skin and environment, but remember it is not edible. It contains cotton and other material that is not at all safe to be eaten. So keep them at a place that is out of a child's reach.
The Last Word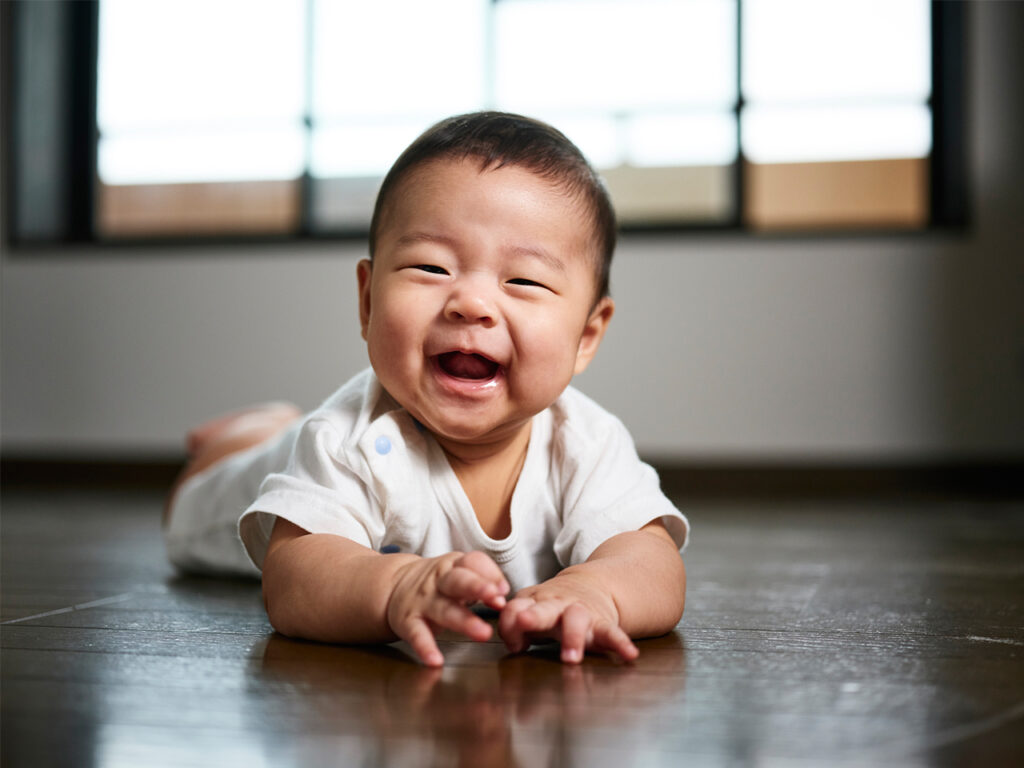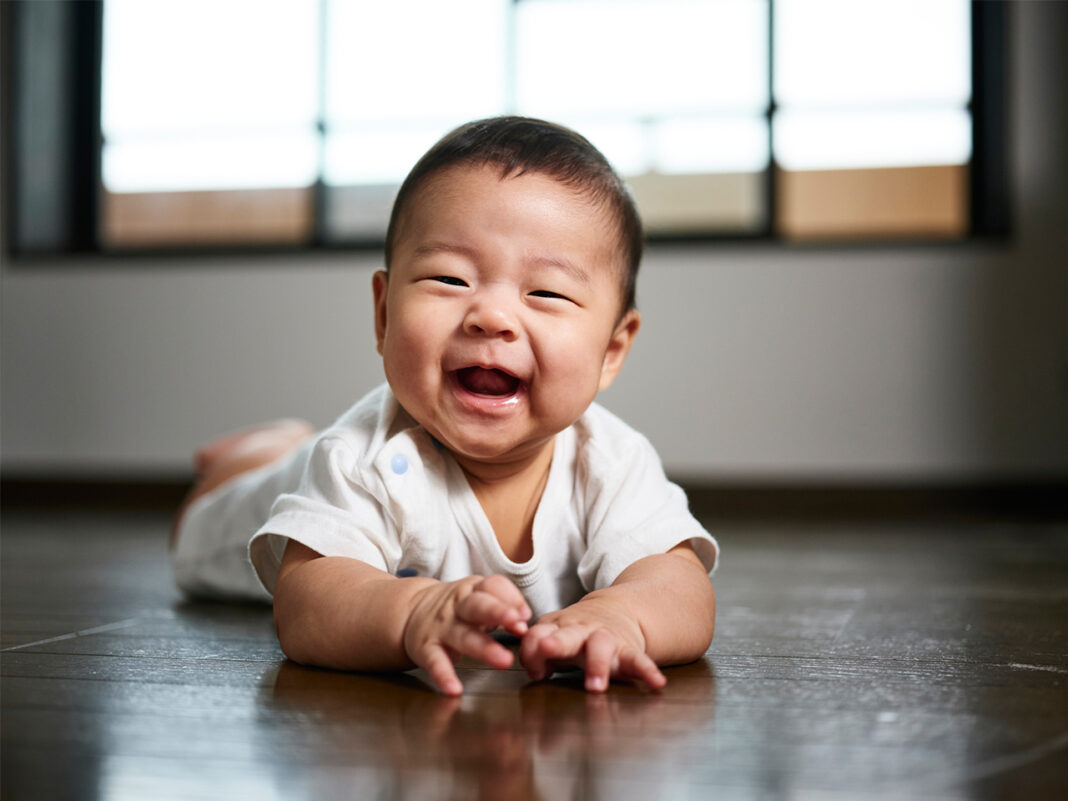 Diapers are a smart choice for making life convenient. They offer ease in managing the baby's output without any mess.
We have presented to you a review of some best quality diapers that are too handy and comfortable for you and your babies. They all come in various packages: some being economical, whereas some being comfortable.
But the common feature to consider while grabbing the best one for your baby's butt is safety and comfort. A diaper that keeps the baby's skin delicate and protected is the best to go for.