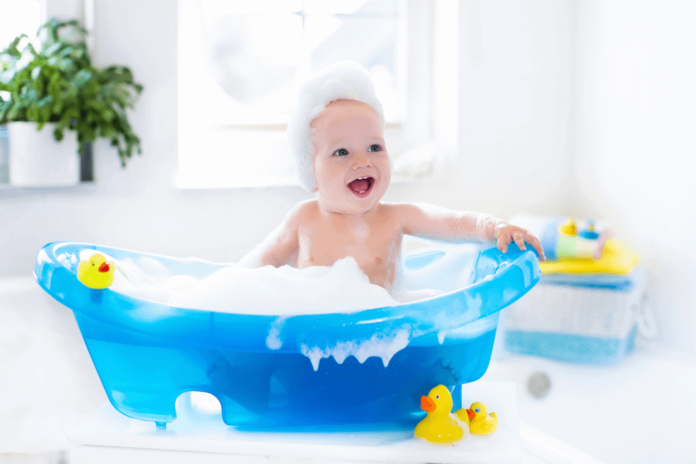 Naturally soft skin and angelic innocence!
This is what comes in one's mind instantly when talking about babies.
It is the innocence and tenderness that make babies look as beautiful as a rose. The naturally soft skin is so irresistible that one can't have enough of stroking the pinky cheeks.
But some babies are born with a sensitive skin that is more prone to allergies as they are exposed to the environment.
Many thanks to the soaps that are made for the sensitive baby skin. In our this buying guide we will going to share 10 best baby soaps for sensitive skin for your little angel.
In case of skin sensitivity, babies may born with neonatal acne, eczema or skin rashes. At times, babies with such sensitive skin may develop allergic reactions when exposed to sunlight or allergens. As a result, tiny bumps, rashes and skin redness appear often.
Babies with such hyperirritable skin require more attention and care than usual. It is extremely important, in this case, to steer clear the baby from products that are made of hard chemicals. With such a challenge, relying only on the best quality soaps is the best therapy.
Understanding What Causes Skin Sensitivity
Children's skin is already very sensitive. There are a number of factors or reasons that may become a cause of skin sensitivity among toddlers.
Usually, the children with sensitive skin may develop the following skin troubles:
Eczema

Heat Rashes

Hives

Chapped skin

Dermatitis
Since the symptoms and causes of each of these problems are different, the treatment must also be different. Nevertheless, one factor in all cases still remain the same. And that is keeping the baby skin clean and moisturized using baby soaps that are free from chemicals.  
What must a Baby Soap contain to Sooth Allergy?
Sensitive baby skin must be treated with extreme care. Treating a sensitive skin is more of an art than a science. A baby soap for sensitive skin must have the following features to sooth the allergy among kids.
It must be Organic and Gentle
As a first precaution, always remember to avoid use of products with potentially harmful chemicals. Else, the skin may get even worse.
A baby soap that produces a gentle effect is the right call. Hence, the baby soaps that are made of organic material are highly recommended. Mild soaps can be a good option in such a scenario. The baby soaps containing aloe vera or calendula work best for treating skin allergies among babies. Milk, almond, honey, olive oil and cocoa butter are all considered essential ingredients for baby soaps.
Avoid Lather
Though babies enjoy heavy lather while bathing, but in case of sensitive skin excessive lather is not a good choice. The lather is formed due to the use of excessive chemicals which is not at all suitable for soft skin of babies.
Avoid Fragrance
Using fragrance-free soaps is another recommendation. A soap with pleasant fragrance may tickle the babies and cause them discomfort.
It must be Hypoallergenic
The best soap for baby's sensitive skin is one that is hypoallergenic. This is extremely important especially when kids are suffering from eczema or dermatitis. The more they are able to reduce the skin sensitivity, the better are the chances that the baby's hypersensitive skin is treated well.
Top 10 Best Baby Soaps for Sensitive Skin
You may be the one suffering from skin sensitivity challenges and wish to get the best product in hands. We care for you and want to provide you with every possible help. That's why, you are provided here with a quick overview of the products that may sooth your itching skin.
Here are the best baby soaps for sensitive skin you need to consider before buying one for your little angel.
1. Weleda Calendula Soap
Weleda Calendula soap is exactly what a sensitive skin needs. It is so calming and soothing that relieves the itching skin of babies.
Unlike the common soaps that have hard chemicals, this soap is especially made from calendula and chamomile flower to keep the skin as soft as silk.
This is a mild cleanser with light fragrance to keep the skin both clean and supple. This soap is highly recommended by pediatricians for babies with sensitive skin. It is because of the fact that the soap is wholly organic in nature. Not only calendula and chamomile, but also iris root extract is used in the soap to keep the skin moisture balanced.
This is how this soap is too effective to treat dry and dehydrated skin that cause itching. This organic soap is the first recommendation for kids as well as adults.
Pros:
It is completely organic.
It is equally effective for adults too.
It is useful for dry skin and eczema.
Cons:
Fragrance initially feels too strong that may irritate kids.
2. Dr. Eddie's Happy Cappy Shampoo
If your little tot is suffering from flaking, redness, itching, scaling and irritation, Dr. Eddie's Happy Cappy shampoo is the best pediatric shampoo for children of all ages.
Certain skin problems cause redness behind ear, under armpits or around neck folds. This is quite irritating and painful for babies. Dr. Eddie's shampoo is the best to sooth baby's skin without causing any harm to skin and hairs both. It is equally good in treating eye brow flakes.
The effectiveness of this shampoo is because of the active ingredient Pyrithione Zinc which is an FDA approved effective ingredient for treatment of seborrhic dermatitis.
Pros:
It contains Pro vitamin B5 to moisture skin and hair.
It is a gentle formula suitable for use of children of all ages.
Cons:
It may leave your child crying while bathing as it is not a tear-free product.
3. California baby Calming Body Wash and Shampoo
What a perfect treatment for an inflamed skin!
California baby calming shampoo and body wash is pure organic and contains vegan ingredients. It is so soft and gentle that the baby with sensitive skin can love scrubbing the body with it.
It is a no tears formula so the tiny tot doesn't cry anymore while bathing. The body wash contains fresh Lavender that produces fragrance along with soothing effect that is indeed a potent aromatherapy.
Pros:
It is a 2 in 1 formula. Shampoo and body wash both offer a top to toe solution.
It suits kids of all ages and adults.
It smells great and soothes the skin quickly.
Cons:
It is a little pricier than the rest.
4. Burt's Bees Baby Shampoo
An original tear free baby shampoo with the power to treat hyperallergic skin with its natural plant extracts. This baby shampoo and body wash is made from natural Soy proteins that have the potential to moisturize the skin.
A baby's skin is 20 to 30% thinner than the skin of adults. It catches allergens and other skin problems quicker as compare to adults. This demands us to be more careful when selecting the skin products for them. Burt's Bee shampoo and body wash is absolutely the right selection of Moms.
The naturally extracted ingredients are used in this product that suits the supple skin of your toddler from head to tiny toes. Completely free from phthalates, pro banes and formaldehydes, this product is the safest choice for the babies with sensitive skin.
Pros:
It never stings your baby's eyes. It's truly a tear-free formula.
It's a two-in-one solution that is safe from head to toes of little tots.
It can be used for adults with sensitive skin too.
Cons:
The smell of the shampoo is a little unpleasant.
5- Fresh Monster Toxin Free Hypoallergenic Shampoo and Body Wash
Sensitive skin of kids demand something special for treatment. Fresh Monster's toxin free hypoallergenic shampoo and body wash is one such special treatment. It comes in two 8 ounce bottles that provide a fun filled bathing experience for children. Besides fun, the kids' hyper-sensitive skin also gets soothed with it.
Completely free from chemicals, this body wash leaves the toddler's skin clean and soft. It doesn't foam very well but it treats the skin sensitivity strongly. It is free from synthetic fragrances too.
Its gentle shampoo is perfect for itchy and dry scalp. Thus the dryness problems are best treated through this product.
Pros:
It is cost effective as comes in two bottles at the cost of one.
Its light natural fragrance is liked by kids and parents both.
Cons:
Kids miss the lather fun as it does not make much foam.
6. Nature's Baby Organic Shampoo
A sensitivity solution for the whole family!
Nature's baby organic shampoo is soft for babies and a powerful skin treatment for adults. As the name claims, it is a product free from any sort of harsh ingredients that are damaging to the skin. Rather it is made of organic ingredients that keep the skin moisturized, supple and glowing.
This body wash is loved by kids because of its pleasant fragrance. This is because of the use of Vanilla Tangerine in this product. This is not just it. This product also contains organic aloe, calendula and chamomile. Hence, it is the most favorite product for the lovers of organic products.
Pros:
It's purely an organic product.
It is highly recommended by pediatricians.
It is the best product for the whole family.
Cons:
The bottle's pump is hard to use.
7. California Baby Eczema Shampoo & Body wash
This product is a therapeutic relief that is recommended for treatment of Eczema among kids and adults too. It is a gluten free product that is safe to keep the skin healthy and supple.  
The calendula flower extract is one of the active ingredient of this product which makes it more effective than its competitive products. Especially for dry eczematic scalp, this shampoo is found to be very helpful. Also it is recommended by doctors to treat thin hairs which results due to hair loss.
Pros:
It is a non-irritating and non-stripping formula.
It has a calming effect due to fresh lavender which is great for aromatherapy.
Cons:
The bottle pump is not durable. Customers report of easy breakage.
In some cases, it was found to cause dryness more.
8. Nurture My Body Baby Bar soap
When it's a matter of protecting sensitive skin of babies from rashes and different allergens, one can't afford to skip Nurture My Body baby bar soap.
A purely organic soap that is free from phthalates, parabens and sodium lauryl sulfates. It contains three organic oils i.e. organic palm, coconut oil and olive oil that all are famous for their effectiveness. These ingredients keep the skin smooth, hydrated and pure.
Not just the name, the product also makes sure to nurture the baby's skin. It is also good for use on hairs. Not just the skin, but the product will fill your heart with an ever glowing happiness.
Pros:
It is a good cleanser for a sensitive baby skin.
It is not at all irritating for use of babies.
Cons:
It is not a tear free soap bar.
9. Dr. Bronner's Baby Mild Liquid Soap
For adults with sensitive skin and babies with allergies, Dr. Bronner's mild liquid soap is one of the most recommended product. Manufactured by using organic ingredients, the liquid soap leaves the skin moisturized and supple.
The organic ingredients of the soap are combined with pure Castile liquid base which produces a rich and emollient lather good for hyper-sensitive skin. It has double amount of olive oil just to replace the artificial fragrance.
The liquid soap comes in a nice packaging of recycled plastic bottles that are safe to use. The brand also offers bar soap for allergic treatments but the mild liquid soap is far more effective than the rest.
Pros:
It is free from artificial scents.
It is effective especially for seborrhic dermatitis.
Cons:
It has no smell at all. SO kids may not like it much.
10. Shea Butter Baby Eczema Bar Soap

If you are tired of trying all the different hypoallergenic soaps for your baby, Shea Baby soap is the last and final resort for you.
The soap never leaves your baby's skin dry with patches all around. The soap is really an honest product with no scented Castile. The baby can be bathed with this soap daily without a fear of red or more sensitized skin.
It is a perfect treatment for babies with Eczema, dry skin, redness or itching. It is a good solution for the whole family.
Pros:
It is the best soap that immediately stops the itching.
Kids love its amazing smell.
The Final Word
Babies are sensitive.
Whether it is their emotions or their skin, we tend to be very careful in nurturing them. Their emotions can be treated with love and care. But when it comes to skin, the challenge is higher.
Skin sensitivity among children require understanding of the skin problem and the causes of it. Relying on expensive products is definitely not the right solution.
The best quality skin soaps, shampoos and body washes are available in the market that are recommended by pediatricians for safe use for kids. These products, majority of which, are composed of organic ingredients that are too soft for the delicate skin.
Not just good for treating scalp dryness, these soaps and shampoos have the potency to sooth itching, skin redness, seborrhic dermatitis and many other tough skin troubles. From head to soft cuddling toes, these body washes are equally effective.
The best of the products discussed in this write up may serve as a useful guide for all those families who are looking for the right medicated solutions for their darling kids and themselves too.