Taking the Baby Jogger 2016 City Mini to the next level, the City Mini GT gives you the ability to pave your own way. All-terrain wheels let you decide how far you want to go off the beaten path. And with little touches like an adjustable handlebar to adapt to the parent's height, and a hand-operated parking brake, the City Mini GT is very accommodating.
Baby Jogger City Mini GT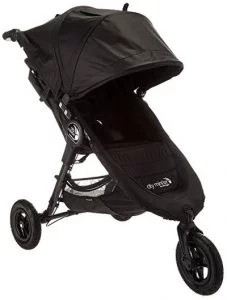 Features
Product dimensions: 46.8 x 43.5 x 24.2 inches.
Product weight: 22.5 pounds.
Assembled dimensions39.75 x 19.25 x 37 inches, Stroller height: 38.19-43.5 inches.
Maximum weight-bearing capacity: 65lb.
Lightweight stroller weights: 22.5lb.
Maximum head height: 26″.