Rather than just putting your baby down on a carpet or blanket, tummy time mats provide a soft surface and feature colorful patterns and toys to entertain. The Bright Starts Tummy Time Prop and Play Mat is a plush, quilted mat that comes with a baby-safe mirror, rattle, teether, and other toy attachments.
Bright Starts Tummy Time Prop & Play Activity Center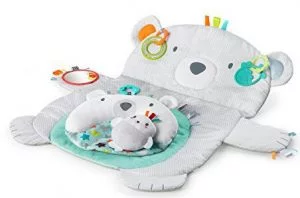 The prop pillow is perfect for added tummy time support for newborns and infants. The mat is trimmed in satin tags, which allow for soothing and tactile development. Unlike some larger play mats or activity centers, this one isn't too expensive, so it won't take up a lot of floor space in a small room and it's easy to toss in your bag for visits to grandparents. It's also very reasonably priced and machine washable, so it's a cinch to clean.
Tented character head allows you to bring toys to baby to make tummy time easier Gusset lined prop pillow for added tummy time support Plush quilted mat for comfort and support.
Baby-safe mirror for self-discovery Peek-a-boo pocket plush with crinkle Easy to grasp fish-shaped teether Ring rattle with brightly colored beads. Taggies signature satin tags soothe baby and with tactile exploration that babies crave Machine-washable mat.
Features
Product dimensions: 91.4 x 82.6 x 12.7 cm.
Item model number: 10841-3.
Target gender: Unisex.
Item weight: 839g.
Age recommended: up to 3 years.