If you want to confer a comfortable and safe environment for the hanging out, learning, or playing of your little one, it is definitely the best option. Skip Hop Treetop Activity Center is the best option for you.
Skip Hop Baby Treetop Friends Activity Gym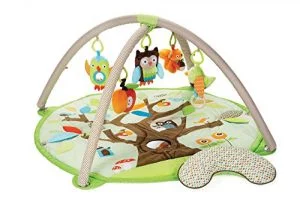 It is multi-textured and the presence of a bunch of interactive and teaching features plays an indispensable role in the stimulation of the senses of your little one while they are growing and developing. Skip Hop Treetop Activity Center comes with a bunch of fun toys. 
It is regarded as an engaging activity gym which will be keeping your little one entertained for several hours. It is available in two appealing and unique patterns and colorways along with different coordinating arches. The presence of a pillow ensures high comfort during the playtime.
Skip Hop Treetop Activity Center is equipped with five different multi-sensory toys that are designed with an eye to hanging on the 13 plastic loops, which will be hooking on the arches. The cheerful owl happens to be one among them which will be chiming once it is shaken. 
A sweet chirping bird is known to be present with the attached wooden teething ring as well as crinkly wings. A fun apple is present with the child safe mirror as well as the toggle stem.
Features
Product dimensions: 8.3 x 91.4 x 91.4 cm.
Item weight: 998 g.
Style: Treetop Friends.
Target gender: Unisex.
Maximum weight recommendation: 43.5 Kilograms.
Minimum weight recommendation: 454 Grams.
Item model number: 307500-CNSZP.
For Ages 0 and above.
5 playful multi-sensory hanging toys.