The Zoom 360 Ultralight is the newest addition to the Joovy jogging stroller line. The new Zoom 360 Ultralight has a straight through axle that runs straighter and truer while the suspension smooths out the bumps to provide a comfortable ride for your little one. 
JOOVY Zoom 360 Ultralight, Charcoal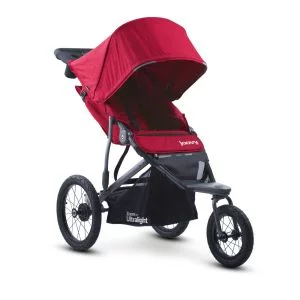 Strong, light-weight mesh reduces weight and adds better ventilation to the footrest area, and Joovy's signature over-sized canopy with covered window provides the best sun protection available. Made with 6061 aircraft aluminum, it is 10% lighter and its updated design is simpler, stronger and better looking than its predecessor. 
The Zoom 360 Ultralight has an incredibly easy and compact fold. The Zoom 360 Ultralight's swivel front wheel allows for maximum maneuverability.  The swivel wheel can also lock in a straight position providing a long, stable wheelbase for running or walking on long, straight paths.
Features
Weight is just 25.7 pounds.
Locking and swiveling front tires.
Extra-large air-filled tires for a smooth ride.
From 3 months to 75lbs.
The air pump includes.
Easily use your car seat.
Product dimesnions: 12 x 21.5 x 36.2 inches.
Maximum weight bearing capacity: 75 pounds.