The new Caboose Ultralight Graphite is the most lightweight, compact and efficient double stroller. Designed for two children of different ages, it is preferred by parents for its practicality.
Joovy Caboose Ultralight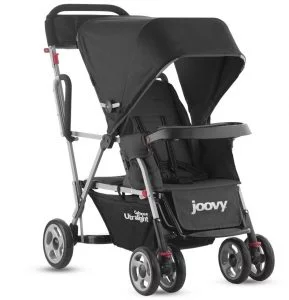 With new upgraded features and an even lighter frame, the Caboose Ultralight Graphite continues to empower older children by giving them a choice to stand or sit while strolling. 
The Caboose Ultralight's design has been improved with a new graphite-colored aluminum frame and it is 10% lighter than the previous Ultralight model. At 22 lbs. fully configured, it is lighter than some single strollers. A new rear canopy attachment provides shade for the child sitting in the back.
The new parent organizer also holds two beverages and has a convenient zippered pocket for keys, phone or wallet. A universal infant car seat adapter is included and fits most car seats on the market.
This handy accessory converts the stroller into a travel system, allowing the older child to stand on the rear stand-on platform. The storage basket is ample enough for a diaper bag. Sealed ball-bearing wheels provide superb maneuverability and the 4-wheel suspension makes for a smooth ride.
The linked rear parking brake adds extra security when the stroller is parked. In addition, the Caboose Ultralight has the most compact fold for a double stroller. 
If your children are within 2 years of each other, you may consider the optional Caboose Rear Seat, which converts the rear bench seat into a front-facing, full-size, reclining seat.
This accessory is sold separately and it folds up with the stroller for convenience. It's also easy to install or uninstall. The Caboose Ultralight Graphite is a versatile tandem stroller that offers the size, weight and maneuverability of a single stroller without compromising features. Child tray – perfect for snacks, sippy cups and toys.
Features
Product weight: 22 pounds.
Product dimesnions: 37 x 21.5 x 41.5 inches.
Maximum Weight bearing capacity: 50 pounds.
Optional rear seat.
The capacity of a double without the bulk.
3-way reclining seats for naps and babies.
The canopy of double without the bulk.