This is the first vaporizer on our list. Almost the size of an iPhone, the 2nd generation URPOWER is a fitting addition to a massage parlor, a bath or a bedroom nightstand.
URPOWER 2nd Gen 300 ml Diffuser Humidifier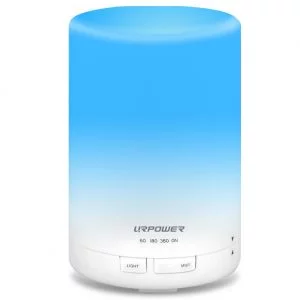 Even though it's quite cheap for an essential oil diffuser, its functionality is not chipped at all. Just like the previous model. URPOWER Ultrasonic 2nd Gen 7 LED colors you can change whenever you please, as well as an auto-shutdown function.
Another nice feature is that it can work up to 6 hours without a stop and has 2 vapor settings, continuous and sporadic. It will be a little hard to swallow, but here's the kicker: this particular model has no less than 19,800 reviews from pleased customers.
Therefore, we can wholeheartedly affirm that it's one of the best-rated humidifiers/vaporizers on the market. That merely shows that URPOWER makes no compromises when it comes to the quality of their products. If you are looking for a small but efficient humidifier, this is your go-to product.
Features
Item weight: 11.2 ounces.
Shipping weight: 1.2 pounds.
Item model number: OD-301.
Package Contents

1 x 300 ml Aroma Diffuser
1 x Charger Adaptor
1 x Measuring cup for filling water
1 x User Manual

Size: 110*154mm.
Output: DC24V 650mA.
Input: AC 100-240V 50/60Hz.
Length of power line: 170cm.
Ultrasonic frequency: 2.4 MHz – Advanced Ultrasonic Diffusing Technology,
Water capacity: 300 ml.
LED Lights: 7 pcs.