Vicks FilterFree cool mist humidifier won't need replacement filters, & its 1.2-gallon tank can give up to 30 hours of soothing mist. Vicks cool mist humidifier is quiet, making it great for your bedroom or baby's nursery.
Vicks Filte free Ultrasonic Visible Cool Mist Humidifier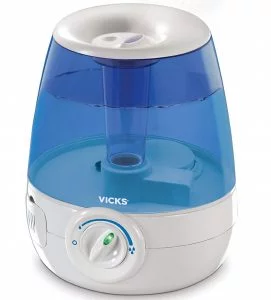 This Vicks Filter-Free humidifier uses ultrasonic technology to quietly release visible cool mist to return essential moisture into the air.  Our humidifiers & vaporizers help you breathe better wherever you are. Try a Vicks humidifier if you've found relief from vaporizer or humidifiers made by Vornado, Crane, Aircare, Sunbeam, Homedics, or Dyson.  
The mist helps to provide temporary relief from cough and congestion and general dry air discomforts. Enjoy the convenience of having no filters to replace. The 1.2-gallon tank contains enough water to run continuously for up to 30 hours, for fuss-free relief. Plus, the Dual Scent Pad slots fit Vicks VapoPads to provide soothing Vicks vapors.
Moisture & humidity offer temporary relief from cough & congestion due to colds or allergies. Vicks line of humidifiers & steam inhalers, help you breathe easier wherever you are, from the bedroom to office.
Features
Product dimensions: 10.9 x 9.4 x 13.5 inches.
Item weight: 4 pounds.
Shipping weight: 4.65 pounds.
Manufacturer: Vicks.
Item model number: V4600.
Cough and congestion-free.
Use as an inhaler.