BABY LOOVI mats are lovingly crafted from durable quilted vinyl and thick comfortable padding. The result? A soft changing mat keeps your little one away from unsanitary surfaces and ensures they are comfortable while being changed.
Baby Loovi Portable Waterproof Baby Changing Pad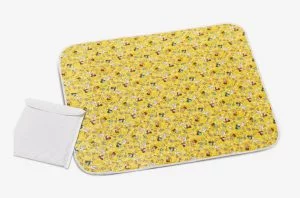 Portable and lightweight, Baby Loovi changing mat can be folded and taken with you wherever you go – Allowing for easy changes as you go about your daily activities! Say goodbye to changing on dirty car seats or on hard tables. The BABY LOOVI mat allows for comfortable changing, both at home and outside. The changing pad can also be used to protect surfaces during times your baby sleeps without a diaper.
This reusable changing mat is the perfect gift for new parents or those expecting a newborn! The gift that special person in your life with a convenient gift that can be used day after day.
Features
Product dimensions: 7.9 x 5.9 x 1 inches.
Item weight: 3.2 ounces.
Item model number: BL-202.
Material free: BPA Free, Phthalate Free, Lead-free best for walking, sleeping, playing, traveling, swaddling, dressing.
Fully padded for maximum comfort.
Use anywhere.
No smell.
Large beautiful mat.
Satisfaction and guaranteed.