L.A. Baby's Contour changing pad has two 4″ high sides to keep baby safe and has an overall size of 32″ x 16″ x 4″. Features a non-skid bottom that prevents the pad from sliding while changing baby. 
LA Baby Waterproof Contour Changing Pad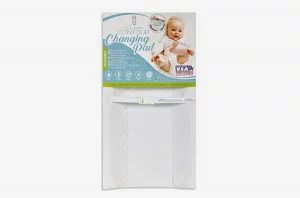 Quilted vinyl cover is waterproof, non-toxic, non-allergenic, is stain resistant and easy to keep clean with mild soap and water. Safety harness for baby with a quick-release buckle. Includes security strap for holding the changing pad to changing table or dresser top. Made in the U.S.A. from domestic and imported materials. Meets CPSC standards.
The LA Baby 4-sided Changing pad is also one of the best in the market with its waterproof, non-toxic and antimicrobial surface. Just clean it with antibacterial baby wipes and you are done for the day. You can transform just about any surface into a diaper changing area with this changing pad.
At 30" in length, LA Baby changing pad is ideal for babies up to 12 months. Its 4-sides elevation is good for keeping kids safe, but it has its disadvantage.
Features
Item weight: 30 pounds.
Product dimensions: 16 x 32 x 4 inches.
Item model number: P-3488-32QP.
Target gender: Unisex.
Material type: Vinyl.
Specification met: certified frustration-free.