Designed for small to medium-sized rooms, The URPOWER Square Aromatherapy Essential Oil Diffuser Humidifier holds 120 milliliters of water and can be used as a night light, humidifier, and diffuser. The system is easy to use and only needs to be cleaned once a week.
URPOWER Square Essential Oil Diffuser Humidifier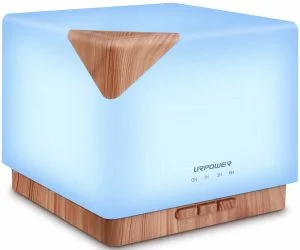 To use the URPOWER Square Humidifier diffuser, you simply need to fill the reservoir with water up to the fill line and put in a few drops of your favorite essential oil. Buttons on the front of the unit allow you to adjust the light settings and to choose your mist setting.
Since the unit lights up, you may find that it works as an excellent night light for you or your children. A combination of soothing lights, essential oils, and humidified air could help you fall asleep faster and wake up more refreshed.
This URPOWER Humidifier will turn off automatically when it runs out of water. It can provide around three hours of steady mist or about six hours of mist when it turns on and off every 30 seconds.
If you're looking for an affordable and simple-to-use diffuser, this might be a good choice. It is easy to clean and can be used just about anywhere you need to fragrance or moisturize the air.
Features
Product dimensions: 16.5 x 16 x 14.5 cm.
Item model number: OD-701.
Material: Plastic.
Aromatherapy feature.
7 LED settings.
Large capacity tank.
Auto shut-off.