Double the fun. Indie Twin offers many options for multiples beginning at birth, so you can still get out and do what you love. Soft, durable fabrics made from 100% recycled PET have kept over half a million water bottles out of landfills since 2011. It's not an option, not an upgrade; just the right thing to do.
Bumbleride Indie Twin Double Stroller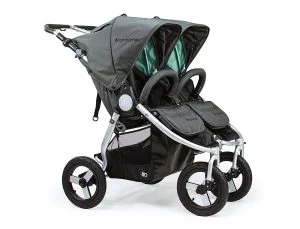 With twins or an infant and toddler, this versatile side-by-side gives you a customized fit for each little one with quick access to both. The narrow silhouette, smooth maneuverability on air-filled tires and canopies redesigned with more headroom and sun coverage make Indie Twin's adaptability unmatched.
Folding Indie Twin is easy and completely seamless thanks to the ergonomic trigger release on the handlebar. Indie Twin comes standard with a wrist strap, air pump, two foldable bumper bars and Bumble ride's 3-year warranty. Stay on the move with two.
Features
The 1-step geared hinge allows easier opening and closing.
All-wheel suspension +all air-filled tires.
Lightweight and durable aluminum frame.
Redesigned seating allows an infant to be placed directly in the stroller without optional attachments.
Adjustable handle.
Large cargo basket with storage for the air pump.
Exterior fabric made from 100% recycled PET.
Product dimensions: 36 x 30 x 47 inches.
Product weight: 36 pounds.