Bringing up a child as a parent is tasking and getting the best portable baby swing for your little one seems like a better choice rather than having your baby in your arms all day. Every parent wants comfort for their kids, therefore picking a compact swing is the perfect decision for your baby.
Why does your baby need a swing?
Asking why your baby needs a swing might sound cliche but coming to think of it, getting a swing for your baby doesn't only provide comfort but also entertains and enhance your kids' visual and motor skills too. You operate the swing while you enjoy the best moments of the day with your little one.
| | | | | | | | |
| --- | --- | --- | --- | --- | --- | --- | --- |
| Products | Rating | Weight | Power | Safety | Dimension | Weight Recommended | Price |
| Ingenuity Cozy Kingdom | 4.4 | 7.0 lbs | Battery | 5-Point Harness | 22.5X28.5X23 | 6lbs-20lbs | CHECK PRICE |
| Graco Glider | 4.5 | 12 lbs | Dual | 5-Point Harness | 27X26.2X28 | 3lbs-20lbs | CHECK PRICE |
| Bright Starts | 4.3 | 4.08 lbs | Battery | 5-Point Harness | 28.5X22.5X23 | 6lbs-20lbs | CHECK PRICE |
| Fisher-Price Deluxe | 4.4 | 9 lbs | Battery | 5-Point Harness | 19.84X25.39X25.04 | 5lbs-25lbs | CHECK PRICE |
| Ingenuity Boutique | 4.4 | 3.5 ounces | Battery | 5-Point Harness | 31X24X24.5 | 6lbs-20lbs | CHECK PRICE |
| Fisher-Price 2 in 1 | 4.5 | 25 lbs | Battery | 5-Point Harness | 12.99X13.78X41.73 | 6lbs-25lbs | CHECK PRICE |
| Ingenuity ConvertMe | 4.5 | 6.68 lbs | Battery | 5-Point Harness | 26X2X22 | 6lbs-20lbs | CHECK PRICE |
Top 7 Best Portable Baby Swings for Small Rooms and Travels
 1. Ingenuity Cozy Kingdom Portable Swing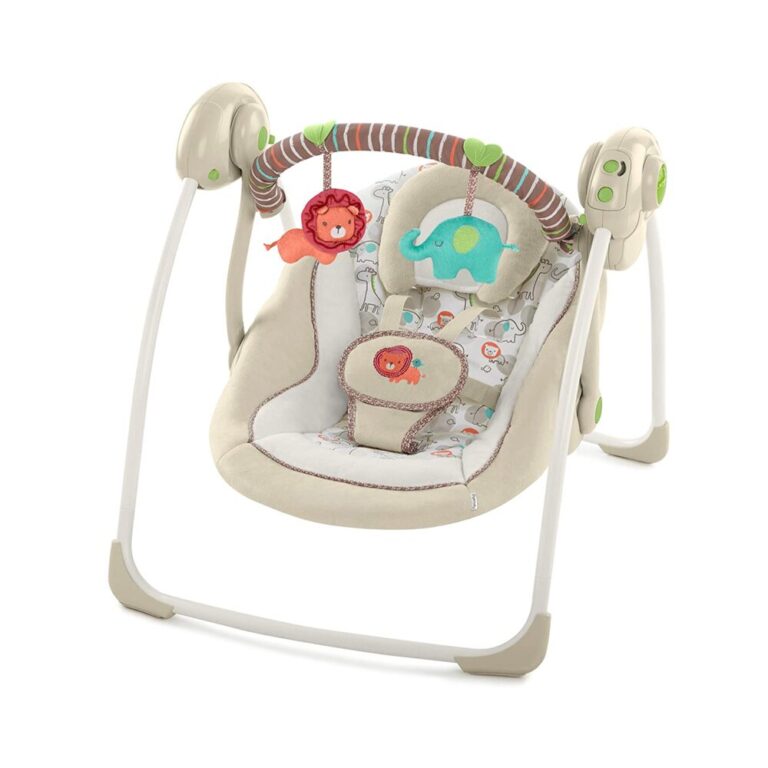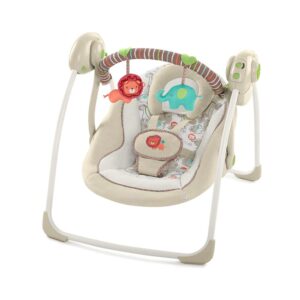 Ingenuity Cozy Kingdom is made with parents and babies in mind. Its amazing features make it one of the best compact baby swing. It has two recline positions and it's foldable, portable designs make it easier to take it wherever you go, all you have to do is push both inner buttons to fold and you have your swing folded in one single fold.
For your baby's comfort, it has adjustable speeds and soothing melodies. It has six swing speeds with true speed technology that ensures your baby's favorite speed stays consistent. The swing has calming music with gentle melodies with volume control and auto shut off.
It has a quiet motor that gets rids of creaky sounds with 2 lush toys that dangle from the toy bar. The seat is made up of brushed polyester, faux suede, and a removable headrest. The power source is from batteries and its battery life is 3hours. Its dimensions are 22.5×28.5×23 inches. The material is made up of 50% polyester,30% metal, and 20% plastic.
The swing weighs 7.0lbs The minimum weight recommendation is 6lbs while the maximum weight recommendation is 20lbs To maintain: wash fabric with cold water, seat pad can be placed in the dryer on low heat, air-dry headrest flat, wipe toys, and frame clean. Do not use bleach.
Pros
True speed technology helps to maintain a constant speed as your baby swings
it has two recline positions
6 melodies with volume control settings
pivoting toy bar
machine washable fabrics
lightweight and compact frame design
Cons
It doesn't use plug-in as power source
runs through batteries quickly
more expenses from buying batteries
Final verdict
Ingenuity cozy kingdom is a swing with a compact frame design that is foldable with true speed technology that maintains a constant speed for your baby which is a wonderful feature that makes it a suitable choice.
Thinking about the power source might want to make it a lesser swing but its portability makes it a great choice.
 2.  Graco Glider Lite LX Baby Swing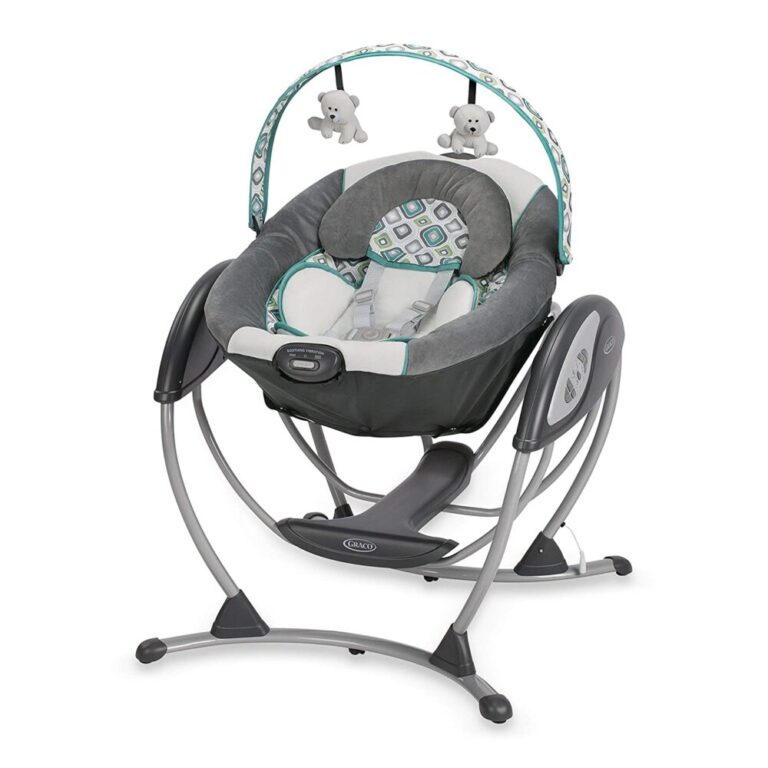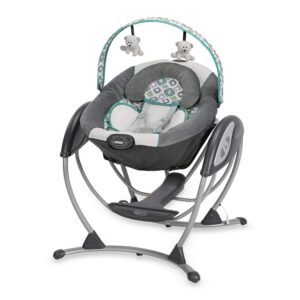 It's a special portable gliding swing that soothes with the same soft motions you use when cuddling your baby. It is an innovative gliding swing that has a dual power source both plug-in and batteries with a plush large seat and removable infant head support that keeps your kid comfortable.
The Graco Slider is lightweight with a Finch style with a touch of teal, charcoal solids and cross patterns on grey make it unisex. It has a 5- point harness that keeps your baby safe.
To keep your little one entertained, it has 6 gliding speeds,10 classical melodies with 5 nature sounds, and a built-in timer to regulate the swing with two hanging toys. The swing weighs 12lbs and its dimensions are 27×26.2×28 inches.
Its minimum weight recommendation is 3lbs while the maximum weight recommendation is 20lbs. To maintain: check the swing for loose screws, worn parts, or torn materials often. Replace and repair the parts as needed and use only Graco replacement parts.
To clean the frame, use only household soap and warm water, do not use bleach or detergent. Do not expose the swing to too much sun and heat to avoid fading and warping.
Pros
it offers great portability
has 6 swing speeds with melody and nature sounds.
comfortable, lush seat
5- point harness provides safety
removable toy bar makes it easy to access your baby
built-in timer helps to save battery life.
Cons
screws can get loosed easily
when touched, it stops swinging too easily.
Final verdict
Graco Lite LX is a swing with great features like the gliding motion, built-in timer, and dual power source which makes it one of the best portable swing.
 3. Ingenuity Boutique Collection Swing 'n Go Portable Swing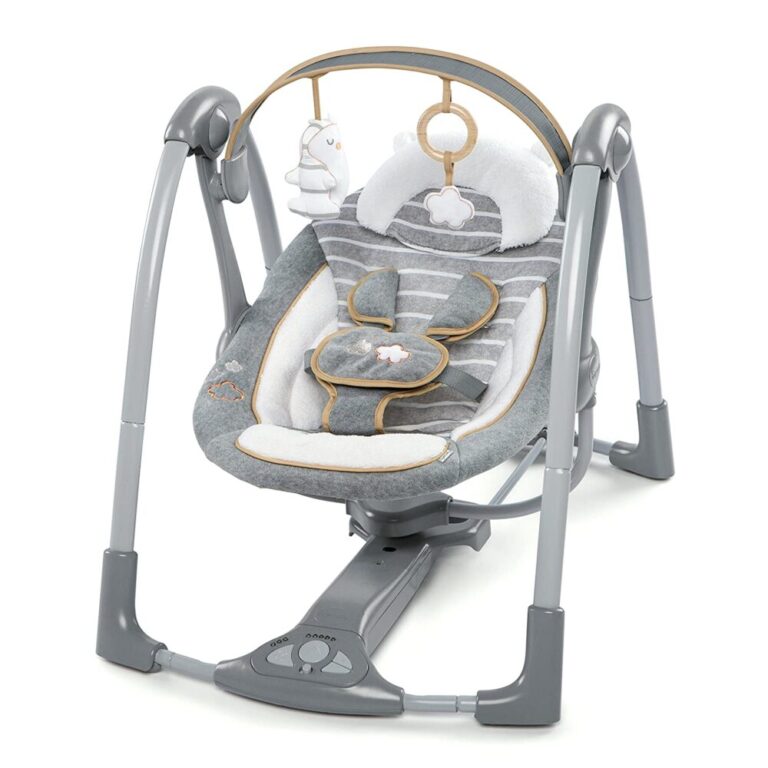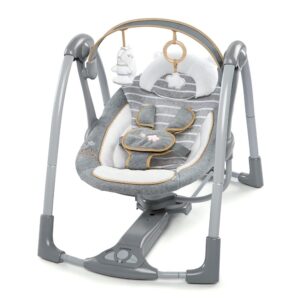 The Ingenuity Boutique Collection has an exquisite boutique style that complements the decor of any home with its luxurious, elegant soft fabrics with an added bolster and character headrest that offers extra support and comforts to infants which is removable as they grow.
It has a safety harness that is wrapped in soft, fleecy fabric to protect the baby's skin. It has a pivoting toy bar with two plush toys that keeps your little one occupied.
This model comes with 8 melodies and 5 nature sounds with 5 swing speeds with a swing timer set up to 30,45,60 minutes allowing the swing to operate hands-free.
Its power source is from batteries and it has a wonderful feature which is the hybrid drive technology which makes batteries last three times longer and helps save money on batteries. Time speed weight sensing technology keeps the baby favorite swing speed continuous until the baby outgrows it.
The headrest, seat pad, and fabrics are machine washable and the slim fold design allows the swing to fold completely for easy storage and mobility. Whisper quiet technology allows the swing to operate in near silence.
It has a non-slip foot with a 5-point harness for safety. The battery life is 12hours and 4D batteries are required. The swing weighs 3.53 ounces and its dimensions are 31×24×24.5 inches Its maximum weight recommendation is 6lbs while the maximum weight recommendation is 20lbs.
Pros
Batteries last longer compared to other battery-powered swings due to the hybrid drive technology.
whisper quiet technology makes the swing operate quietly.
machine washable fabrics
automatic shut off feature
Cons
you have to push the swing to get it going
lowest speed setting might not work for infants.
Final verdict
You what something classy and sophisticated for your baby, then this is the best choice for you.
 4. Fisher-Price Deluxe Take Along Swing and Seat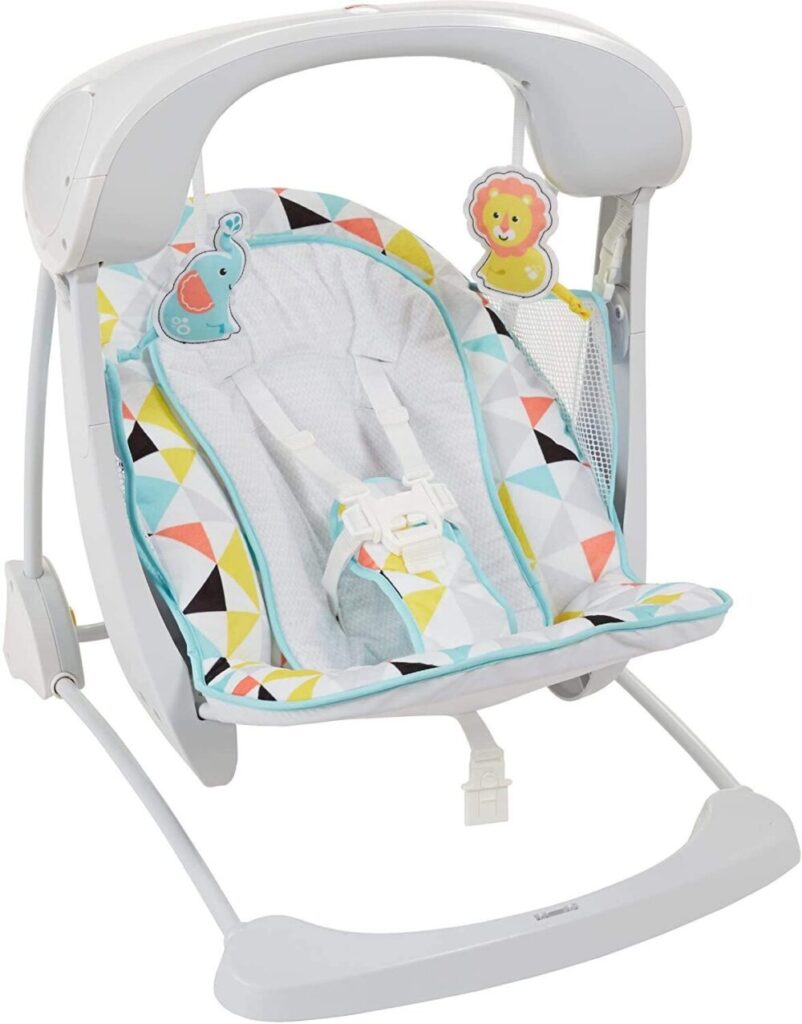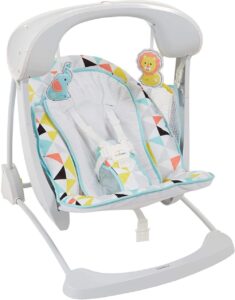 Fisher-Price deluxe take along swing and seat is a dual swing with a two in one function (stationary and swing mode) It is a swing made of exquisite design that performs the function of both swing and seat and can accommodate a maximum of 25pounds. The swing is designed perfectly in such a way that it adjusts its speed according to the weight.
How? It detects the kid's weight and automatically adjusts so the swinging speed is suitable for the weight on it, and as the weight in the swing increases, the speed increases.
As your baby gets older and increases in weight, the swing detects and instead of going slower it adjusts and increases its pace according to the increase in the weight of the baby.
For the swing position, it has six different speeds that you can use to regulate the pace at which you want the swing to stay at, your choice of speed also depends on the mood the baby is, if he is sleepy you can just put it in a slower position and when he is in a playful mood you can choose to increase the speed.
The swing and seat have 10 songs and nature's sound with volume control which is an additional feature and you can choose to increase or decrease the volume. It offers a sense of comfort through the songs, lush and padded seats, and soothing vibrations.
The swing has a super soft and cozy seat padded with soft fabric that is machine washable. The seat has a comfortable newborn insert for newborns' safety. The seat also folds easily.
Compact baby swing and seat in one swing performing dual function of a swing and a stationary seat. The swing has cozy vibrations and two animal toys overhead that helps your baby's developing senses.
The music triggers the child's senses and the toys overhead encourages the baby to reach out thereby exercising motor skills which help in the child's development.
The swing has an easy to fold frame with a handle that makes it easy to handle and makes it compact enough thereby saving enough space. Its dimensions are 19.84×25.39×25.04 inches
It operates on batteries and 4C batteries are required, the battery life is 90hours. The swing weighs 9pounds The minimum weight recommendation for the swing is 5pounds while the maximum weight recommendation is 25pounds.
Pros
light in weight making it compact
it is made of quality product and the price is affordable.
it is easy to assemble
the toys help the baby to exercise motor skills
it is portable and can rock manually
it does not make unnecessary sounds
the swing is firm enough ensuring safety.
Cons
the swing and seat is too low
using batteries as source of power makes one to spend more as batteries may drain faster than you think depending on how much you use it.
it does not come in many colors
the seat does not have recline positions
the swing and seat does not have a timer
Final verdict
Fisher-Price deluxe take along swing is a baby swing that performs the dual function of both swing and seat. It also has a weight regulator. It's a suitable choice for you if you want a swing with dual functions.
 5.  Bright Starts Whimsical Portable Compact Automatic Swing with Melodies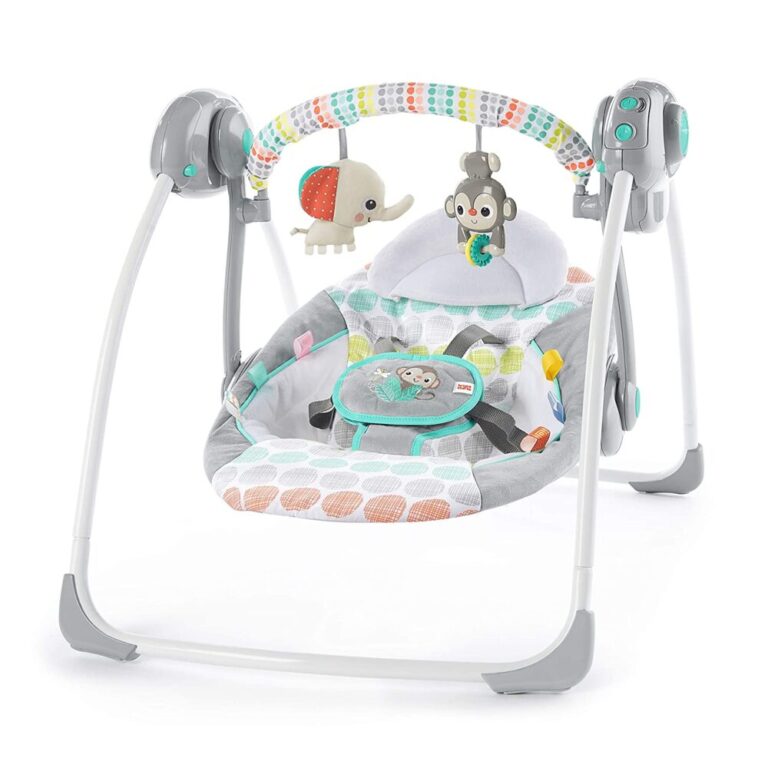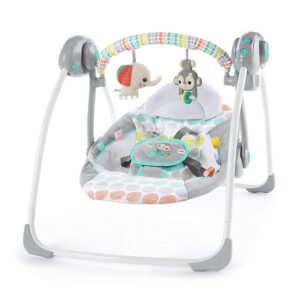 This swing is made of a compact design and is a great example of a compact baby stroller. It swings, sways, and rocks baby to more soothing moments. It has two recline positions, six speeds, and six melodies. It is lightweight, portable, and folds easily.
Also, bright starts whimsical is easy to assemble and has a removable toy bar with two takeaway toys It is lightweight and foldable making it easy to carry and use anywhere. It has a small footprint making it compact enough to occupy little space.
It has a weight adopting technology that detects weight and adjusts the speed according to the weight of the baby. It's dimensions are 28.5×22.5×23 inches. To power the swing,4C batteries are required, it depends on the batteries for its power source.
It's minimum weight recommendation is 6 pounds while it's maximum weight is 20 pounds. The swing weighs 4.08 pounds and the material composition is 75% plastic,25% fabric.
Pros
It is a budget-friendly baby swing
lovely toy bar and music
lightweight and easy to fold
easy to travel with since it is lightweight
two recline positions and six swing speeds.
Cons
sits low to the ground
doesn't feel firm as other swings
Final verdict
Bright starts has a weight adopting technology that detects and regulates weight and speed. It's the perfect choice of a compact swing because of it's lightweight and small footprint features.
 6. Fisher Price 2- in 1 Deluxe Cradle 'n Swing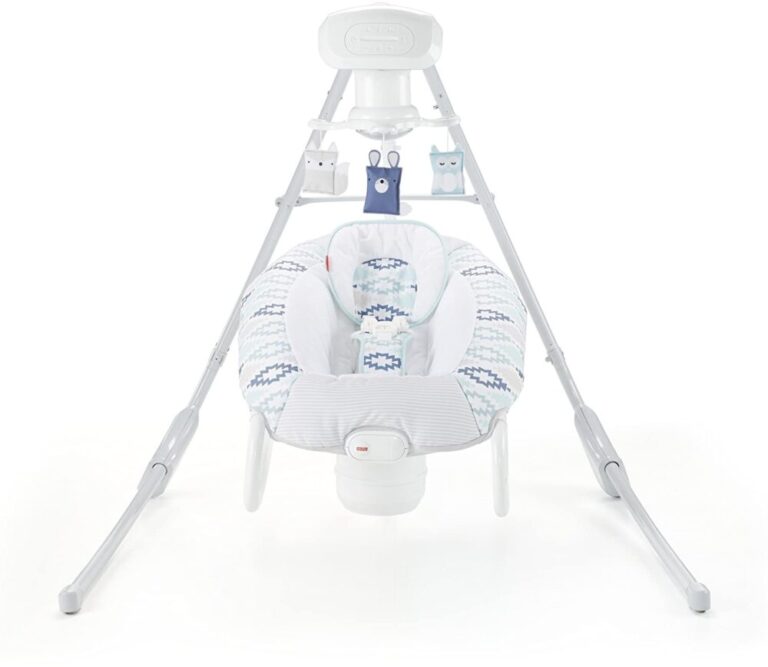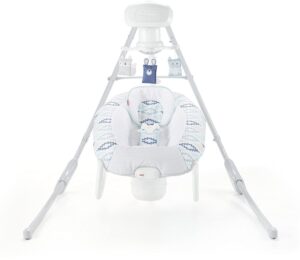 It's a swing that offers dual functions. Super comfy baby swing with rocker that easily convert from one motion to another and also makes you choose which of the motions soothes your baby most.
It has 6 swing speed and calming vibrations with 16 soothing songs and sounds and volume control. The dual motion makes your baby sway from side to side like a rocker or from head to toe like a swing.
The rocker seat is removable with motorized mobile with a mirror and 3 soft toys that engage your baby's visual sense. The seat is made up of soft fabrics and the seat pad and removable head support is machine washable.
It folds easily at one go for easy storage and mobility. Its power source is from batteries,4D batteries are required and the swing weighs 25lbs. Its dimensions are 12.99×13.78×41.73 inches.
Pros
has dual motions, rocker, and swing
easy to fold
has a volume control
seat pad and removable head support are machine washable.
Cons
the only power source is from batteries
Final verdict
This product is a dual function swing and provides the comfort needed for your baby.
7.  Ingenuity Convert Me Swing-2-Seat Portable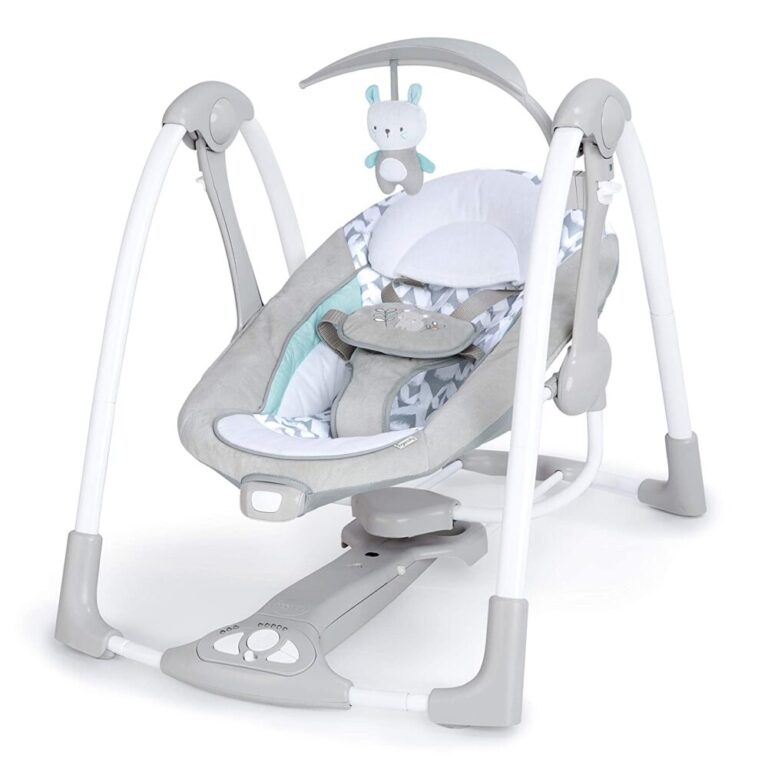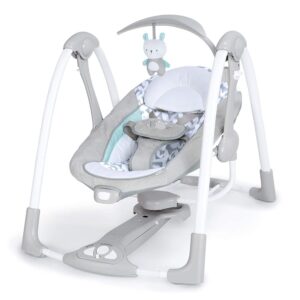 A swing with a foldable design for easy storage and mobility. It's a compact design that makes it suitable for outdoor use and storage when it is not needed.
It can be used for a newborn baby up to 9months. It has an extremely quiet motor that provides a refreshed environment for your kid, it also has two toys overhead to keep your baby entertained.
The Ingenuity CovertMe has a cozy soft seat with a safety harness to protect your baby. It's has a dual power source both plug-in abs batteries. The AC adapter can be used at home to save battery life, the battery has a life of 260 hours.
It has 5 swing speeds with different timer options of 15,30 and 45 minutes. The swing is lightweight and has a weight of 6.68lbs. Its dimensions are 26×23×22.5 inches
Its minimum weight recommendation is 5lbs which the maximum weight recommendation is 20lbs. It has a hybrid drive technology that conserves the batteries with the whisper quiet technology that makes the swing operate quietly.
Pros
it is lightweight
compact design
it is affordable.
easy to fold
hybridrive technology makes Batteries last longer
whisper quiet technology prevents creaky noise
Cons
vibration doesn't shut off automatically
few swing option
Final verdict
This is a light weight swing with a compact design and foldability which makes it easier to store and use for outdoor activities.
Best Portable Baby Swing Complete Buying Guide
Before making your purchase of a baby swing, below are outlined guidelines that will guide you into picking the right compact baby swing for your kid.
Price
 All these swings are made by different manufacturers and brands and they also differ in their features and functions that make their prices different. Before making your choice of swing, check the price to see if it's within your budget and plan.
Weight
 While making your choice of a compact swing, taking the weight into consideration is very important, you don't want to be stuck with a heavy swing. Check up something compact and lightweight. Also make sure you check the weight recommendations and see if your baby is suitable for the weight range.
Portability
 In the first place, you wanted to get a portable baby swing, the best at that. Checking if the swing you want to purchase is compact is important and shouldn't be overlooked. Check if it's compact enough and doesn't occupy much space.
Power source
 Some of the swings operate on batteries, some are electric while some have a dual power source. Depending on your preference, note the power source of the swing you want before buying
Ease of use
 You don't wanna be stuck with a complicated swing. Note if the swing you want to purchase is easy to assemble, easy to use, easy to operate, and easy to fold. Taking notes of this makes your purchase easier.
Safety
 Take note of the safety harness and if the product has the necessary authorizations. Before making your purchase, make sure the product you want to get has a 5-point harness to ensure the safety of your baby.
Features
 Each product differs in its functions and features as they're made by different brands. Each product has what it has to offer, depending on what you want, check the features each product offers, and pick the one most suitable. I will prefer a swing that has a lot of features to offer.
FAQs
1. Is it okay to sleep the baby in the swing all night?
 It's is okay to sleep the baby in the swing on a few occasions but do not sleep the baby often in the swing because it's not good for the baby's health.
 2. Which is the best choice among bouncer and swing?
 Bouncer in most cases has stationary motions, but swings have different speeds, with recline positions and vibrations that keep the baby comfortable.
 3. Is the baby swing good for the kid's spine?
 The infant spine us always curved in a C position so is the swing which helps in the development of secondary curves which enhances early walking. A baby swing is good for your kid and might make your baby walk early.
 4. Can I leave my baby unattended to?
Do not leave your baby completely unattended to, even when secured properly, they can suffocate if their airway is blocked or get dizzy after a long stay in the swing. Always pay attention to your baby.
 5. How long can I use the swing?
 Till your baby outgrows the maximum weight recommendation or starts sitting up, you can discontinue use.
Conclusion
Getting a portable baby swing is a suitable choice of getting comfort for your baby. A swing that doesn't occupy space which is also easy to handle is the dream swing of any parent.
Getting the best compact baby swing depends on your needs and preference as the swings vary in functions and features. Making your choice depends on the price, your budget, and your preference. Match the products with your needs and choice.
Important Reads: