The XL1 Best Single Stroller is the ultimate lightweight, compact, expandable, feature-rich travel stroller for on-the-go parents. Made of durable high-grade aluminum yet weighing only 11 pounds, this well-built stroller features a compact fold, fits in a backpack, and can be stored in car trunks and some airplane overhead bins.
Zoe XL1 Best Single Stroller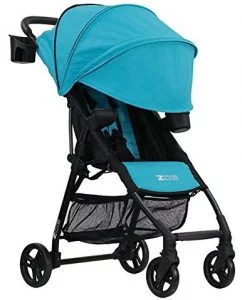 The seat fold is secure, smart, and efficient, but this stroller is so much more than that: it's unique. This exceptional stroller is patented for its tandem system capability. With a one-of-a-kind add-on expansion, you can turn this stroller from a single to a double to match your growing family.
A new stroller isn't necessary with a new child; all you need is a high-quality, comfortable tandem-seat add-on that matches and attaches perfectly to the XL1.
A stroller isn't just for the kids – it has to be easy for parents to use as well. The elastic storage basket conveniently holds snacks, toys, and anything you may want for yourself.
Features
Disney approved the stroller.
50 lbs per seat carrying capacity.
Reclinable footrest.
Expandable.
Compact.
Convenient.
Huge canopy.
Product dimensions: 7.5 x 20.2 x 26 inches.
Product weight: 11 pounds.