Best Choice
Also Consider
Oregon Scientific SG338R Smart Globe Explorer AR Educational World Geography...
Hugg-A-Planet Classic Political Earth - The Original Soft & Huggable Planet...
Geography is a highly engaging school subject. Learning about galaxies, the Solar system, planets, and our Earth can wake your child's curiosity. Visually, globes are probably the best way to help them understand Earth. It is a downsized replica of our planet, after all.
Maps are greatly distorted presentations of our globe, which are usually difficult to read and comprehend-especially for young children. So if you want to encourage your little ones to start learning about nature geography around them and inspire them to explore the world, investing in a globe designed for kids would be a great start. However, given the variety of products on the market, finding a perfect globe might seem like an overwhelming task.
If you are currently trying to find the ideal mini version of planet Earth for your kids – look no further! We have prepared a list of ten best globes for kids in 2023. The buyer's guide and some frequently asked questions follow our list. They will provide you with useful information and help you decide on the product your kids will love the most.
10 Best Picks for Children in 2023
No one knows your little ones better than you do. Therefore, we would suggest you buy a globe that is at the same time fun and entertaining, as well as educational. This way, kids will enjoy the learning process. They will see it as a game rather than some mundane task they need to do.
Here are the best globes for 2023.
1. Oregon Scientific Smart Globe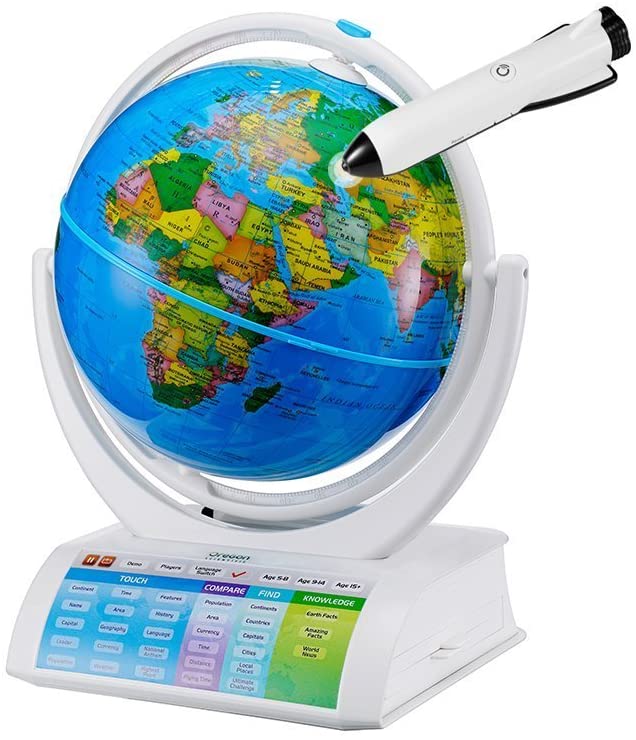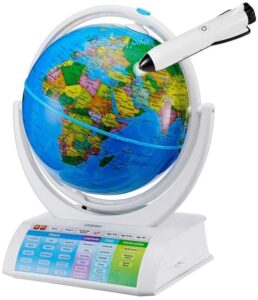 Oregon Scientific Smart Globe is an interactive learning tool. It is recommended for kids of age from 5 to 15. The globe features more than 20000 fun facts. It is available in various languages. They include English- both British and American dialects, Spanish, Russian, French, Italian, and Spanish.
The Oregon globe comes with a Bluetooth pen that comes with speakers and earphones. When you open the globe, you can learn about layers of Earth and the Solar system too. On the outside, you can find the political map of the world. When you download the app, your kids can learn about their favorite animals. If they are fans of dinosaurs, then they will enjoy discovering their world via the same app. They can learn about famous landmarks-visit the Pyramids or Taj Mahal.
The Oregon Scientific globe comes with multiple games that will keep your kids entertained while learning.
2. 4 in 1 Interactive Globe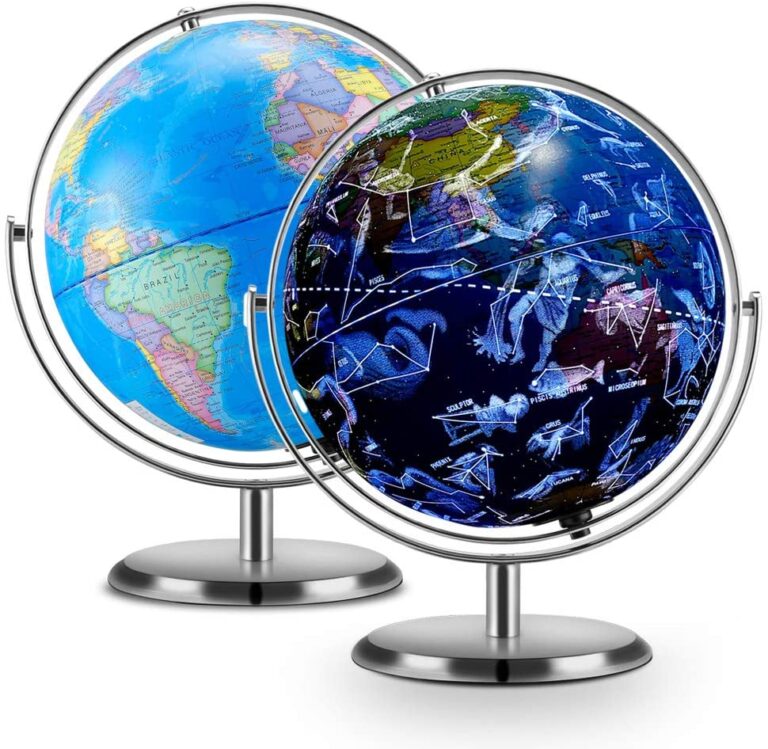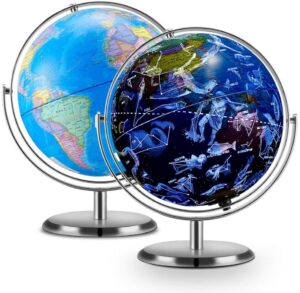 The 4 in 1 Interactive Globe is a fun early education tool for kids based on AR (augmented reality). Kids will learn about the Earth, animals, countries, famous landmarks, stars, constellations, and the Solar system.
The world map is colorful and detailed. At night your kids can use the globe as a night lamp. It is then when a detailed constellation map will appear. The product is sturdy and durable. The base is made of stainless steel, and the materials used on the world map are harmless for kids.
Once you download the app that comes with the globe, true learning can start. While playing, kids will learn about the fauna, weather conditions and forecasts, and countries. They can select options and skip between studying material.
3. SJ Smart Globe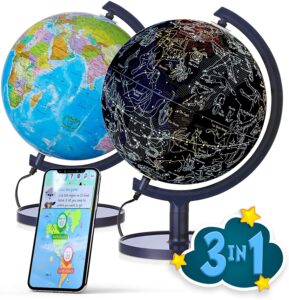 SJ Smart Globe is a 10″ interactive model of the Earth. It is easy to assembly- all you need to do is follow the instruction manual. Countries are vividly painted, and the time zones are marked on the globe.
At night the globe turns into a lamp. Projections of 88 constellations and zodiac signs and the Milky Way are wonderfully lit with LED lights. The SJ smart globe comes with a free app for more fun.
Via the app, your kids can learn about countries, their flags, and landmarks. This information is coupled with text, sounds, and different audio and visual effects. Both you and your children will spend some quality time together, learning interesting facts about the world around us.
Watch the following promo for more info on this globe's features:
4. Orboot Dinos AR Globe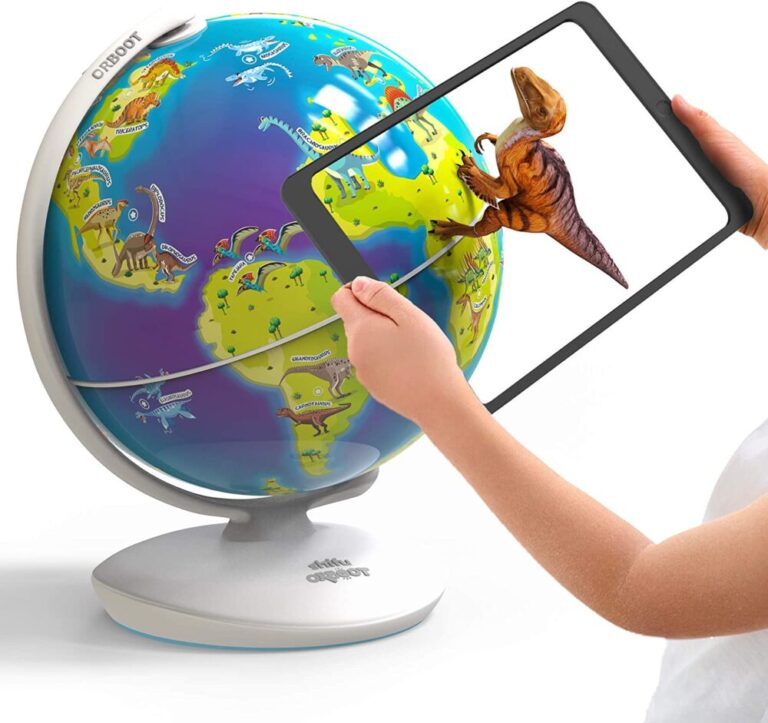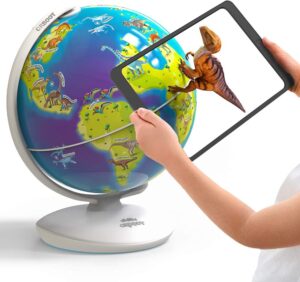 If your kids are dino fans, they will love the Orboot Dinos AR Globe. It is an interactive tool that will take your kids back to ancient times. The globe is designed for kids who are age four or older.
The world map shows where different dinosaur species lived. A fun sticker book and free app come with the globe. Once you download the app, your kids can participate in great numbers of games and educational material. They can "dig" through 400 amazing facts or enjoy over 50 realistic 3D visualizations of the dinosaur.
Read Also: Best Dinosaur Toys for Kids and Toddlers
5. World Globes for Kids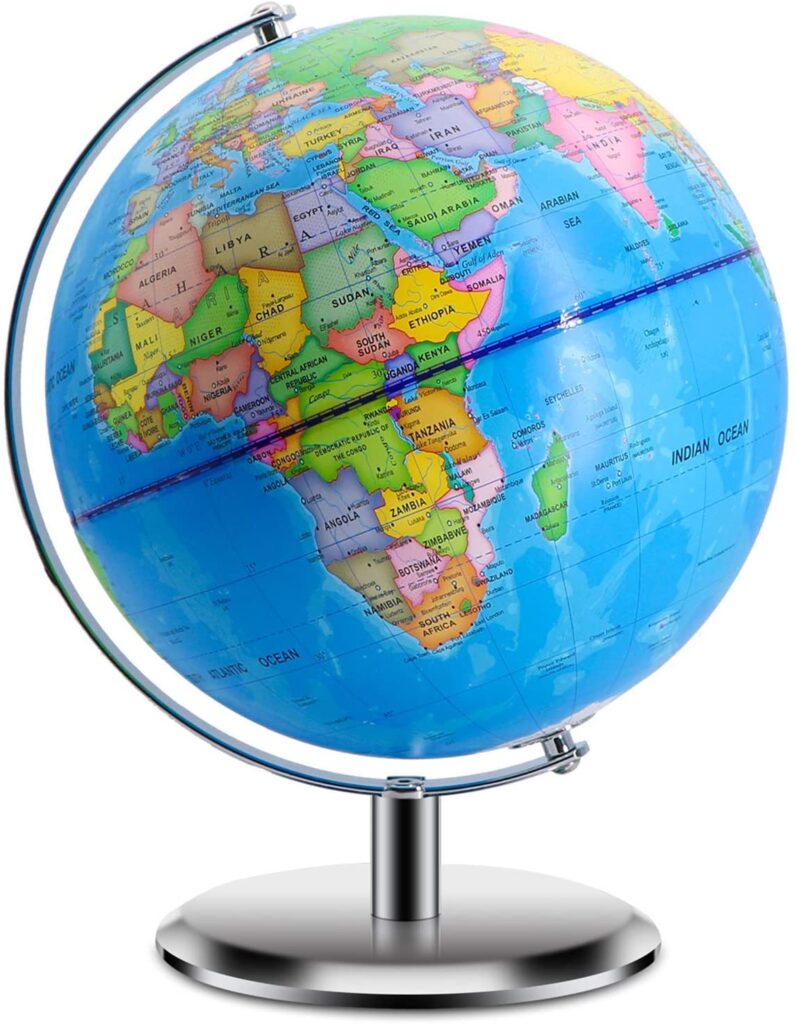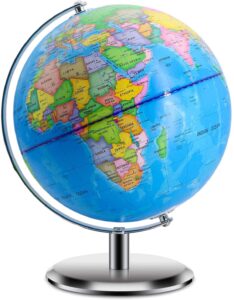 The Sprite Beat is a classic world globe. The size of the product is 12″, but it is also available in sizes 9″ and 8″. Although it is primarily designed for kids, adults can use this globe too. It is made elegantly and simply.
The World Globe for Kids is a simple educational tool. It comes with no additional accessories or features. The globe is made of durable and sturdy materials. The base is covered with non-slip fabric, while the stand is made of high-quality stainless steel.
Your kids can easily differentiate the countries as they are painted in vivid colors. This is a great tool for learning about natural and political geography.
6. Illuminated World Globe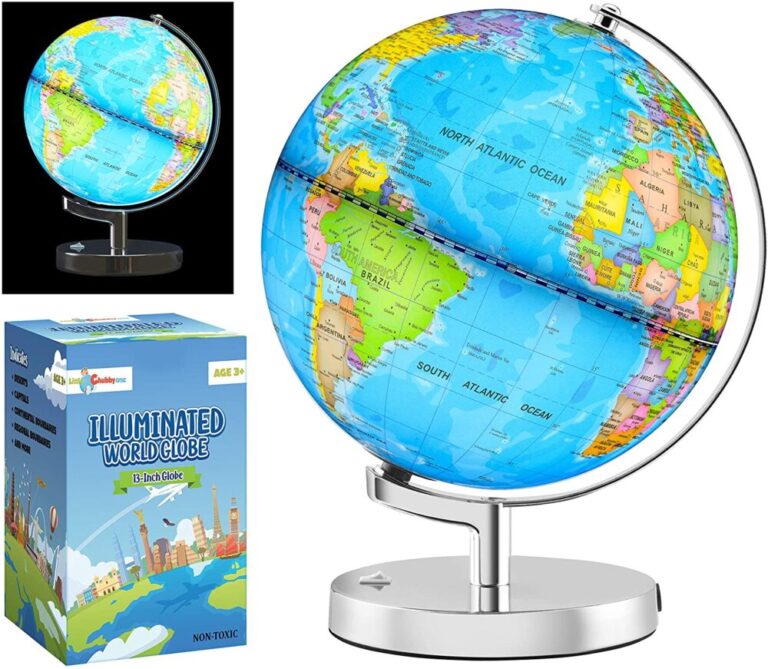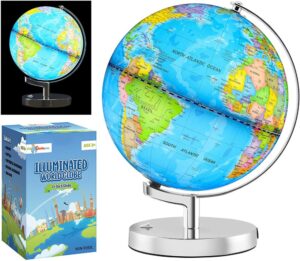 The Illuminated World Globe is manufacture by the brand A Little Chubby One. It is a classic world globe without too many accessories. The illuminated world globe is available in three different versions, so you can choose one that best fits your interior style.
It is a simple and educational 13″ globe that can act as a night lamp when needed. This feature makes it a perfect decor element that can be used both by children and adults.
7. Little Experimenter Globe for Kids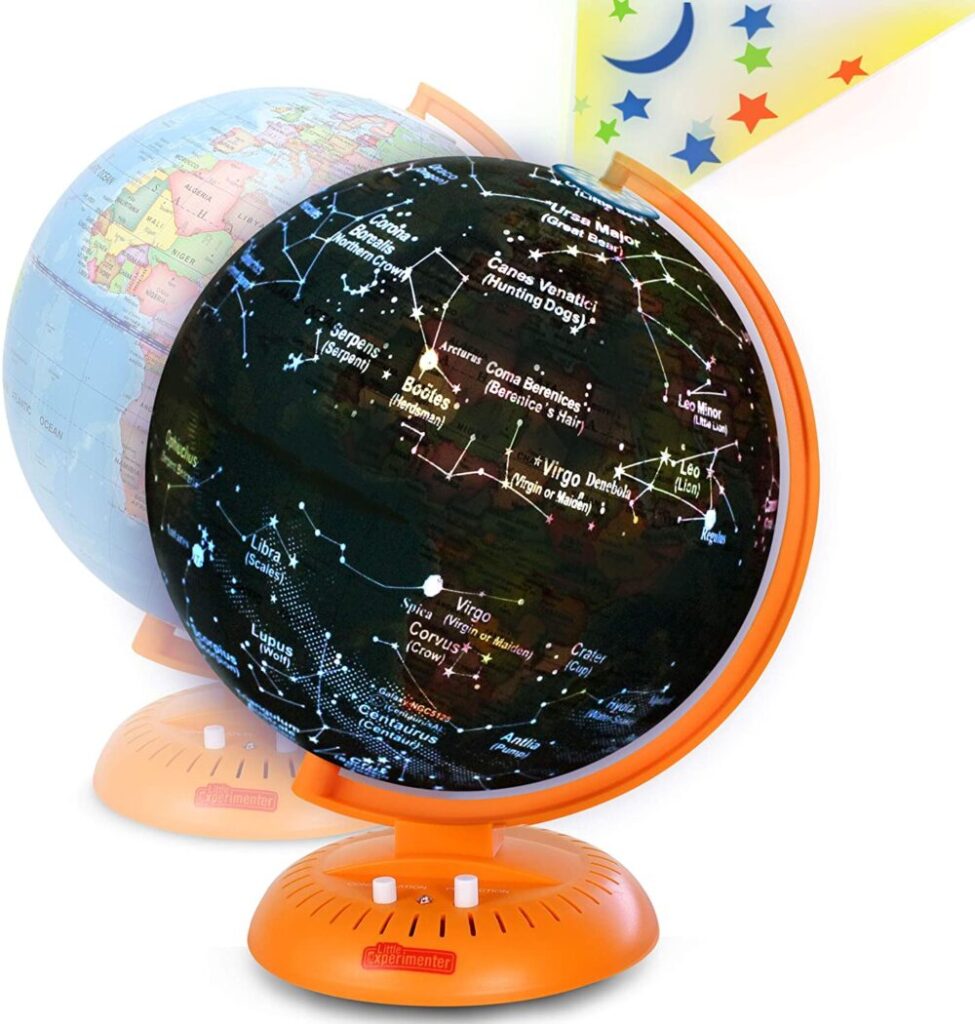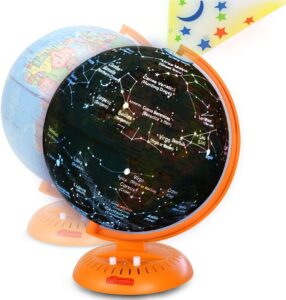 Little Experimenter Globe for Kids is 3 in 1 educational tool designed specifically for children. It will inspire your children to learn and get to know our planet and the world around them. The globe comes with a 7.8″ diameter.
Your little explorers will learn about continents and oceans, countries, capitals, deserts, internal boundaries. By day it is a globe. However, by night it transforms into a beautiful constellation map. Therefore the learning continues, and now your children can learn about astronomy.
The globe transforms into a nightlight projector whenever you or your child needs it.
Don't miss this interesting review of Little Experimenter Globe:
8. CYHO Illuminated World Globe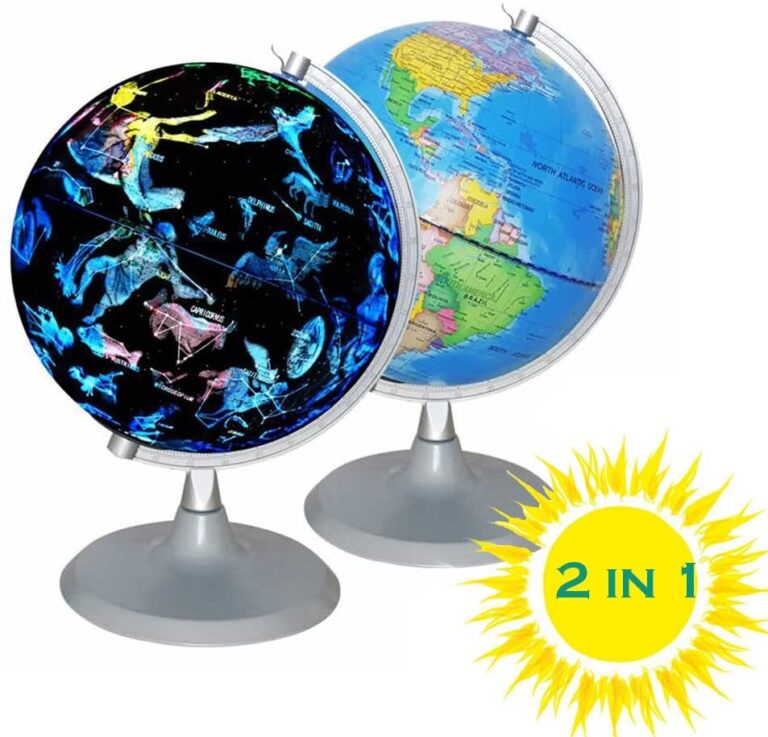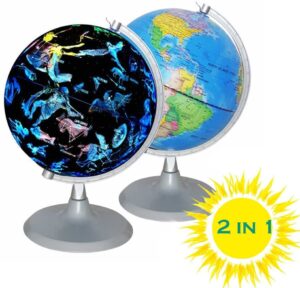 Illuminated World Globe by the brand CYHO is a 2 in 1, 11.8″ globe. It will help your children learn both about geography and astronomy, without you having to spend some extra money. It is made of durable materials that are not harmful to kids.
By the daytime, it is a classic political globe. Contours of the countries are clearly painted in different hues. At night the globe turns into a constellation map. Soft, warm light will project the biggest stars and their arrays in the sky above Earth. Whenever you want the turn the map on, plug in the electric socket, and voila! There is no need for batteries.
9. Hugg-A-Planet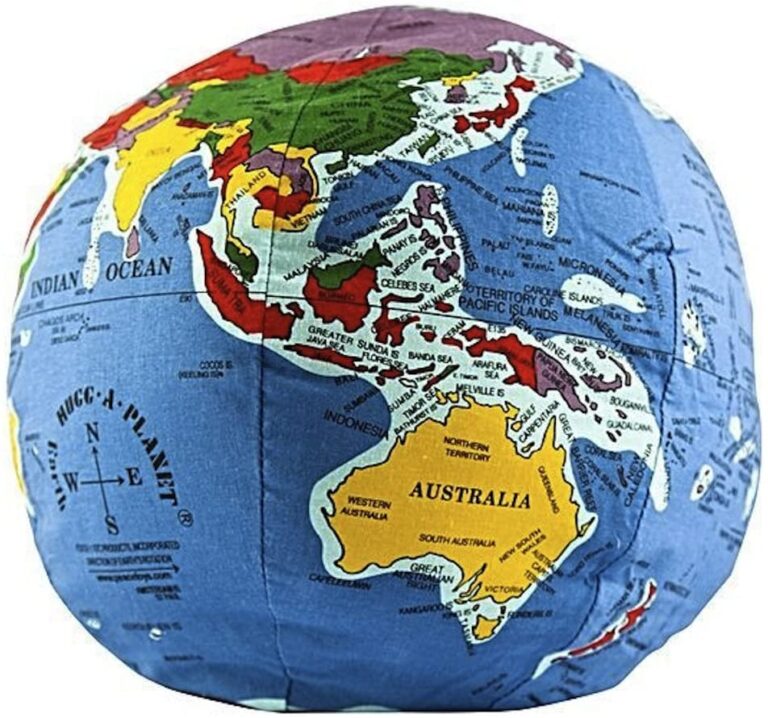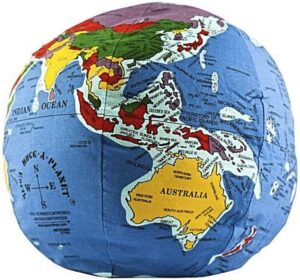 Hugg-A-Planet is a great toy and learning tool for kids who are age two or older. Learning about countries and the world around us has never been so easy. Over 600 different places are marked on the plush toy globe.
The globe is made of cotton, and it is filled with new materials. You can wash the globe in a washing machine, which is great for toy hygiene. Your kids can hug it, squeeze it, throw it, and it will stay in one piece for a long time. It is never too early to encourage kids' curiosity and learning about our planet, Earth.
Have you already found the right learning tool for your little ones? The one that will spark joy and will help them learn about geography in a fun and amusing way? If you need some more details to help you decide on the perfect gift, continue reading as we have prepared a short buyer's guide.
Buyer's guide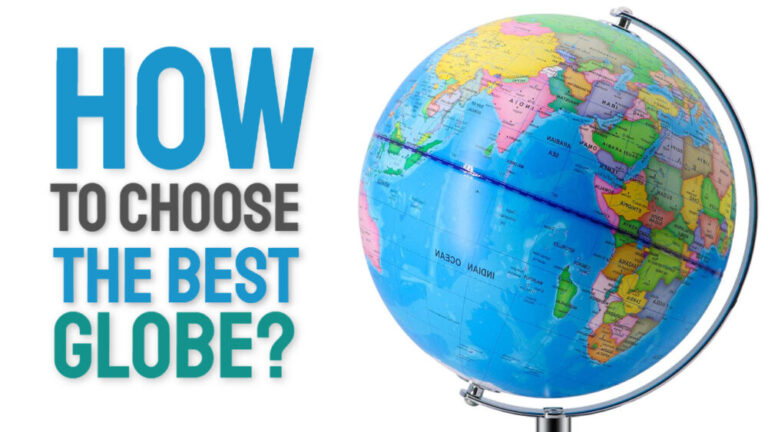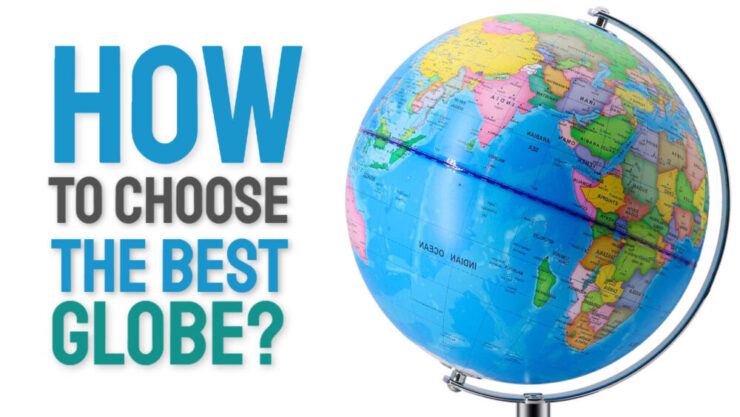 If you want to give your kids the world, why not buy them a globe? This useful tool will not only help children learn about important geographical terms and elements but will amuse them, too. You can spend some valuable time together explaining to them the world around you.
There are certain features these learning accessories should come with to make studying geography a much more enjoyable process.
Interactivity
Your kids will enjoy the globe so much more if they can touch it, spin it, or even draw on it. If the globe offers a certain level of interactivity, your children will love it so much more. Kids learn through games and entertainment, so why not make learning a fun and enjoyable process?
Let them become true explorers.
Materials
The globe should be made of materials that are less likely to break. Kids drop and throw things away all the time. Therefore, the globe should be sturdy and preferably durable. It should contain no toxic or harmful components that could jeopardize kids' health.
Details
Globes that are designed for kids are usually smaller in size than those designed for adults. Also, the globes for kids are a bit less detailed than the ones for grown-ups. This is by no means a bad thing. Too much can overwhelm the little ones and make them lose interest. Learning the basics such as continents, oceans, or perhaps flora and fauna of certain regions is more than enough for their young age. They will have enough time to learn about details when they are older.
FAQs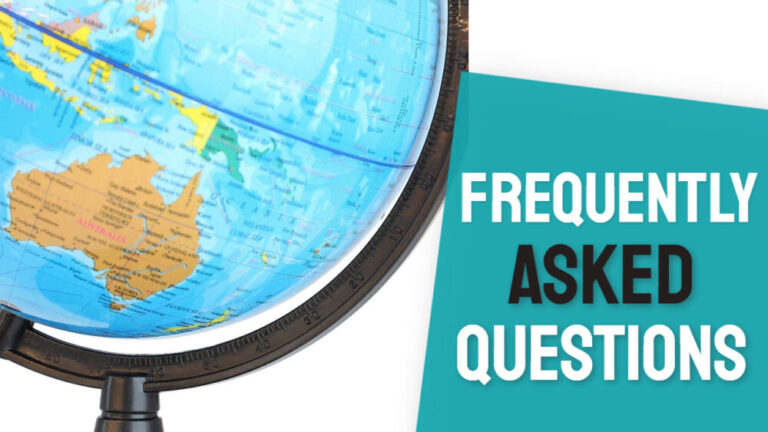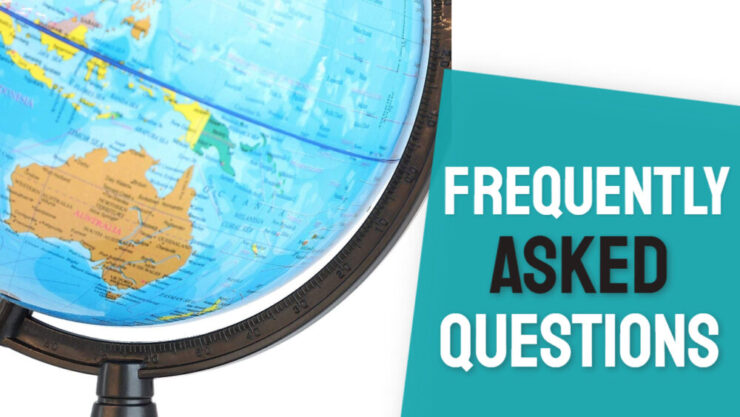 Q: Why are globes tilted?
A: Most globes are tilted at an angle of 23.5 degrees. This is done to match the actual tilt of the Earth in relationship to the Sun. This tilt is what gives Earth different seasons and more daylight hours at certain times of the year.
Q: Why do some globes have a metal ring or semi-ring around them?
A: Some globes have a metal or semi-metal ring. They are called meridians and are generally numbered in degrees from 0 to 90. Number 0 represents the equator, while 90 represents both South and North poles.
In the past, people used meridians to locate positions on the globe. Today they help in keeping the globe ball in the position.
Q: What is a raised relief?
A: Raised relief is a three-dimensional representation of the terrain. This could be a mountain range, canyons, valleys, etc. Globes with raised relief come with grooves, bumps, and ridges to represent the changes in terrain. This is a great way to provide an extrasensory and tactile experience for the kids and guide them to learn about topography.
Q: What is the difference between political and physical globe?
A: A physical globe show terrain of the earth. It doesn't show the boundaries between countries and states. On the other hand, political globes do show the boundaries. The countries are usually brightly colored. Different colors are used to indicate and separate the states or countries from the neighboring ones.
Wrap Up
Globes can be helpful educational tools for both kids and adults. Learning about continents, oceans, countries, and their capitals will be much easier with a small-scale model of Earth.
Globes that are specially designed for kids are usually interactive. Children learn about Earth while they play. No matter if you are home-schooling or want to help your children learn faster, investing in a globe for kids will be a great decision. Perhaps you as an adult will learn a thing or two as well, or refresh your memory while spending time with your little ones. You can choose one from our list of the best globes for kids. No matter which model you select, your kids will surely love and enjoy using it!
Now that you gathered all the information, take a look at some other interesting choices in 2023:
Don't miss our other in-depth reviews:
Best Toys For Babies Learning To Stand
Top Race Car Track Toys for Your Kids
Best Baby Drum Sets