If your kid is turning five and you don't know what to buy, clap your hands! 5-year-olds are at a weird middle as they aren't fully considered "big kids," but they're also not toddlers anymore. That's why finding the right gift can be very difficult.
You have to make sure that it can keep your 5-year-old engaged and entertain for an extended period. Along with that, you also have to make sure that it aids in their development. That's why we have compiled some of the best toys and gifts that you can give your 5-year-old.
Best Gift Ideas for 5-Year-Old Boys
1. Stunt Planes Set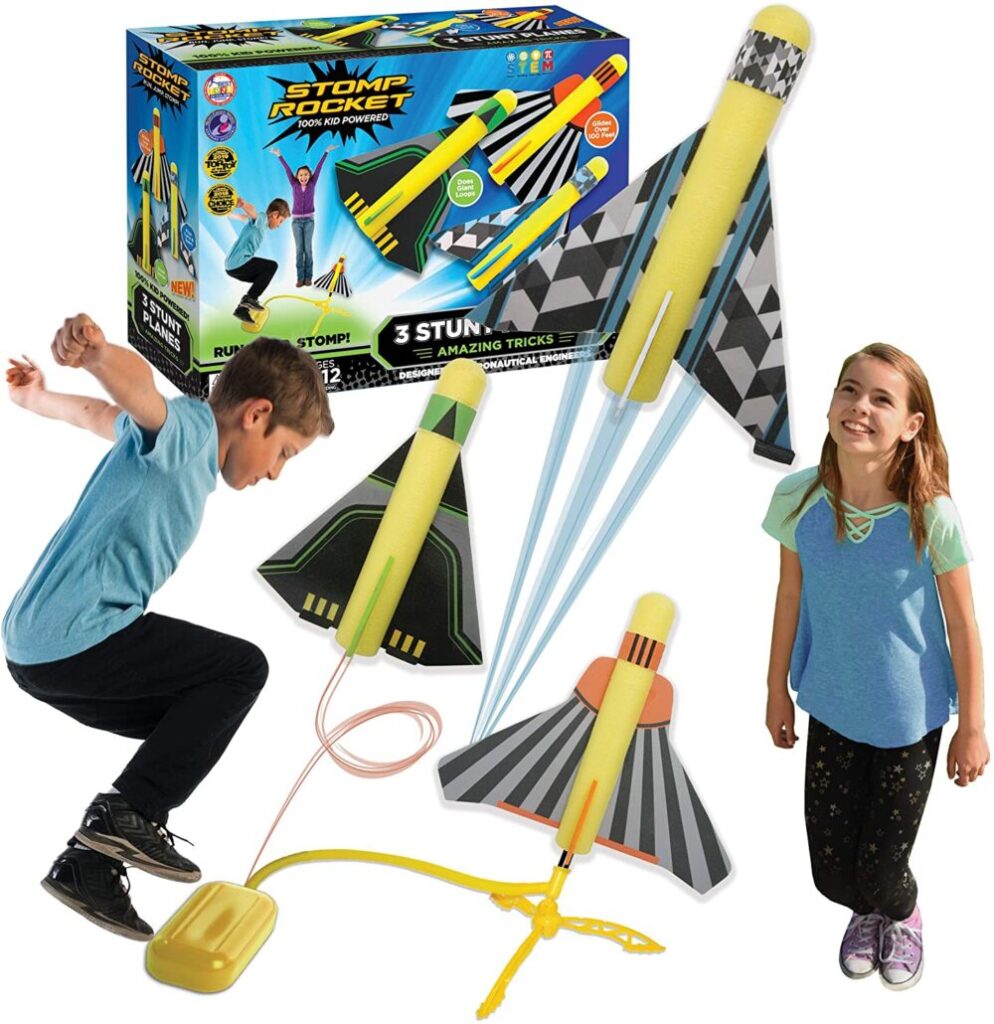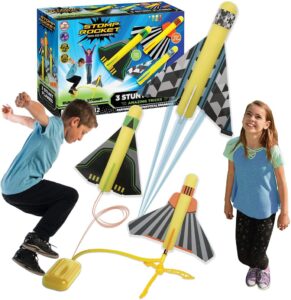 This plane set is ideal for your little one as it will occupy him for hours on end. The original stomp rocket plane set is 100% kid-powered and requires no batteries. This will get your kids away from those screens and out in the sun for some outdoor fun. This set is recommended for kids aged five and above and has three rockets, a rocket launch stand, and a stomp pad.
The three rockets have their name to match their unique characteristics. One is called looper and does giant loops, the glider can soar up to 100 ft in the sky, while wildcat does all sorts of wild tricks. The stomp pad comes with an air hose and helps to launch these planes up in the sky. Moreover, you can adjust the angle of your plane's flight with the adjustable launch stand.
The adjustable launchpad is great because your kid can learn basic aeronautical principles with this stunt plane set. This set has won several awards, including the iParenting Media Award, Dr. Toy, and Creative Child Magazine. Furthermore, paired with the "Stomp Rocket Science Book," your little boy can get a head start in STEM subjects. Not only that, even adults can use it!
Pros
3 different planes included
100% kid-powered
STEM activity
Durable
Cons
Might arrive damaged
Box can bend the wings
In conclusion, the stunt plane set is the best gift you can give your 5-year-old. This toy will keep your child occupied for hours while educating him about basic aeronautical principles as he adjusts the launch stand. Furthermore, as it's kid-powered, it doesn't require any batteries, and kids can play it non-stop.
2. Squigz Deluxe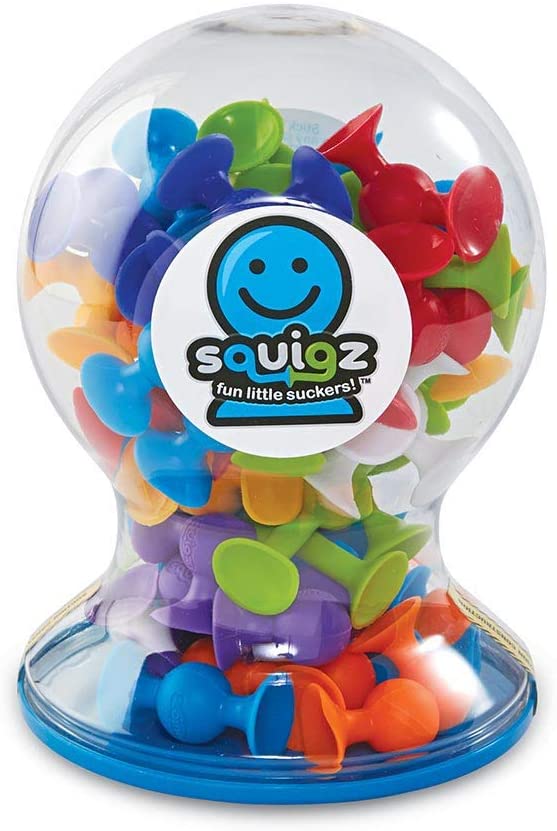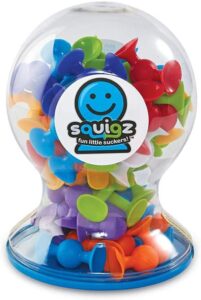 If your 5-year-old is into building things, then this is the best gift for them. The Squigz Deluxe set comes with 50 pieces in 8 different colors and designs. Your kid can stick them to one another or to any flat, smooth surface. This set gives your child the opportunity to get creative with their constructions.
This set also promotes their imagination as they can come up with any way to play with them. These suction cups can be used as a building block to construct structures. They make great partners for bath time as they stick to the tub without any hassle.
Furthermore, these cups are 100% safe for your little ones. They are dishwasher safe and made with high-quality food-grade silicone. Additionally, these cups are free from latex and BPA. This is perfect as BPA is toxic material used in manufacturing goods and is the cause of many health concerns. As this toy is BPA-free, you can rest assured even if they happen to put it in their mouths.
Another great thing about this toy is that the packaging doubles as a storage bin. Moreover, they leave no marks or residue when you remove them from any surface, either the wall or your coffee table. The POP sound they make when removing is also very satisfactory.
These toys are flexible and promote creativity in your kids. The cherry-on-top is that it's also won multiple awards like Best Toys for Kids Award-ASTRA, Parents' Choice Approved Award, and the Oppenheim Toy Portfolio Gold Award. Although it's relatively a safe toy, you should keep it out of reach from kids under 3-years as they can choke on the small pieces.
Pros
Award-winning
Latex and BPA-free
Flexible
Leave behind no marks/residue
Cons
Expensive
Trouble sticking in dry climate
To put it shortly, this award-winning toy is excellent for your 5-year-old to bring their imagination to life. These cups can be connected to each other and onto smooth surfaces for endless playtime. Additionally, it's 100% safe for your kids as it has no BPA or latex.
3. Flybar My First Foam Pogo Jumper for Kids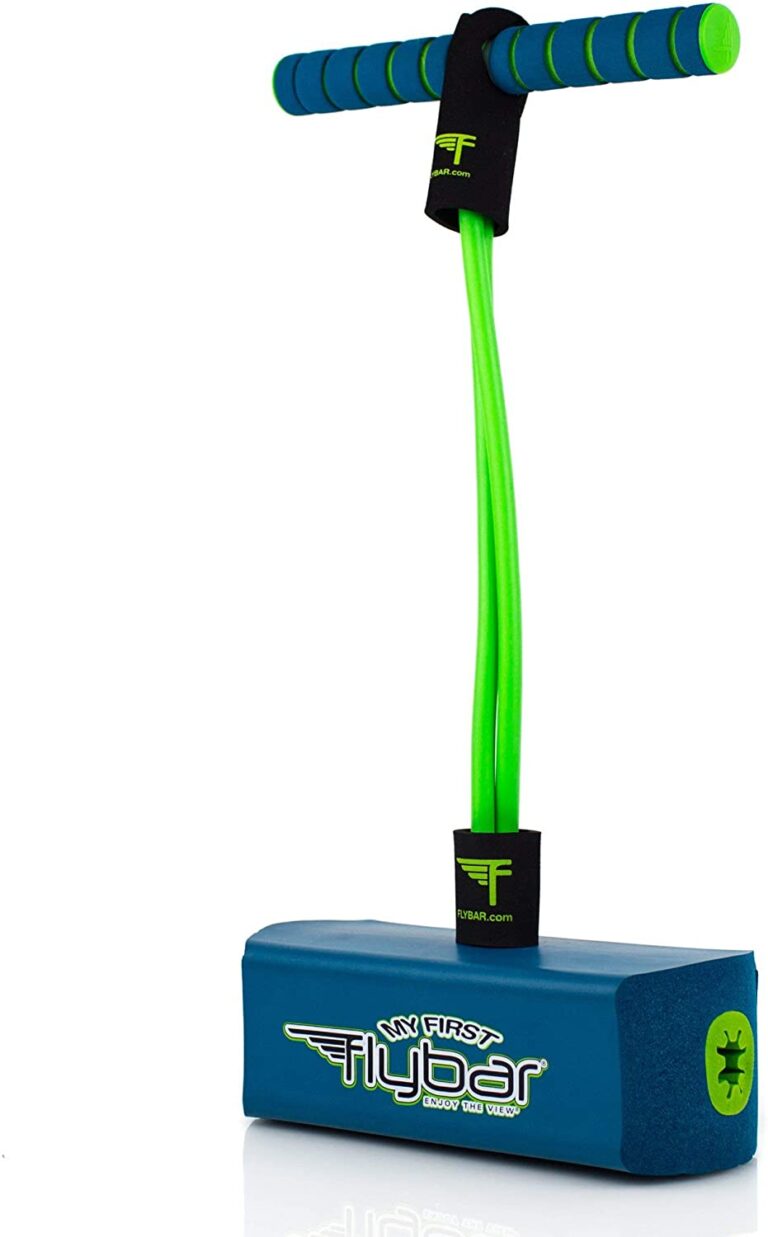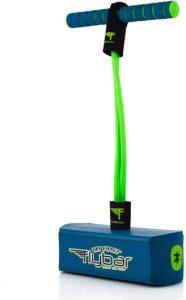 As your kid enters their fifth year, they can better balance themselves. This pogo jumper is perfect for them to practice their balance and hand-eye coordination. With this pogo jumper, your kids can enjoy hours of healthy fun without the worry of injuries.
As this pogo stick is made using high-quality, durable foam, it's safe to use both indoors and outdoors. The high-quality build also ensures that they can withstand any condition. This means that they are built to last. The foam base also ensures that your floors stay scratch-free.
The handles are also covered with foam which adds to its comfort. As there's a squeaker in the base, it squeaks with every hop. No matter how annoying these may be for adults, this squeaking sound makes your kids hop more as they enjoy such noises immensely.
Furthermore, this pogo stick folds up neatly when you want to put it away and is available in a number of colors and designs. Another plus point about this product is the seamless customer service. If you're not satisfied with your buy, you can return it within 30 days and get all your money back.
Pros
Indoor/outdoor
Won't scratch the floor
Multiple designs available
Holds up to 250 pounds
Cons
Squeaky sound
The learning curve is short
This pogo jumper is the best gift for your 5-year-old if they have plenty of energy. This jumper will keep your kids occupied for hours while improving their gross motor skills like hand-eye coordination and balance. Moreover, it's completely safe due to the foam used in the build.
4. Fat Brain Toys Buggy Light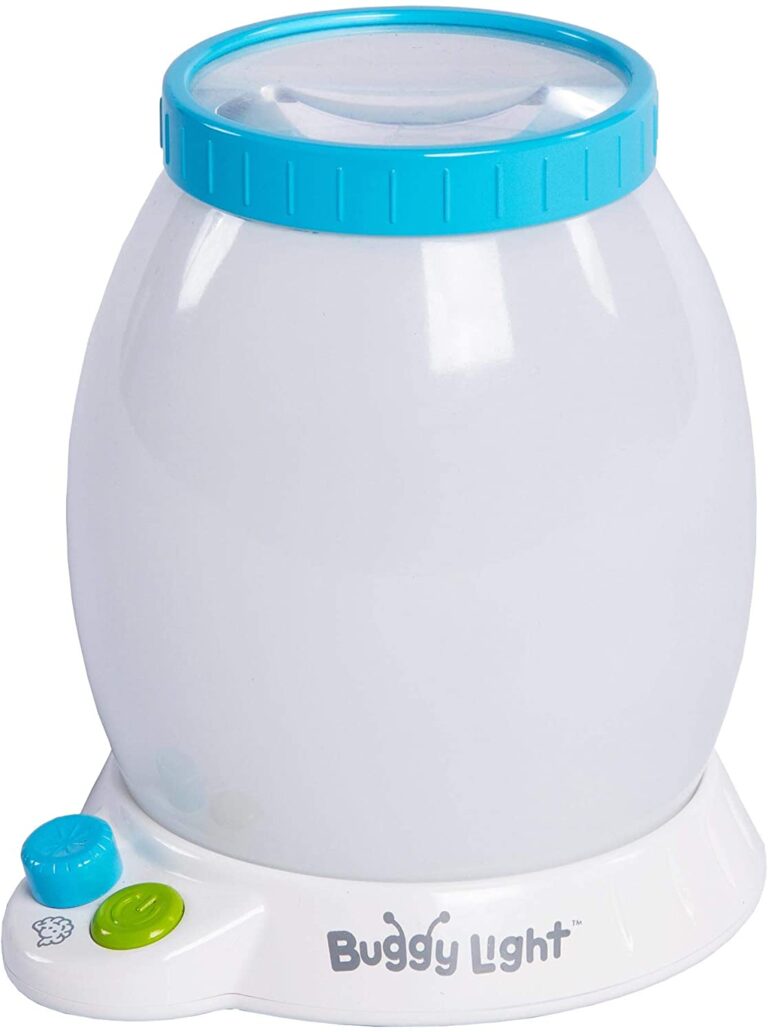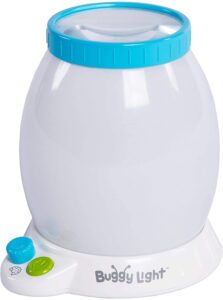 Kids are curious beings and enjoy learning about the world around them. If your 5-year-old is interested in bugs and crawlers, this is the perfect gift for him. Fat Brain is always trying to come up with creative and innovative toys. This buggy light is no exception!
This light lets your kids observe the bugs they've collected. This toy's ingenious design is that the lid acts as a magnification glass that your kid can use to observe the insects in detail. What's more, you can turn the dial to change the color of the light.
This buggy light can also be used as a cool, unique
nightlight
for your little entomologist. Furthermore, you can set the light to cycle, and it will display a variety of colors in a cycle. The light shuts off after 30 minutes if it's not in use. You can also adjust the brightness according to your requirements.
In addition to that, there are holes in the jar so the insects can breathe easily. The light is built into the base and keeps the jar illuminated without heating up. This feature is great as your kids can observe insects with the bugs frying up. Additionally, this light is high-quality and highly durable.
Pros
Durable
Doubles as nightlight
Holes for breathability
Adjustable brightness
In short, this buggy light is great to spark your kids' curiosity about the outdoors. They can closely examine the bugs and creepy crawlers around them. The controls on the light are easy to use, so your little one can do it independently. The cherry on top, this light can be used as a nightlight as well.
5. Chutes and Ladders Board Game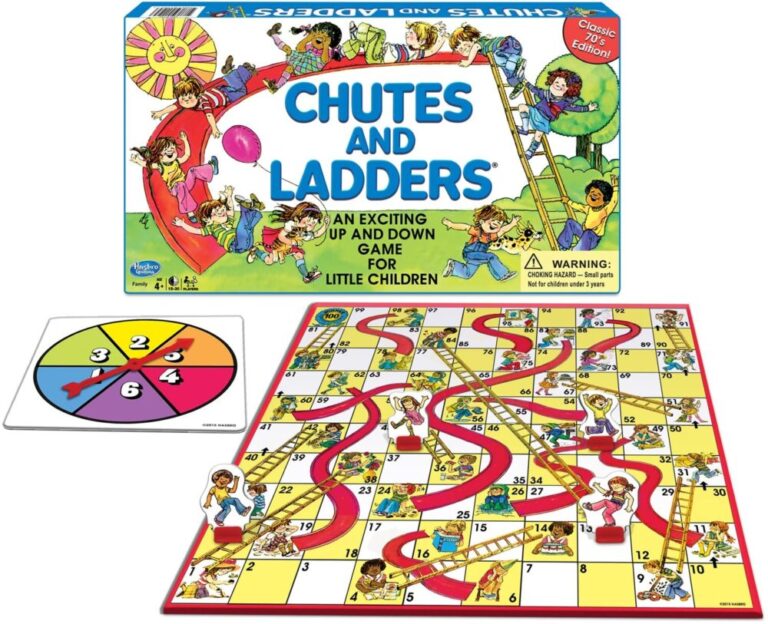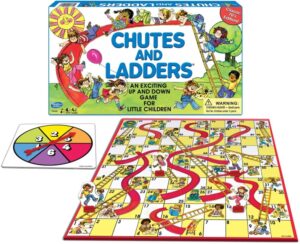 This version of Chutes and Ladders offers you a new make with a classic look. You might remember this board game as the one you played in your childhood. Well, now you can make new memories with your kids. Your kid can't read, no problem! Chutes and Ladders is an easy-to-learn board game that doesn't require reading.
It's suggested for kids age four and above and can be played with two to four players. The ladders represent good deeds that take players up while the chutes or bad deeds bring them down. This is a great way to show your kids the benefits of doing good and the harm bad deeds can do.
Furthermore, it also helps in teaching fundamental skills like counting to your kids. The game goes rather quickly, so you don't get bored, and nobody feels left out. As you have to wait for other's turns, this is excellent for teaching your kids patience and turn-taking. This is a game that the entire family can enjoy together.
Pros
Learns to take turns
No reading required
Teaches basic skills (counting)
Cons
Some bad choices are outdated
At 5-years-old, your kid's attention span increases, and they are able to enjoy classic board games like this. This game is perfect for your kids because it teaches them skills like counting. Moreover, they don't need to know how to read for this game, so that's an added benefit.
6. Tegu Magnetic Blocks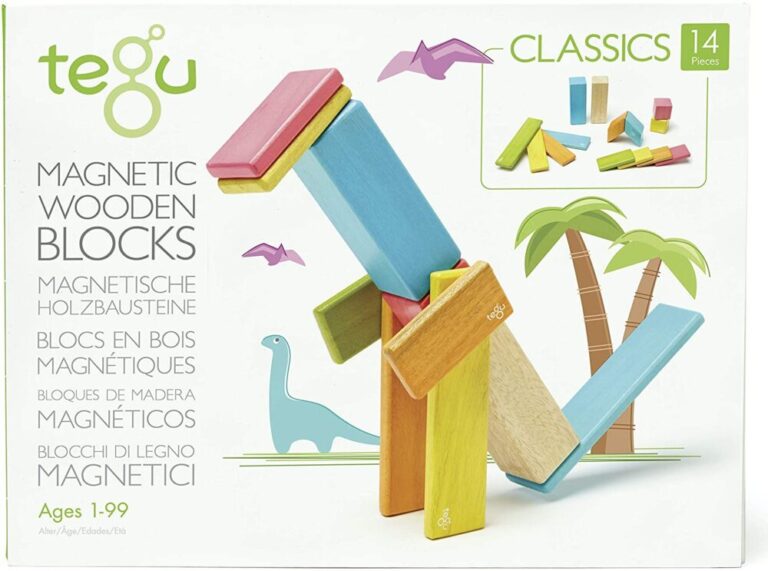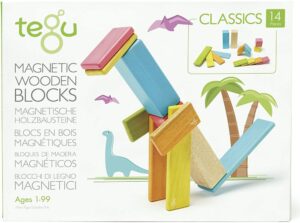 The Tegu Magnetic Blocks are a fresh and innovative twist on the classic wooden building blocks. These blocks unlock your tiny builder's creativity and imagination. This set comes with 14 pieces and is compatible with other Tegu sets as well. The design of these blocks is classic and minimalistic.
Furthermore, they're constructed with high-quality material, so they last you decades. As there are no rules, your 5-year-old and build whatever he wants. The possibilities are endless! What's more, they're 100% safe as they don't have any lead, plastic, or toxic material in them. There's no possibility of choking hazards as there are no small parts.
This set has 2 cubes, 2 short columns, 2 parallelograms, 4 short, and 4 long planks. This allows your kids to build camels to cars. Moreover, as your little one goes on building, his critical thinking and problem-solving skills will improve. This is because he will have to think out of the box to come up with new designs.
Additionally, these blocks improve your child's fine motor skills significantly. Your kid will also learn to recognize patterns, balance and will get a sense of scale. This is possible because he will have to balance and fit things for them to connect properly. Another benefit is that the company plants extra trees for the ones they chop down to make these blocks.
Pros
Safe
Promotes creativity
Enhances problem-solving
Durable
Aesthetic
Cons
Magnets only on block's ends
Need 2 sets for big structures
The Tegu Magnetic Blocks are a fun and creative way for kids to build. It promotes problem-solving in your child. This is because they need to balance them properly for the magnets to connect. Moreover, they're highly durable but make sure to keep them away from pets who can chew on them.
7. Gym1 Deluxe Indoor Playground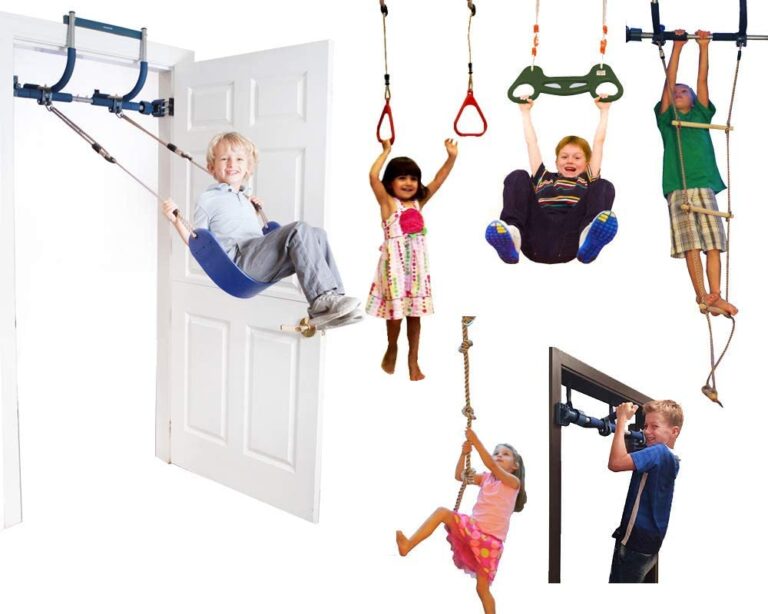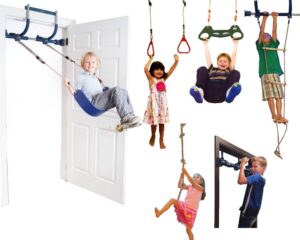 If your kid likes to play rather intensely, this is the gift for them. This gym set allows you to bring the gym into your house. It is robust, sturdy, and can hold up to 300 pounds. This means that your kids can play on these without a hassle. The assembly of this set is straightforward as well. Moreover, it fits snuggly into 25 to 36 inch wide doorways with a trim on the top at least. You can assemble this in minutes, and removing it takes mere seconds.
For assembly, you can read the instruction manual or even watch videos for detailed instructions. Additionally, it comes with a patent doorway unit so you don't have to worry about assembly. It has a plastic swing, wooden ladder, rope, and a gymnastic trapeze for your kids to play with. Moreover, it can be used both indoors as well as outdoors.
This gym helps strengthen your kid's gross motor skills while also teaching decision-making. What's more, is that it is safety tested for your kids to use. As it uses a heavy gauge rope, your kid can swing to their heart's content without making any noise. Although it is safety tested, you should screw in the frame for added support. This is a precautionary measure to ensure your child's safety 100%. Moreover, if your doorframes have a decorative trim on your door, reconsider buying this gym as it won't hold to that.
Pros
Strengthen motor skills
Sturdy build
Indoors/outdoors
Cons
Parental supervision is a must
Door jamb not secure enough
In short, this gym will make the ideal gift for your active and adventurous 5-year-old. The assembly of this set is very simple and can be done within minutes. And just like that, your kids and start swinging, trapezing, and climbing. This toy can be used both indoors and outdoors and sufficiently strengthens your kid's motor skills.
8. Small Discoverer Outdoor Exploration Set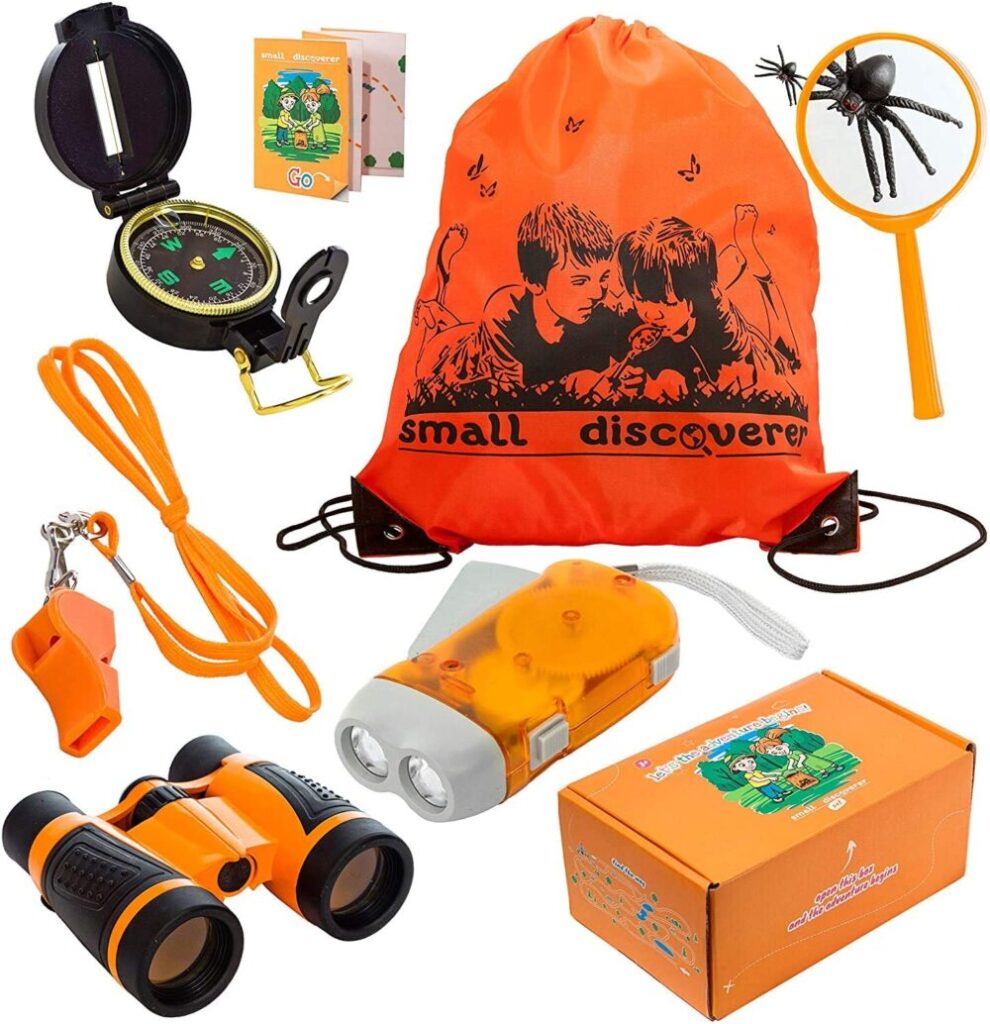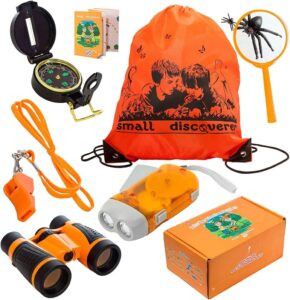 Due to the excessive use of cell phones, kids don't explore the outside anymore. Well, your kid's exploration days begin with this fantastic outdoor exploration set. This kit allows your little discoverers to explore and examine flowers and insects. Furthermore, the set comes with multiple, actual working equipment.
This set has a magnification glass, binoculars, a flashlight, whistle, and a compass. All of these come in a matching backpack, which is the perfect partner for hiking and camping. The binoculars have a magnification power of 4x, and their eyepieces are made using rubber. This adds to the durability of the product while also increasing protection. It also comes with neck string, so your kid doesn't lose it.
The flashlight requires no batteries, so use is very easy. The compass is great for teaching kids directions and map reading. Moreover, your kids can use the magnifying glass to study insects and, if they want, make fire like in cartoons. The whistle can be used by the kids to signal you if the need arises.
Another added benefit is the exceptional customer service. The company offers a full refund if you are not satisfied with your explorer set, no questions asked. Additionally, this a great set for a very reasonable price. This makes it an ideal gift for your 5-year-old who loves to explore and go on adventures.
Pros
Working equipment
Educational and fun
Bag doubles as storage
Explorations and curiosity
In conclusion, this exploration is perfect to get your little ones off the couch and out in the outdoors. It comes with fully functioning equipment which your kids can easily carry inside the backpack. All of which makes this ideal to take with you on camping and hiking trips.
9. Squeakee The Balloon Dog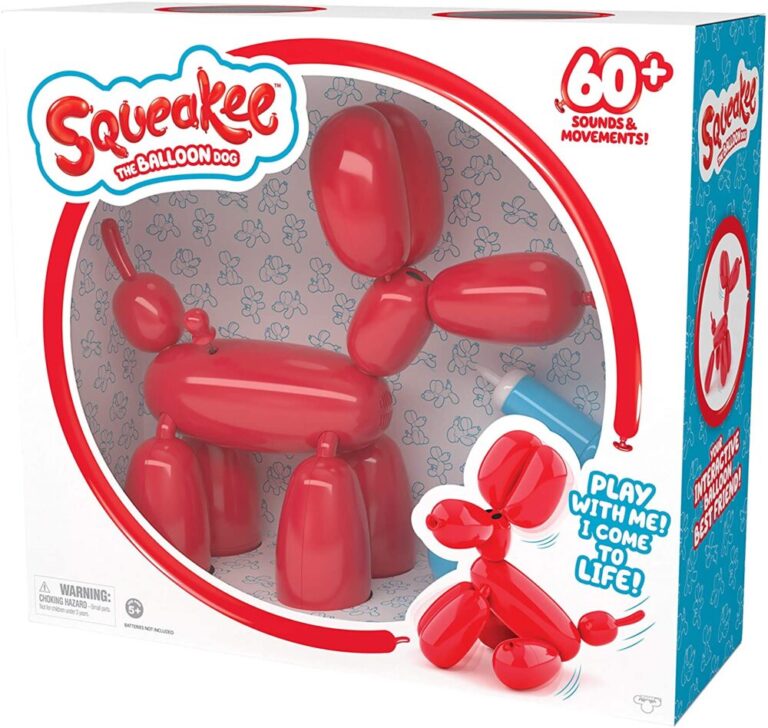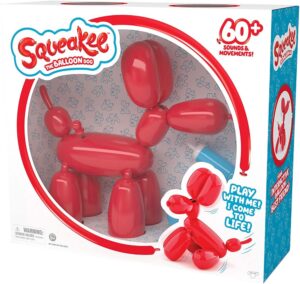 If your 5-year-old is bothering you to get them a dog and you don't want one, get them Squeakee! Squeakee is the red balloon dog that has lifelike characteristics in a whimsical-looking body. This toy responds to sound and movement and can be activated with your voice. He eats, plays, and can even do tricks if you teach him.
Furthermore, you can even deflate him if he is being a naughty boy. This is a fun and interactive little pup which your kids will enjoy playing with for hours. Your young ones can even pop him and watch him deflate. Make sure to keep the deflated toy away from kids under three as it can be a choking hazard.
You can simply bring him back to his inflated self with the help of his pump. Moreover, you can train him to do tricks with his squeaker toy. As you feed him with his pump, he'll pee and fart, which is quite entertaining for 5-year-olds. All in all, this is an excellent gift to give your 5-year-old boy as it'll keep him entertained for a long time.
Pros
High-quality
Durable
Detailed Instruction Manuel
Cons
No volume control (rather loud)
Keep track of small accessories
To put it short, Squeakee The Balloon Dog is a cute little pup that is perfect for your kids. He is voice-activated and can do several tricks. Because he's made using high-quality material, he's exceptionally durable. This toy is sure to keep your little ones occupied for hours with his tricks.
10. Scientific Explorer My First Mind Blowing Science Kit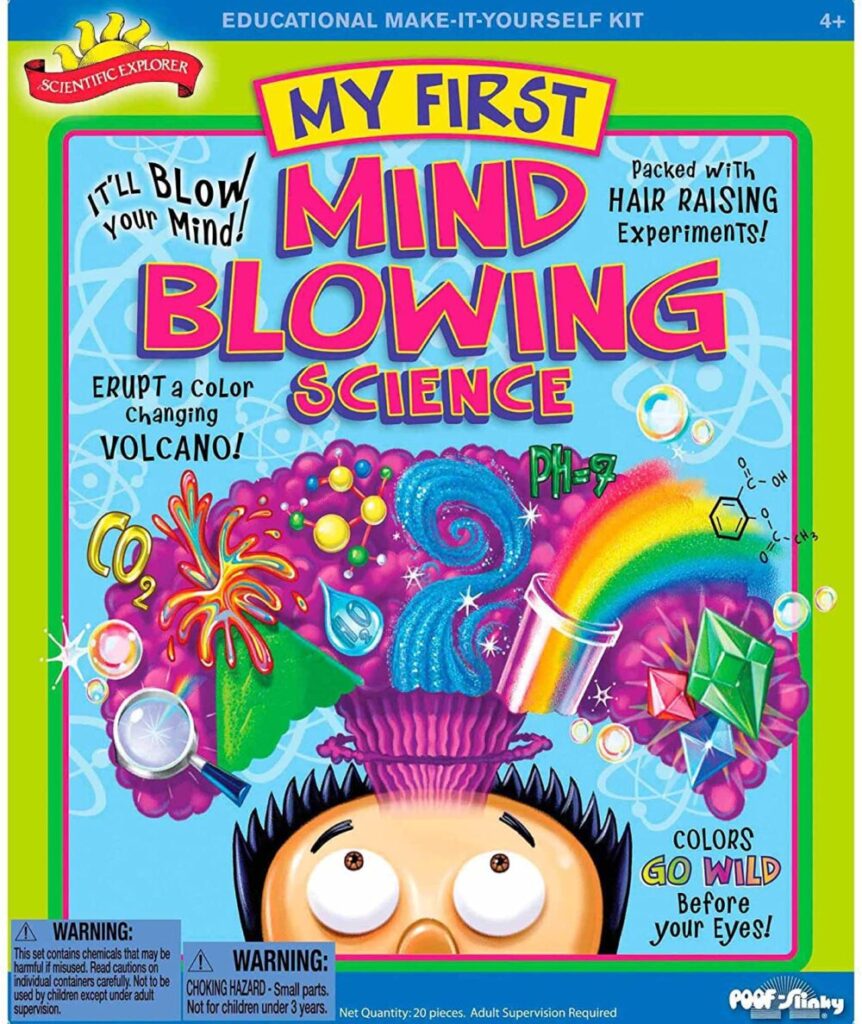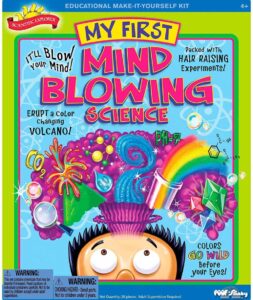 If your 5-year-old is curious about the science of the world, this is a perfect gift for him. This science kit is really a mind-blower as it is packed with fun and interactive activities for your little scientist. With this kit, your kid can learn about chemical reactions as well as the use of different scientific equipment.
This open end toy gives your child a head start in STEM activities. Furthermore, your 5-year-old can construct, explore, experiment, and engineer to their heart's content with this kit. Additionally, you don't have to be a science genius yourself to help your kids with this kit. The instruction manual is detailed and easy to comprehend.
Although none of the experiments are messy, you should still perform the experiments on a smooth surface. This is so you can easily wipe the mess clean when your kids are done. Moreover, there's a vast variety of experiments that your kids can perform.
They can make a sunset in a test tube or grow jiggly crystals, and they can even make a color-changing volcano. The chemicals that you get in this kit are all safe and non-toxic. These include red cabbage powder, baking soda, critic acid, 3 colored tablets, crosslinked polyacrylate copolymer, vegetable oil, and corn starch.
The equipment includes 2 cotton swabs, 3 test tubes with stands, 3 plastic cups, a pipette, 2 sticks, 2 measuring scoops, and an activity guide. Basically, the kit provides you with all the necessary tools you need for performing the experiments.
Additional household items that you may need for some experiments include water, flour, plate/tray, tape, red/blue pens, grape juice, coffee filters, bowl, spoon, measuring cups and spoons, and lastly, a towel for cleaning the mess. All of these are probably lying around the house somewhere. Now you can use them for science.
Pros
Educational and fun
STEM Activity
20 piece kit
Teaching basic science
Patience
Cons
Adult supervision necessary
The science explorer kit really blows your mids with all the possibilities it has. Your kids can learn about acids, bases while also observing an underwater volcano erupting. There are a number of experiments that your child can enjoy doing one by one over time.
Buying Guide
At 5-year-old, your kid starts to become more independent and has more self-control over himself and his emotions. He might also want to be more creative and curious and will want to try new things. Every child develops at his own pace, but the following things are commonly observed in kids at the age of 5-years-old.
Physical Development
As kids get closer to their fifth birthday, they start to lose their baby fat and become more slender. They gain an additional four to five pounds and grow up to two to three inches. Kids at this age also achieve a 20/20 vision and can see better as compared to before. Furthermore, their gross motor skills start to get tuned. 5-year-old children can balance themselves on one foot for up to 10 sec and can hop, skip and even do somersaults.
Their fine motor skills also begin improving. As their small muscles tune, they can tie shoelaces as well as use zippers. Kids can also use tools and utensils at this age, which means that you'll be seeing your young ones eating with spoons and forks now. You might also see them using a fork at times. Moreover, your little one will be able to use the toilet independently from now on. Kids at this age can also run up and down the stairs and easily walk backward as they can forwards.
They can pedal tricycles effortlessly and are better able to draw basic shapes without much wobbliness. Additionally, they can swing and climb while also being able to write better. As your kids enter the tender age of five, you will need to help them develop new skills by introducing them to new tasks to enhance their skills further. That's why you get them the appropriate toys and equip them with the right equipment so they're not left behind their peers.
Emotional and Social Development
You will notice that at five, your child will be better at controlling his emotions. This doesn't mean that they will turn into an angel after their fifth birthday. Your kid will exhibit a lot of contractions because they are at an age where they're entering into the "big kid" phase but still have the remnant of their toddlerhood. They will still throw tantrums but will communicate their discomfort and anger verbally most times instead of physically.
Furthermore, your 5-year-old will want to make friends and get positive responses from adults. They will seem like people-pleasers, but this is only because they want to fit in and be accepted. Kids also become naturally empathetic at this age and will relate more with other people and their emotions. In addition to that, they will become more expressive of their feelings and will do so openly. They also improve at working their way through conflicts instead of throwing tantrums.
At 5-years-old, your little one will also show the desire to share with other people and want to be like their friends. They might ask for matching toys and school equipment as their peers. Moreover, they also get better at taking directions and following rules. This makes five the perfect age to start teaching them appropriate ways to socialize and express themselves. Your 5-year-old also understands the importance of taking turns and will get better at multiplayer games that require it.
As they are becoming more independent, they will start from new relationships with their peers and teachers. At times like this, you might feel left out, but this is a learning process that your kids need to go through to grow. What you can do is keep a close eye on their friend circle as five is also the age when bullying starts. Kids don't know how to handle such situations, so your intervention will be necessary. Stop your kids from getting bullied as well as from becoming the bully.
Language and Cognitive Development
One thing you must have noticed is that your 5-year-old talks a lot! This is quite normal as kids start to speak more clearly at this age. They can talk with the correct pronunciation and grammar most of the time. Moreover, they can use complex sentences as their vocabulary increases. You will notice that they initiate conversations as well and can answer "why" questions.
Because your kids have better control over themselves, they can wait for their turn during conversations and talk about relevant things. What's more interesting is that they can adequately use future tense from this age onwards. At 5-years-old, kids can count to ten or even more and are aware of everyday things like money and food. Your little one might even start singing, rhyming, and making up words at this age.
Kids are very imaginative at this age and love to partake in make-believe. They can also name primary colors and some basic shapes like circles and squares. As they better understand time, they can comprehend the order of their daily routine. Like how they have to have breakfast in the morning, go to school, and then have dinner at night. You can help your child by reading to them and making them participate in creative activities that'll promote critical thinking.
Wrapping Up
As kids reach the age of five, they want new and challenging activities to keep them occupied. 5-year-olds are able to balance themselves and have better coordination. This means that they are able to partake in more intricate play. Your kids also become patient and are able to wait for their turn while playing. All of this and many more makes buying a gift for 5-year-old boys very daunting. That's why we made buying the right gift for your 5-year-old has become easy with our concise list of toys and gifts to choose from.
My First Mind Blowing Science Kit offers you a fully equipped science kit that teaches your kids about chemical reactions and the use of different science equipment in a fun and interactive way.
Squigz Deluxe is a 100% safe suction cups that your kids can use to build anything with. They leave no marks when removed and the POP sound is very entertaining as well.
Fat Brain Toys Buggy Light is an insect observing light that doubles as a nightlight. It has holes for the bugs and the light doesn't heat up so you can rest assured about the bug's safety.
Above we have mentioned some of the best toys which you can gift to the lucky boy turning 5-year-old. These toys will keep your little one entertained in fun activities that also aid in his development. Moreover, most of the toys are interactive so you can join in on the fun with them!
Here are some other ideas for you to check out: