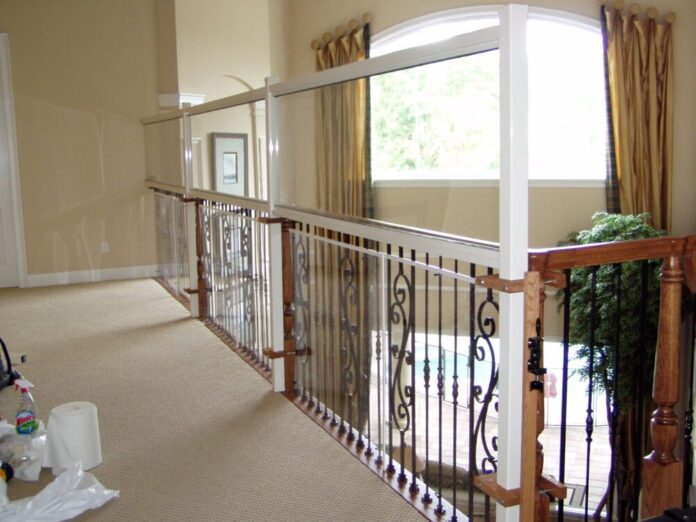 A clear or a mesh type of balcony shield or banister guard for babies is a safety product that helps to keep children safe when playing in areas next to balconies and banisters.
Baby proofing stair railings is an important activity for your home.
As you childproof other areas in your house such as the windows, doors, stairs or even kid's beds, it is important to also shield the kids from falling through the banister and balcony openings.
These shields also keep the pets safe from falls and also prevent kids from using these openings to throw things such as toys away or downstairs. Creating a barrier to prevent the child from accessing the openings also plays a great role in preventing their head, arms or legs from getting stuck in between the spindles/rails.
Most of these barriers are made of mesh nets and high-quality clear plastic material. The clear types are unobtrusive, allows light in and are great for those who want to keep their indoor decor well revealed. They are usually very easy to assemble.
They are lightweight and you can easily carry them as you travel in order to keep kids safe even when using hotel balconies. They are designed for either indoor or outdoor use.
Here is a review of some of these products.
1. Cardinal Gates Clear Shield



This is a thick clear plastic sheet. It is shatterproof and is recommended that it should be used only in the indoor environment. It measures 33 inches tall and 15 feet in length. It is easy to install and clean.
Zip ties and a hole puncher are included in the installation kit. You simply tie the straps on to the railings until it is firm and secure. This clear shield is made in the USA. It works well for both kids and pets.
2. Kidkusion Kid Safe Guard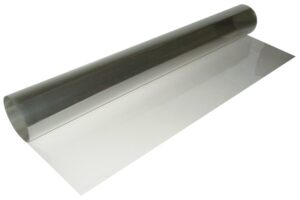 This clear guard is designed only for indoor use and is made of plastic. It is sturdy and able to withstand everyday banging or kicking by kids.
An included installation kit contains screws, tie straps, a hole punch, and wall anchors. The straps are tied around every spindle on the top and at the bottom. Screws and wall anchors are used to attach it to the wall.
It comes as a roll and measures 3 feet tall and 15 feet long. It is made in the USA. Use soap and water to clean. Check the video below for better illustration.
3. Roving Cove Banister Stair Net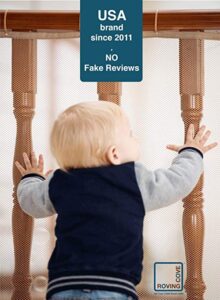 Roving Cove Banister Stair Net is made of sturdy, heavy-duty mesh fabric material. The fabric is clear and soft. It comes in an Almond color that matches well with wooden rails. Available in both outdoor and indoor models.
Installation is a breeze. It comes with mounting hardware including plastic cable ties and hooked screws. The net has holes where you insert cable ties in order to wrap around the rails.
This net comes in 2 sizes. One size measures 10-feet long by 3-feet high, and the other smaller size is 5-feet long by 3-feet high. It is easier to wash and keep clean.
4. 4UHeart Child Safety Net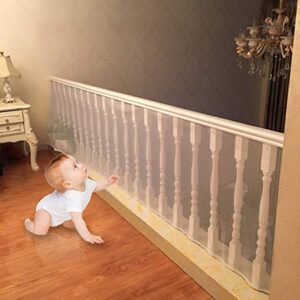 4UHeart Child Safety Net is made of thick, heavy-duty mesh fabric material that is hard to tear or pull. It white in color. It is also waterproof and weatherproof. It features honeycomb types of holes that allow visibility.
Its dimensions are 10ft by 2.5ft. The net comes with plastic buckles and tying ropes for installation. It is ideal for both outdoor and indoor use. It can be used in patios and balconies.
5. Safety 1st Railnet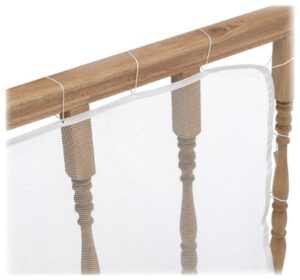 This is a durable, weatherproof, soft white mesh net. It is ideal for both indoor and outdoor use. It measures 10 feet long and 33 inches tall. It is easy to install and clean.
It comes with ties and eye screws to help anchor and attach the net in a secure manner. You can attach 2 of these nets in case your railing is long or you can just roll it backward in order for it to fit in case the area is small.
6. MAYbabe Child Safety Net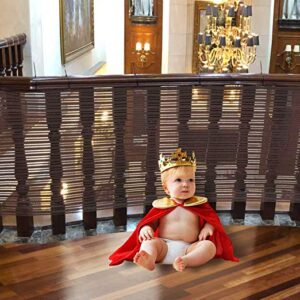 This MAYbabe Child Safety Net comes in a unique design. It is ideal for stairway, balcony or patio use. It is made of Polyester thickened mesh material. It is ideal for both indoor and outdoor use. It is available in black and brown colors.
It measures 10-ft long by 2.6-ft high. It comes with 30 cable ties to ensure neat and tight-fitting. It easily folds for easy storage. It is easy to keep clean.
7. Kidsafe Safety Barrier



This is a durable, clear netted plastic mesh for outdoor use on patio and deck areas. It measures 34 inches tall and 16 feet long. It is easier to clean and install.
It comes with long zip ties to fit around small or large bars. It also comes with eye screws to help secure the net firmly. It is made in the USA.
Fix one of these barriers and enjoy peace of mind, since you will be assured that your child is safe, whenever they get to play near these areas. Always ensure that your baby is supervised by an adult at all times.
Images courtesy of Amazon