Twin bed guard rails are one of the best safety products that help safeguard your toddler from falling off their bed, while they are sleeping.
This occurs mostly when you transition your kid from a crib to a new twin bed.
These rails are made of a durable frame covered with fabric or soft mesh to provide a strong barrier.
They come in different designs and features. They are those that are easily portable and some of them come with features that allow them to be hidden away when not in use or to swing down in order to allow the child to enter or exit.
They are designed to withstand daily wear and tear, even with kids climbing, pushing, or shaking them. If your child's bed is located in the center of the room where there is no wall, you need to use double rails that will prevent your child from falling off.
It is important to choose a bed rail with adequate length and height that will accommodate a thick mattress for maximum coverage. Select a rail with a mechanism that allows the caretaker to easily make the bed.
Here are some of the best bed rails that will fit in a twin bed.
1. Regalo Swing Down White Bedrail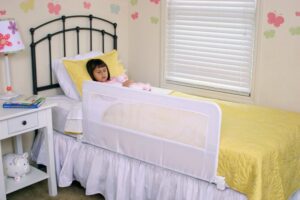 This swing down bedrail is constructed with a steel sturdy frame covered with nylon mesh fabric. The whole construction is both lead and PVC free. The mesh is removable and simple to wash. It is easy to use and set up since no tools are required. It measures 43 inches in length and 20 inches in height.
It is different from the others since it is designed in a way where the guard rail easily swings downwards and out of the way to allow kids to climb in and out of bed safely. Its gap guard design has 2 braces used to hold the rail very tight against the other side of the mattress.
It also comes with straps that you tie under the mattress to secure it firmly. It is JPMA  & ASTM certified.
2. Extra Long Hide Away Regalo White Rail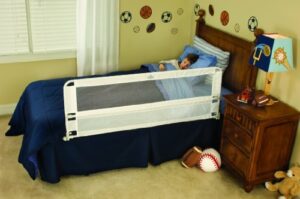 This hideaway white design is easy to use and features a sturdy steel frame covered with soft nylon mesh material. The mesh is removable and clean. It is quick and very easy to assemble since no tools are needed. Its gap guard design comes with 2 braces that hold the rail very tight against the other side of a mattress.
It is designed to get out of sight and out of the way by hiding it away under the mattress. The guardrail easily folds flat, rolls smoothly and gets tucked in discreetly between the bed board or box spring and the mattress.
You can buy double rails separately. It is ASTM & JPMA certified. It measures 56 inches in length and 20 inches in height.
3. KidCo White Mesh BedRail



This KidCo bed rail features a durable steel frame with a covering of soft mesh material. It is very simple to use and assemble. It measures 39 inches in length and 22 inches in height. Its height makes it high enough off any thick mattress.
The rail has 2 straps that you position between the box spring and the mattress and then you secure them tightly on the opposite side of the bed. The end of each strap has a locking clasp that holds the strap tightly after it has been secured and adjusted. You can easily change the bedsheets with the rail firmly in place.
4. Baby Home SideRail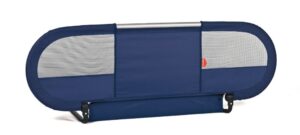 This Baby Home side rail features a durable aluminum frame. It is sturdy and requires minimal effort when installing or using it. It measures 17 inches in height and 56 inches in length.
It is lightweight and folds down quickly for easier transportation and storage. You can easily pack it in a suitcase for use when traveling. You can easily open it to make the bed or for the kids to get in.
The fabric with mesh windows is removable and easy to wash. This barrier is also visually appealing and comes in a wide range of colors to match every decor. It has long straps to be placed under the mattress and then secured on the other side of the bed.
In addition, it comes with other extension straps that you can also use to secure it firmly. This model attaches securely even on a bed without a box spring.
Final Words
Use of these guardrails will help your toddler to sleep well at night without the worry of falling.
Ideal for busy parents since keeping your child safe means less worry and you will also have peace of mind even as you continue working.
Images courtesy of Amazon