The best baby activity Gym mats usually come with lots of illustrations such as toys, ringing bells, flowers, etc.
Most of the toys are visually stimulating and this encourages visual development such as tracking.
Some of them come with lights and music creating auditory and visual stimulation.
These activity centers are also known as developmental gyms and are normally used before your child can start to talk. They help in developing your child's knowledge right from the infant stage and make them conversant with some features found around the world.
The toys are designed to stimulate your child's senses and make the child comfortable when left alone. They are foldable, portable and easy to carry. They come with a combination of colors, which makes them aesthetically pleasing to look at.
There are hundreds of them in the market and we are here to help you choose the best.
Here are reviews of top-rated activity gyms at Amazon.com
1. Fisher-Price Rainforest Lights and Melodies Model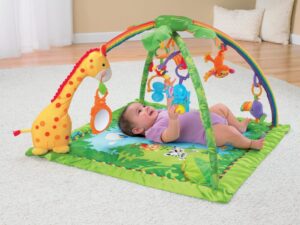 This fisher price model comes with a number of flashing lights, music and nature sounds that help to stimulate the baby. Your baby can enjoy up to 4 tunes for about twenty minutes.
It has about 10 captivating attractions for your baby to explore and enjoy. All these are ideal to stimulate the baby's senses and to enhance hand-eye coordination.
This Fisher-Price model is ideal for newborns up to those aged 6 months. It comes with an elephant rattle, ringing toucan, monkey with a curly tail, a parrot with a spinner perch. It also comes with a mirror, a spinner that has rattling beads, and rotating butterflies.
The mat has a zebra tail and a large crinkle leaf that is very easy to grab and kick. It is easy to assemble and disassemble. The playmat has cute arches that are held by a giraffe. Its borders are stitched using the silky material.
It can be removed for washing. It is recommended to use it on top of a padded mat.

2. Infantino Safari Fun Twist Model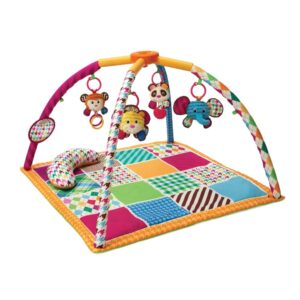 This Infantino Safari Fun Twist model is easy to assemble and fold down. It is compact when folded and ideal for traveling. It comes with a mirror, a soft pillow for use during tummy time and eight hooks for hanging the toys.
It comes with four removable hanging animal toys that encourage reaching, kicking, grabbing as well as batting. Each of these animal toys produces a different sound and have varying texture.
Since the toys are removable, you can use them on a stroller or car seat. It has a brightly colored surface mat which is removable and washable.
3. Skip Hop Treetop Friends Model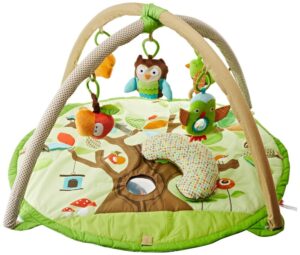 This Skip Hop Treetop Friends Model comes with a pillow for tummy time, 5 hanging toys and 13 hanging loops. The hanging toys include an apple that has a mirror, an owl that makes a chiming sound, a bird with crinkly wings plus a wooden ring, a squirrel and a bird with a rattle and crinkly wings.
The round mat has a cotton-polyester blend surface top and comes with crinkling leaves, a flower that screeches when you press on it and an attached mirror. Ideal for newborns and above. It measures 36 inches in width by 19 inches in height. The mat is machine washable.
4. Tiny Love Music and Lights Gymini Model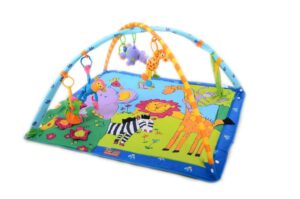 This is an engaging and playful model with 2 modes of music. It comes with different attractions and toys.
It has multiple activities and developmental toys including electronic lights and music touchpad, a large mirror, flowers that usually light up to the tune of music, a crinkly parrot, a giraffe rattle, a cute elephant pull toy, soft monkey, bead rattle and a teether.
This Tiny Love model has loops where you can hang the toys. It helps to encourage motor skills as your child tries to reach out and grab all the attractions. The mat is easy to wash, well-padded with different textures and crinkle materials that encourage baby to grab.
It is recommended for newborns and children up to 10 months of age.
5. Kick and Play Piano Fisher-Price Model



This is a fun play piano gym for the infants. It comes with a piano, a mirror, and 4 hanging toys. 2 of the hanging toys have rattled in them. It is lightweight and easy to set up.
The arch curve provides a place to hang the toys and a perfect height for the baby to grab and kick them. The hanging toys can detach and also re-attach easily.
The piano has 4 white pressable keys, that are designed for the baby to kick and then it plays a combination of songs. The music sounds are low and medium. There are 2 audio volume levels and an off switch. The colorful mat is washable.
6. Grow With Me Infantino Gym & Ball Pit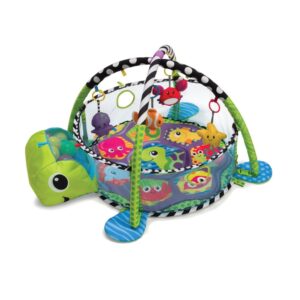 This Grow with me Infantino Gym and Ball Pit is lightweight and is brightly colored with plenty of contrasts and patterns. It comes with 5 toys that offer unique sound and texture.
You can hang the toys on the arch to encourage motors skills, as your baby begins to grab, reach and kick them.
It has 40 light balls including an inbuilt area for storing the balls. In addition, it comes with a large comfortable play mat and a pop-up mesh at the side that surrounds the baby during playtime creating a ball pit. See more features from the video below
Like adults, infants also love to have at least a sweet experience that can keep them smiling. The toys and illustrations will keep your child entertained and offer him/her fun time even before your baby can sit or walk.
Images courtesy of Amazon