Finding the Best Baby Gate For Bottom Of Stairs is not as tough as it seems. You just need to determine the width and height of the staircase opening that you want the gate to cover and also your preferred design.
Whether you are looking for an easy-close type, a swinging or walkthrough design, or else a gate that can fit an extra-wide uneven area at the bottom of the staircase, you will definitely find one that is best suited for whichever area.
You can either use pressure mounted or screw mounted designs. If you want a more stable design that is meant to last in a certain location for a long period of time, then a gate that is screw-mounted is always a good option.
Many of these gates come with attractive stylish designs that usually add a touch of style and also complement any decor.
These gates are ideal for baby proofing at the bottom and top staircase areas in order to protect children from falls and from getting injured. Installing these safety barriers both at the top and at the base of the staircase will definitely give parents that peace of mind and assurance that their kids are safe and secure.
Here are some of the best-rated designs
1. North States Self Closing Gate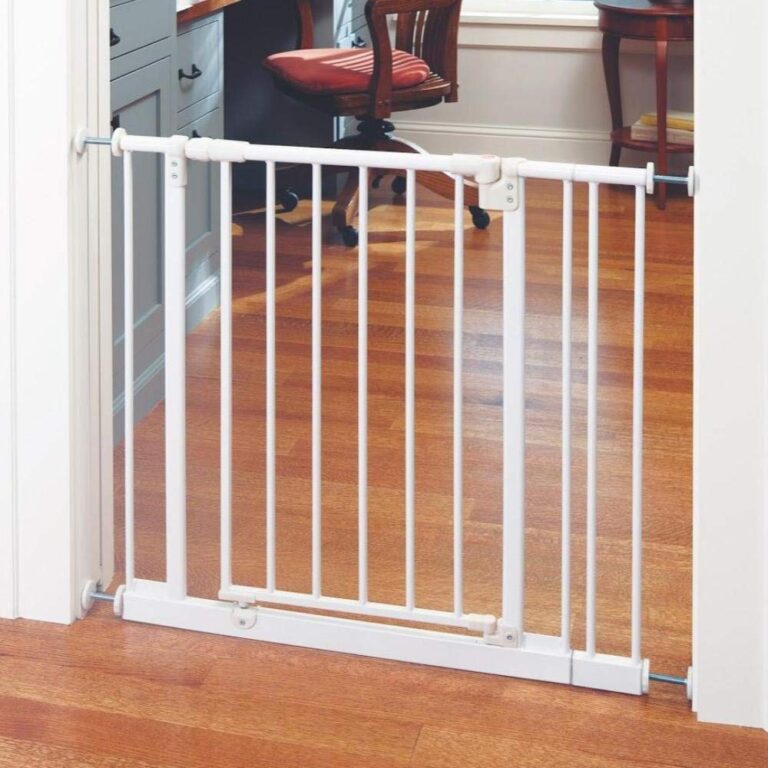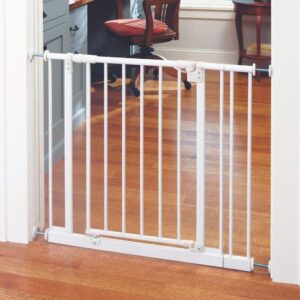 This White North States gate covers a wide area of 28 to 31.5 inches. 2 secure extensions are included with the purchase and can extend the gate up to 38.5 inches wide. It has a height of 29 inches. It is made of powder-coated, heavy-duty metal material. It comes in burnished steel, white and bronze colors.
It is JPMA certified. It is pressure mounted with tension knobs. It has a walk-thru door that swings open in either way. The door is easy to operate using one hand and has a secure triple lock system.
It also has a self-closing feature. The door opening is about 18.5 to 19 inches in width and the space between bars is about 2.25 inches.
2. Dreambaby Auto Close Gate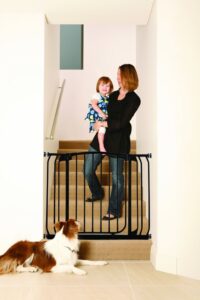 This Dreambaby auto close barrier fits openings measuring 29 to 32 inches wide. It comes with two extensions included which help to extend the width up to 39 inches. It is 29 inches tall. It can be screwed into the wall or pressure mounted. The space between the vertical bars is about 2.25 inches.
The walk-thru door automatically swings closed and open in either way. The door opening is about 18.25 inches wide. It is made of sturdy metal material. It comes with mounting hardware. It is available in black and white colors.
3. Munchkin Easy-Close Gate Design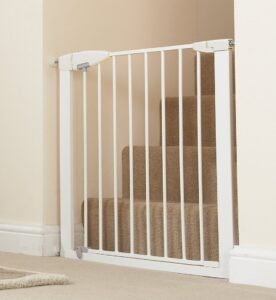 This easy close gate design fits openings that are 29.5 to 32.3 inches wide. You can use the included extension to increase the width up to 35 inches. The gate can also be extended to a width of 54 inches, by purchasing additional extensions.
It measures 29.5 inches in height. The vertical bars are about 2.25 inches apart. It is solid, sturdy and has a clean white design. It features durable steel construction. It has an extra-wide walk-through the door that swings freely in both ways.
The walkthru opening is about 21.5 inches wide and locks shut with only a simple push at the top lock. There is another lock fitted at the bottom for added safety. You can either screw it on the wall or you can pressure mount if desired. It comes with mounting hardware and a 2.75 inches extension included with the purchase.
4. Regalo Configurable Gate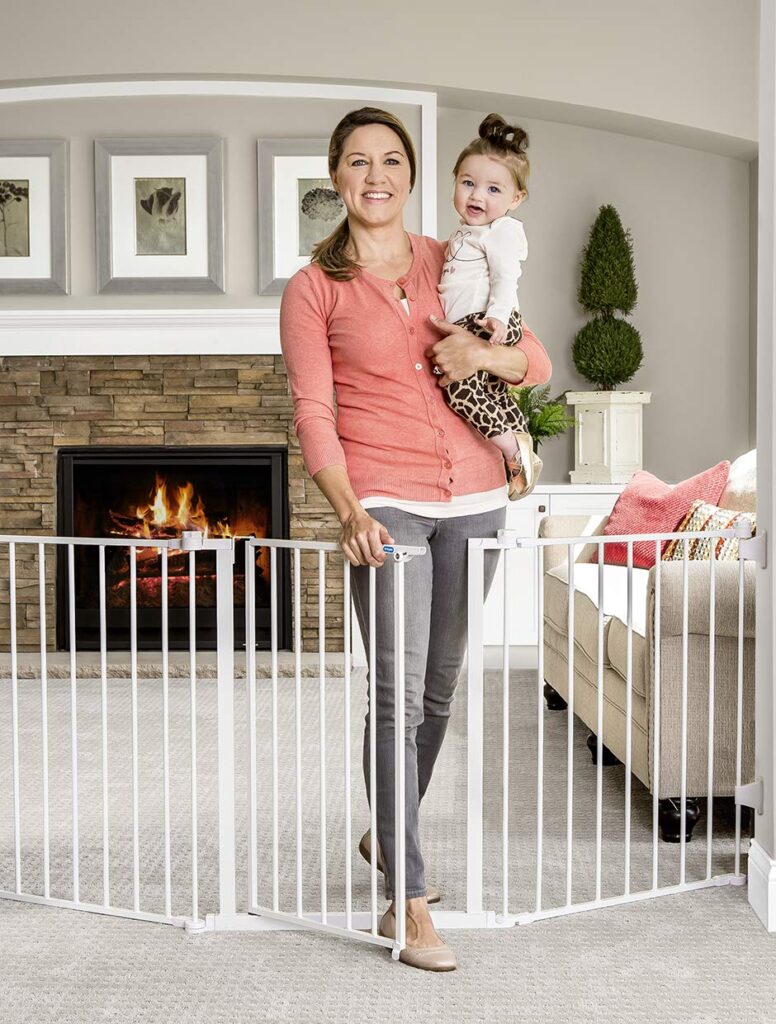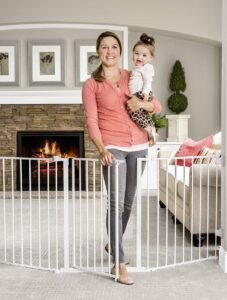 This Regalo wide gate is designed to fit openings up to 76 inches wide. It is constructed of durable steel material and is PVC free. It is 31 inches tall. It has a clean almond color. It is secured by screwing it firmly into uneven walls. The vertical bars are the 2-5/8 inch apart.
It is made up of adjustable and configurable panels in order to fit angled areas. It has a walkthrough door that is about 24 inches in width. The door has a safety secure lock that is easy to open with one hand. It has been certified by Juvenile Products Manufacturers Association.
5. Extra Tall and Wide Design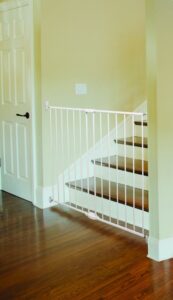 This extra tall and wide gate is made of durable steel material. It is 36 inches in height and covers a width of 33 to 56 inches. It has a clean, modern white design. The vertical slats are 2.25 inches apart.
It is hardware mounted and attaches to the wall on one side while the closing and opening brackets are on the other side. You can also set it to swing in one or both ways.
It is ideal for high traffic areas since it is designed to swing open completely, a full 180 degrees. You can leave it open, against the wall when not in use or to allow traffic. It comes with a child-proof handle that is easy for adults to operate.
Images courtesy of Amazon