An easy home walk through the baby gate with a door is ideal for busy parents.
These are multipurpose safety barriers for doorways, staircases and between rooms. One of the ways to childproof your home is to use such barriers and other childproofing techniques.
Apart from having a wide walkway panel, these gates are usually easy to open and close. Most of them feature a one-handed operation or completely hands-free operation.
Those that are designed to close automatically or to swing open in both ways are also a good option. They have handles that are simple to operate.
These barriers feature durable and strong construction that provides adequate protection during those moments when a parent or guardian is not within the arm's reach of their kids.
Here are some of these best-rated designs.
1. Summer Infant Step to Open Gate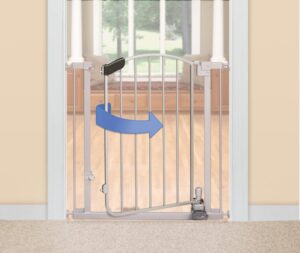 This step to open design features a stylish metallic construction with a silver finish. It is designed to fit multiple openings that are 30 to 45 inch wide. It stands at 32 inches tall. It has a double-sided foot pedal that you have to step on, in order to open. It has an additional top grip handle that you can easily operate with one hand.
The door is 22.5 inches in width and it automatically closes gently behind you. It swings open in either direction. It is pressure mounted, solid and very sturdy. The lock handle and foot lock are made of very hard plastic.
Once installed, it is easy to remove and re-install again. It is wide enough to allow a person with large grocery packages to pass through. This gate is easy for an adult to operate.
2. Easy Step Regalo Walk Thru Gate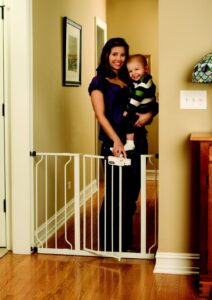 This Regalo walk thru gate stands as 31 inches tall. It fits openings from 29 inches to 40 inches wide. It features sturdy steel construction. The walkway opening is 16 inches wide and opens only in one direction.
The door handle is a one-handed lever that operates with an easy slide and lifts movement. The handle has a safety lock that is easily operated with a one-touch release. The center door can be left open when not in use to allow back and forth movement.
It is pressure or hardware mounted. The space between each bar is about 2 inches wide. It is recommended for children aged 6 to 36 months. It is JMPA certified. It installs easily and only takes a few seconds to take it down. It is white in color.
3. The North States Easy-Close Gate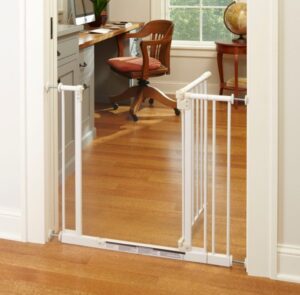 This North States gate features solid heavy-duty metal construction. The walk-thru door opens in either direction. It has a top locking mechanism with a double lock. You have to untwist the lock in order to be able to unlock it.
It also has another lock at the bottom that simply opens when the door is lifted. It automatically closes behind you on its own with just a simple tap. The door has a stay-open feature when opened completely.
It is about 29 inches tall. It fits doorways that are 28 to 31.5 inches in width. It comes with additional 2 extensions that extend the gate up to 38.5 inches wide.
The walkway opening is about 18.5 to 19 inches in width. It is hardware or pressure mounted. It is also JPMA certified. It comes in white, bronze and burnished steel colors.
4. Munchkin Easy-Closing Gate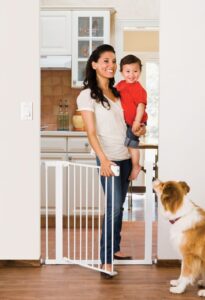 This Munchkin gate fits areas that are 29.5 to 32.3 inches wide. You can use the included extension to increase the width up to 35 inches. It has a walk-thru door about 21.5 inches wide. The door swings open in both directions.
The door opens and locks with one hand. It is very easy to lock it even when your hands are full. It locks closed with just a simple push at the top lock. An additional lock at the bottom helps to ensure added safety for your child.
It stands at 29.5 inches tall. The bars are 2.25 inches between each other. It is constructed of the tough metal material with a white clean finish. You can either pressure mount or screw it on the wall. It comes with a 2.75 inches extension and mounting hardware included.
5. Decorative Metal & Wood Expansion Gate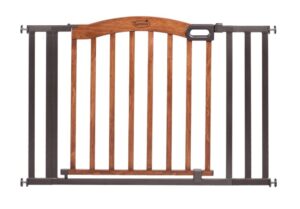 This decorative gate fits wide openings measuring 36 to 60 inches. It has a walk-thru door about 26 to 27 inches wide and swings open in either way, enabling you to walk-thru it from whichever direction. It features a one-hand operation.
To open the door, you need to push the release button towards the door frame, lift the gate panel up and swing it open in both directions. The gate stays open when you want it to and it doesn't have an auto-close feature.
It stands at 30 to 32 inches tall. The space between bars is 2.5 to 3 inches. It features wooden railings at the center and a curved top including metal railings on the sides. It is pressure mounted and comes in black/brown color. It comes with pressure mount screws and 3 extensions included.
Other extra-tall walkthru designs can be found here.
Images courtesy of Amazon