Best child proof door knob covers are a must for every home in order to ensure safety for the young ones especially when they are able to walk around.
As you baby proof other areas in your home, be it windows, balcony, toddler beds, or stairs, it is important to keep the door leading to areas such as bathrooms, kitchen, pantry inaccessible to your child.
In addition, you can also use baby-proof cabinet doors.
These childproof covers are designed to fit in a variety of knob sizes. They usually help to keep children from opening the doors, especially those kids who like banging the doors or those who just keep opening them for sheer amusement.
These safety products are usually very easy for adults to operate but difficult for children to do so.
They come with different features and designs. Some of them come with an outsized grip design that makes it harder for the kids to get their hands around, while others have been designed to spin around when the child tries to use them.
It is important for every parent to provide a safe environment for their child so that they can comfortably play around without the risk of getting into any harm or falling into danger.
Here are some of the reviews of the products available in the market today.
1. Jool Baby Knob Covers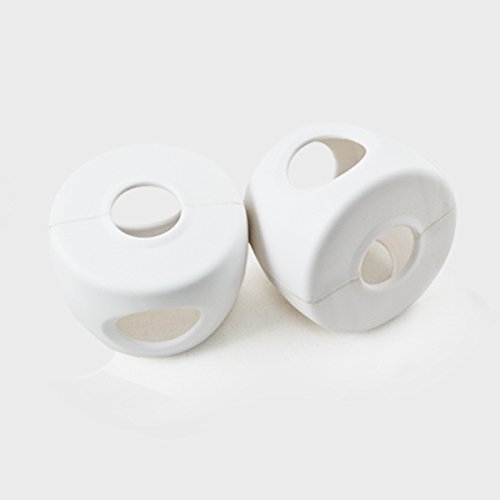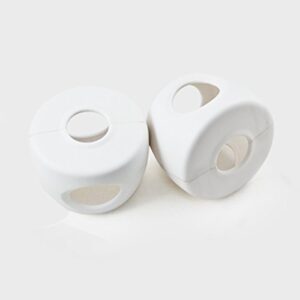 These Jool Baby Knob plastic Covers are used to childproof doors. Recommended for use in areas accessible to kids aged four years and below. This model is compatible with spherical doorknobs.
They have side holes that make it easier for adults to turn the knob in order to open the door. It comes in white color which blends well with most decor. They feature a simple minimalistic design that snaps around the doorknob.
They are easy to put on the knobs. These covers are easier for adults to maneuver but difficult for younger kids to open. The diameter of the wider part is about 2.25-inch while the diameter of the narrow part is approximately 1.25-inches. Comes in a pack of 4. They are very easy to install and remove.
Customer Reports
Mr Dee A Vee I Ess
Right on Time! Our 2 yo recently discovered that he can open the door knobs (every door knob in the house) and loves opening and closing the doors with the catchphrase "good bye, see ya next time" (yes it is absolutely adorable, but…). Since installing these door knob covers he cannot randomly close himself in closets or Houdini his way out of his room.
Nursemom
I bought these for my father who has Alzheimer's disease… they work great for keeping him from opening the basement stairs door.
2. Betertek Knob Safety Cover for Kids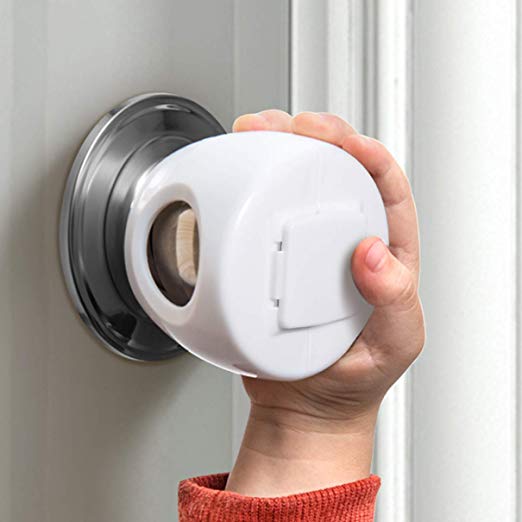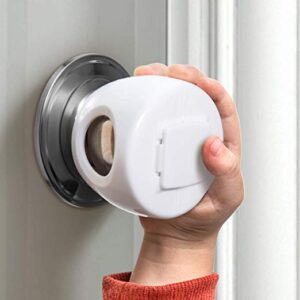 Betertek knob covers are compatible with spherical-shaped and round standard doorknobs. They are made of Polypropylene fiber BPA-free material which is non-toxic and odorless. The sides are fitted with large holes that make it easier for adults to open the knob.
Each pack has four knobs. The diameter across is 2.6-inches. They are easy to install and snap together. Suitable for children aged 3 years and below. There is a little square flap cover in the middle to keep kids from locking the door.
They can be used on all knobs whether in the kitchen, laundry bathroom and garage. Its dimensions are 2.6-inch by 2.36-inch.
Customer Reports
Tory
My little son often opened the door by himself and locked it back. He even used the handle as a toy. He kept shaking it and the handle began to loosen. Now all the problems have been solved since installing the doorknob covers. He can't open the door randomly and he's not interested in playing with the door handle anymore.
Brit S.
Very happy! I had a very hard time finding doorknob covers to fit my doorknobs! The standard ones that are everywhere did not fit my doorknobs, and I had to return a couple of different ones prior to finding these. These have solid construction, are easy to use, and fit perfectly! I love the little door that opens so you can still access the lock too. I'm attaching a photo of my doorknob in case you find yourself in the same situation.
3. Eudemon Door Knob Locks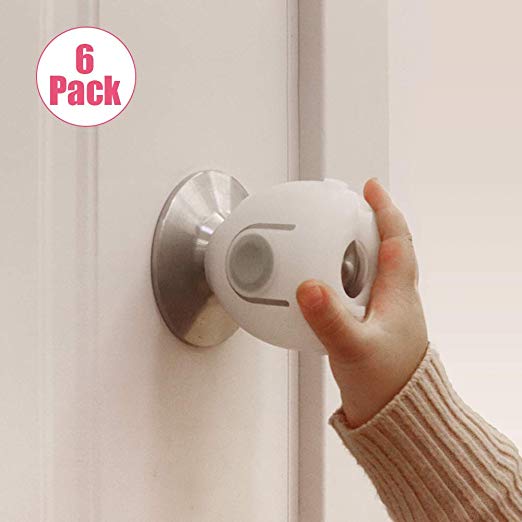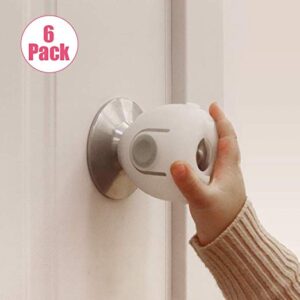 These Eudemon Door Knob Locks come with a button design on either side. They are made of eco-friendly PP + TPR soft material. Works well with regular spherical doorknobs. They are easy for adults to open the door as you just need to press the side buttons.
They are easy to install by snapping them around the doorknobs. They are easily removed using a flat blade type of screwdriver. Its dimensions are 2.76-inches by 2.56-inches. They come in a pack of 4 or 6.
Customer Reports
Nathan Sweet
These work really well, I think others are right though you need to have smaller door knobs to use them. I included pictures of the knobs we are using them on for reference. Our two-year-old can't get them open which is great, but our 6-year-old has no problem after we explained how to use them. Exactly what we needed!
Chris Elliott
Works great stays on. Easy to put on and stays on just fine. We have had them for almost 2 months now. No complaints here. Except for my daughter, because she wasn't too thrilled about being unable to open doors.
4. Uxoz Door-Knob Screw Design Cover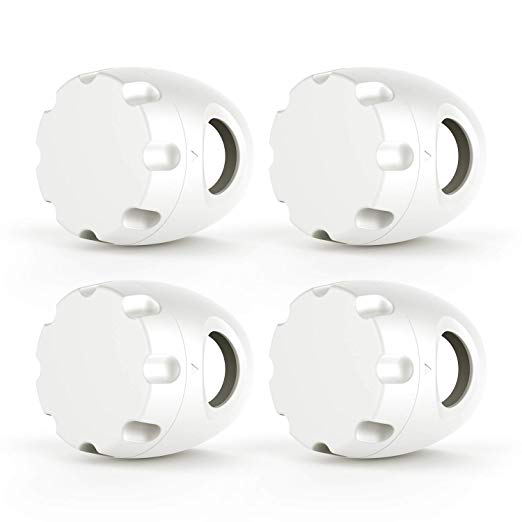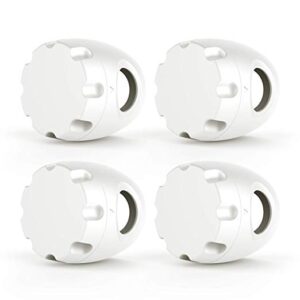 This Uxoz Door-Knob Screw-Design Covers feature a modern style and are made of sturdy plastic material. This model features a unique screw design that is difficult for kids to open. This modern design is compatible with most sizes and shapes of regular door-knobs.
This cover measures 2.7-inch by 2.6-inches. Installation is easy as you just need to force the 2 parts apart, place them on the knob and then close.
Customer Reports
Bert
We have tried 5 different brands of door knob guard. This one is by far the supreme. Honestly, there is no competition between them when you put the Uxoz in the mix. Our 2-year-old was able to figure out how to take several brands off of the door knobs with his little fingers, with the Uxoz he has no way to pry them off.
Amazon Customer
Great product installed just over a week now. We bought another set that had colors to choose from we could tell right away they were cheap and would not work. These things need to be loose enough around and fatter than toddlers' hands and secure this product works well.
5. Safety 1st Grip & Twist-Knob Cover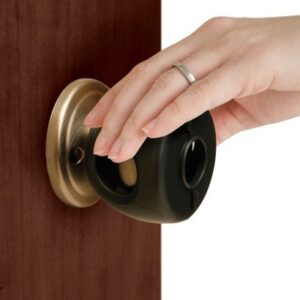 This grip and twist model has been designed to slip over the knob when your kid attempts to use it. They are constructed of tough plastic and don't bend easily. These are designed to be used on round standard knobs.
They are usually very easy to install and remove. They usually come in two halves. When installing you should align the holes properly and then clip them by squeezing slightly. They come with large great holes on the sides that allow older kids and adults to open with much ease. It is also available in white color.
Customer Reports
Jessica B.
I wasn't sure if these would fit our knobs because they are the shorter Round type, but they work on them too.
Pocket
They work so well it is hard for my wife and me get out of the house. So basically they have paid for themselves many times over because we have been unable to leave the house to go to a restaurant or the movies. Oh yeah, they keep my toddler safe too.
6. KidCo DoorKnob Lock



This KidCo lock features a pinch-grip design. The lock covers most of the knob and is difficult for a child to pinch and grip in order to open. They are constructed with plastic and come with 2 rubber inserts. These are ideal for use on standard round knobs.
It is easy for adults to open, as they usually come with a rubber grip at the bottom for adults to pinch in order to grip the doorknob and open. It is available in white and clear colors.
It is easy and fast to install. It comes in 2 pieces that you place around the knob and then put them together using a firm grasp.
Customer Reports
Rebecca
These have been wonderful. My two year old hasn't figured them out yet. Pros: more difficult to separate the two sides than the cheaper plastic kind, easier for me to turn the door knobs than with the cheaper plastic kind, keeps my child safe! Cons: If your door locks on the handle, the cover for the lock can be cumbersome.
Sonna Johnson
These are the only door locks that actually keep my 2 1/2-year-old twins out of places they shouldn't be. Other locks quickly learned that if they yank on the plastic the whole thing will just fall off the edge handle. Not these though, I struggle to get them off which is great! My older children have no problem getting the door open themselves. Anything that can help me contain my very active, mischievous twins gets an A+ by me!
7. Munchkin Knob Cover



This Munchkin cover comes in a sculpted type of design which secures well on surfaces. Installation is very easy. This model comes in 2 pieces which you snap together over the doorknob. It is made of plastic material. It is easy for an adult to operate but difficult for a toddler.
It has open finger holes on the edges and in the middle. You only need to align your fingers with these holes and get a grip on the handle and open it. Therefore, it is difficult for toddlers to open the door because, in order to pinch and grip the doorknob through the open holes, it requires big and stronger hands.
Customer Reports
mamp08Top
We have been pleased with this product. It does exactly what is advertised and has kept the toddler from accessing the basement and the pantry. Hasn't scratched handles or doors, and love that an adult can remove as needed.
Will
We needed something to keep the 3-year-old out of the food-storage room downstairs, as well as making sure he wouldn't randomly go out the side-door into the garage. These worked VERY well, in fact, even the 5 and 7-year-olds had trouble with it and had to concentrate (use two hands, drop whatever they are holding, etc.) to get it open.
8. Mommy's Helper Safety Door-Knob Cover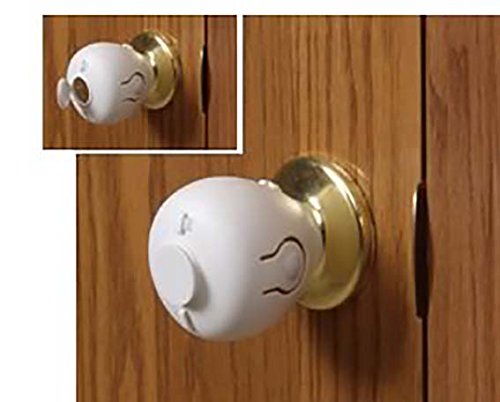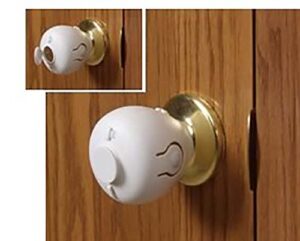 This Mommy's helper safety cover features an extra-large grip design and is made of flexible plastic. The extra-large design of the cover makes it difficult for children to get their little fingers around the knob surface. It is designed to spin very loosely over the doorknob when a toddler attempts to open.
It has two grab rubber tab buttons which make it easy for an adult to be able to grip the knob, squeeze the tabs, and then open the door. It fits most standard round type knobs including even some flat or Kwikset designs.
The cover has an in-built Lock guard that covers the door-knob handle lock to protect against any accidental lockouts.
Customer Reports
Anna K
I was a little hesitant from the reviews but decided to try and for our door knobs they fit and work perfectly. We have the round kind with a flat front. I will say that they work 100% on the inside door knobs to the bedrooms/bathrooms. We also put one on the front door but because the mechanism on that door is harder to turn normally, the safety cover proves to be difficult for most adults as well.
Jason A. Leonard
These knobs are not as sturdy as I expected but still work fine. They also come as 2 pieces that snap together. Depending on your view, this is either be helpful (easy to take apart if you get frustrated) or harmful (easy to take apart when the child is old enough). I am okay with this and it has been helpful for guests staying at the house. The grips don't cling as tight as other knobs I've used but said knobs are also more expensive.
9. Dreambaby Door Knob Covers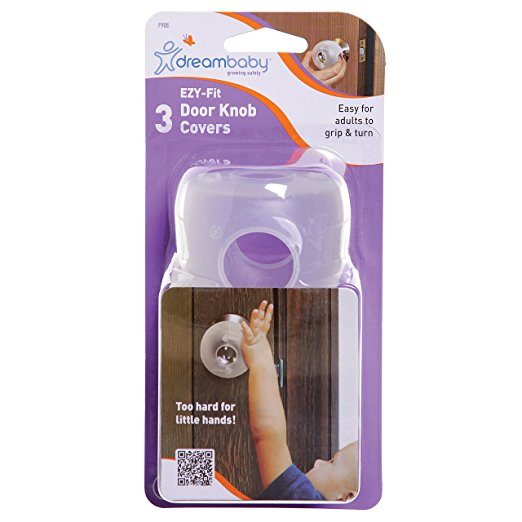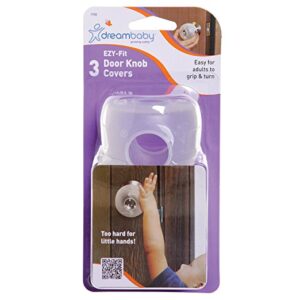 Dreambaby Door Knob Covers are ideal for regular doorknobs. They come in a pack of three. They are easy to install by just positioning the cover over the knob and then snap it closed. No tools are required when mounting over the knob.
You can easily remove the cover and reuse it on another door. The cover is easy for adults to grip, squeeze and open. The design is difficult for children to open. The cover has a small lid that should keep closed when used of knobs with push-locking buttons.
Customer Reports
Samhain Solstice
Can never have too many of these when you have little ones around, great price fits as they should, and glows in the dark! That last feature comes in handy after a shower and walking down the hallway, grabbing snacks out of the pantry, or trying to find the door to the bathroom!
Eland07
I originally bought some knob covers from Walmart and they worked for doors inside the house but did not fit my front door knob. I found these knob covers and gave them a try. They fit the bigger knob and still work on the smaller knobs as well. They're effective for keeping my 2-year-old from walking out the front door!
10. Summer Door-Knob Safety Covers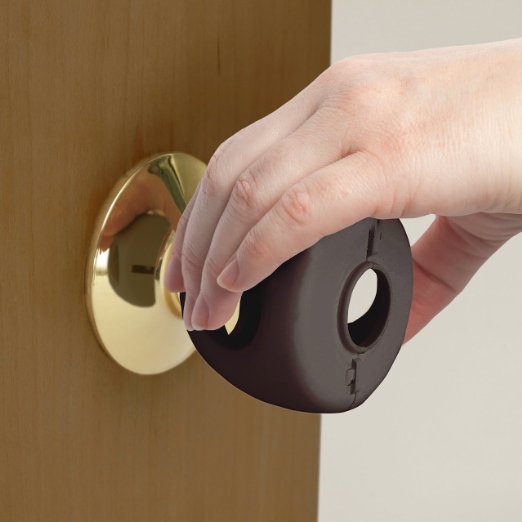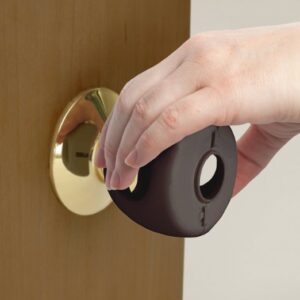 These Summer doorknob covers come in halves for easy installation and removal. Place the halves over the knob and then snap them together. The cover has holes on the side to allow adults with large hands to easily grip the actual knob and open the door.
It is difficult for small children with little fingers to access the actual knob surface and the cover will only spin loosely endlessly.
These covers come in a sleek design that blends well with most home decor. A pack comes with three knob covers with a brown shade. The covers are made of plastic material.
Customer Reports
Teresa Sines
These are awesome, they work, my 2-year-old now cannot open the doors I've put them on. Actually, my older children have a tough time as well as I do too. They definitely work, a little too well.
Marsha Matkowski
These work like a charm and fit every size door handle. My little boy is very strong, rough and tough and he has not yet ripped one of these off and he has tried numerous times. These are very strong and secure.
11. Safety 1st Clear Grip Door-Knob Covers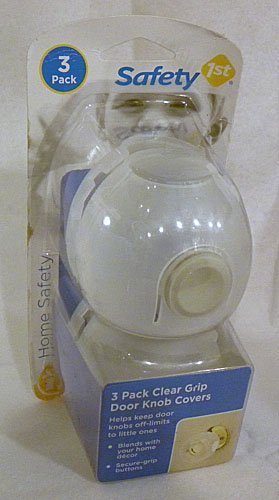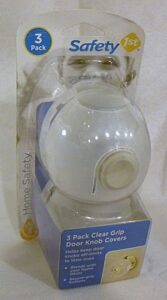 This is a pack of three clear doorknob covers with a strong latching mechanism. These covers have secure rubber grips that press into the clamp on the knob, allowing parents to have a solid grip when opening the door.
Once installed, they will keep your young ones from accessing unauthorized areas.
The clear design is unobtrusive and blends well with most house decor styles. These clear knobs will withstand use for a long period without disengaging.
The use of these safety covers is an efficient and simple way to keep your toddler out of certain rooms.
Customer Reports
Charlie
Heck yes! My two-year-old recently discovered how to open doors, my worst fear has come true. When toddlers are contained they are fine, but when we are sleeping and we can't account for them, then we have problems. Many people complained that this doesn't fit their door knobs which makes me wonder how huge some people's door knobs are? We have a standard round knob and this works perfectly and it's super cheap. The product works like a champ and we are more than satisfied.
Rosa LuMing
I ordered these for my bathroom doors as my 2.5-year-old is currently obsessed with the toilet and throwing things in it! They are easy enough as far as snapping on the door knob, BUT my toddler has discovered how to open the door with them on so while the idea of them was great, the end result is that she's smarter than I thought she was lol.
Features To Look Out For When Buying Door Knob Covers
Ease of Installation and Removal
Choose knobs that are easier to put together and to remove, without the use of any special tools.
Safety Design
Check whether the knob has a design that is safe for both the toddlers and the adults. The material should also be non-toxic and non-polluting.
Compatibility
Choose the right design that is compatible with the shape of your doorknob.
Functionality
The covers should be easier for adults to open and difficult for children to operate.
FAQ
How do you childproof a door knob?
What is the best child proof door knob cover?
How do you take off a door knob cover?
Images courtesy of Amazon