Long-range baby monitors are a necessity for every parent. They are great for use by busy mums and dads.
These safety products usually help parents to keep an eye on their loved ones even when they are not in the same room.
These types of monitors are best for those with large homes or those who like to be outdoors at some time during the day.
They also work best if your baby's nursery is much far from other rooms.
These safety gadgets usually allow you to move outside and do some work in your garden or relax while your little one takes a nap.
They usually provide safety for your kid and comfort for you as a parent since they do allow you to carry out your activities while watching your child from afar.
These baby monitors are much convenient and usually give parents or caretakers the peace of mind and assurance that the child is sleeping safely even when they are far away.
These products are cheap and available online. Here are some of the top-rated models available in the market.
1. VTech VM321 Audio and Video Monitor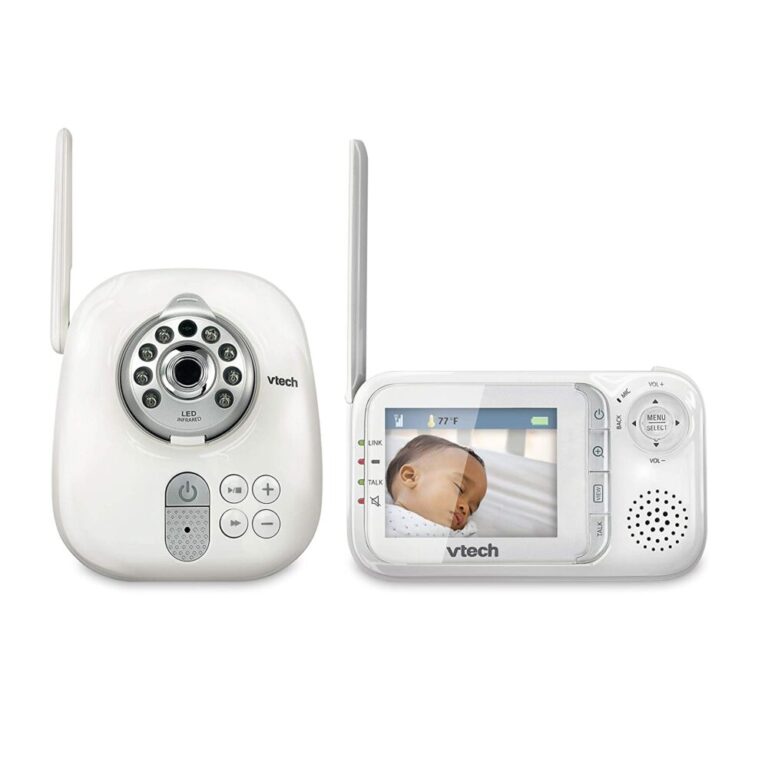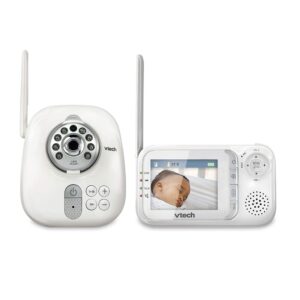 This video–audio monitor comes with an infrared night vision and is the best model for parents who would like to monitor more than one baby. The parent unit has a 2.8-inch high-resolution LCD large display and comes with a range of  1000 feet allowing you to view your loved one even when you are outdoors. It operates on a frequency band technology of 2.4 GHz to transmit both audio & video signals.
It comes with a parent and a camera unit. This parent unit is able to zoom in and out to view up to 4 cameras at one time.
The cameras can be mounted on the wall or positioned on an area where you can be able to tilt, rotate and zoom to capture the perfect view. The cameras usually come with 5 lullabies to help soothe the baby. You can buy additional cameras separately.
The talk-back feature allows you to talk to your child from the parental unit. It also features volume controls, an encrypted connection, a low-battery alert, high-quality audio, front speaker and an electronic temperature sensor.
This monitor is portable and you can be able to take it anywhere since it comes with a rechargeable battery, but for prolonged use, you need to keep it plugged into an outlet.
2. HelloBaby HB32 Monitor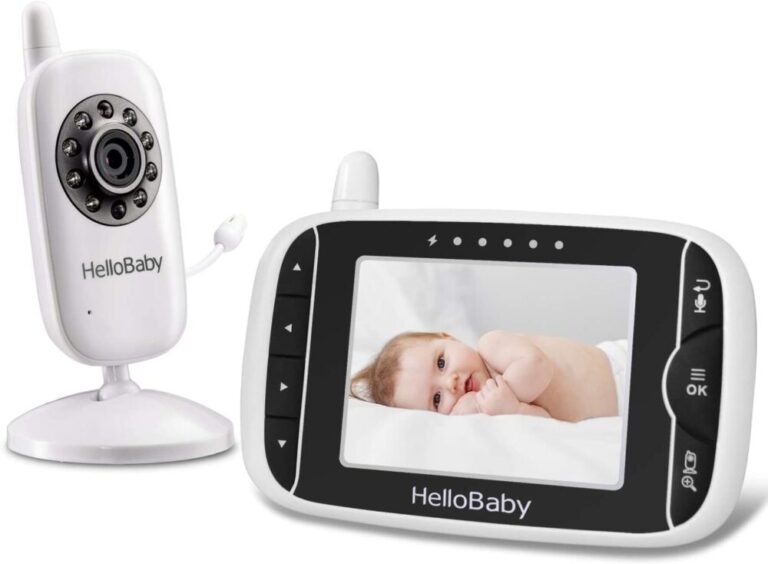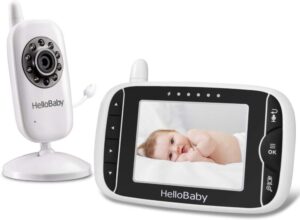 This HelloBaby HB32 Monitor covers a range of up to 960 feet. This Digital Wireless monitor uses 2.4 GHz wireless technology for secure and reliable transmission. It comprises a monitor and one camera. It can further expand to a total of four cameras.
The monitor sports a 3.2-inch TFT LCD display. The night vision feature allows you to monitor your child even at night.
The unit is equipped with a highly sensitive microphone. The 2-way audio allows you to effectively communicate with your child. The unit has power-saving mode and eight-level alarms. It comes equipped with 8 lullabies.
You can manually zoom, pan and tilt the camera. The temperature monitoring feature helps to keep your child in a safe environment since the unit usually alerts you when it is too hot or too cold especially at night. The monitor uses a rechargeable battery, while the camera has to be plugged into a power outlet.
3. Baby Audio Monitor with Temperature Sensor by Philips Avent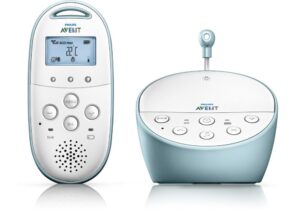 This Audio monitor provides clear, high-quality sound allowing you to hear your baby anytime. It covers a range of up to 900 meters.
It uses DECT technology that provides 100% privacy and does not get any interference from other products such as cell phones, other monitors, and cordless phones.
It comes with one unit for the parent, a monitor unit, out of range warning, volume controls, and low battery indicator. Its temperature sensor feature helps you to monitor any temperature changes in your baby's nursery.
It is easy to operate and the parent unit comes with a long cord about 18 inches that allow you to carry the unit and move freely around the house.
It has a built-in warm glowing night light and also comes with five different lullabies to help calm and soothe your child to sleep. It has a talkback feature that helps you to communicate with your baby no matter where you are in the house.
4. VTech DM221 Digital Audio Monitor



This is a digital audio monitor that comes with a parent unit and an audio monitor unit. The parent unit is able to cover a range of up to 1,000 feet. The audio monitor uses digital DECT 6.0 technology to provide clear audio transmission and an encrypted connection.
The lightweight parent unit features a backlit display that is easy to read and view, even at night. This unit comes with a fitted belt clip to allow you to move easily around the house.
The parent unit has a vibrating alert signal and LED lights to monitor noise in your kid's room. It is also battery-operated for up to eighteen hours.
The included talk-back option allows you to communicate with your baby through the parent unit from wherever you are in your home.
5. Babysense Baby Monitor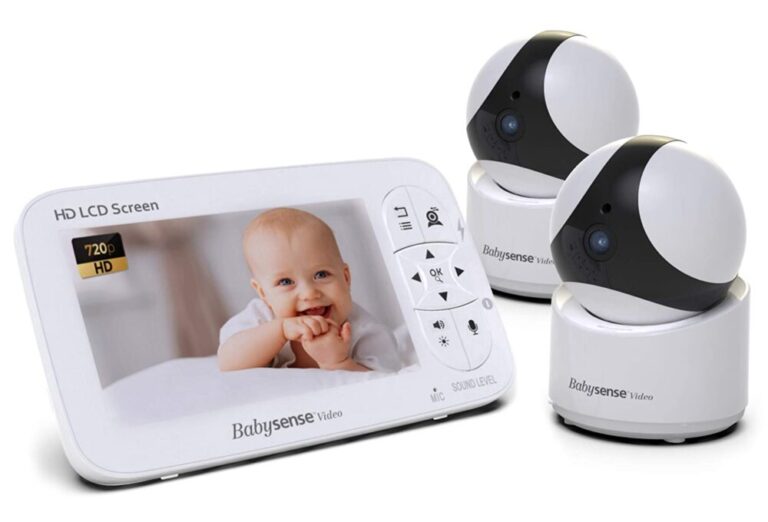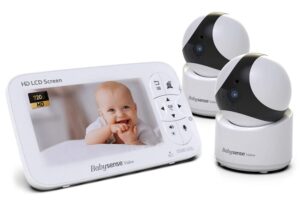 This Babysense Baby Monitor has an audio and video function. It features 2.4 GHz wireless technology for secure transmission. It covers a range of up to 1000 feet. The parent monitor has a 5-inch screen. The two-way talk feature helps in soothing the baby. The camera comes with built-in LED lights for the night vision function.
This model comes with 2 LCD  cameras which can be further expanded up to four cameras. The monitor is battery-powered while the camera unit has to be plugged in all the time. The temperature sensor helps to monitor the environment of the baby.
The unit comes with eight lullabies. The Zoom feature allows you to remotely move the camera up, down and sideways. It is easy to use and install. It is ideal for day and night time use. The parent unit is lightweight, compact and small in size.
6. Samsung SEW-3043W BrightView Monitor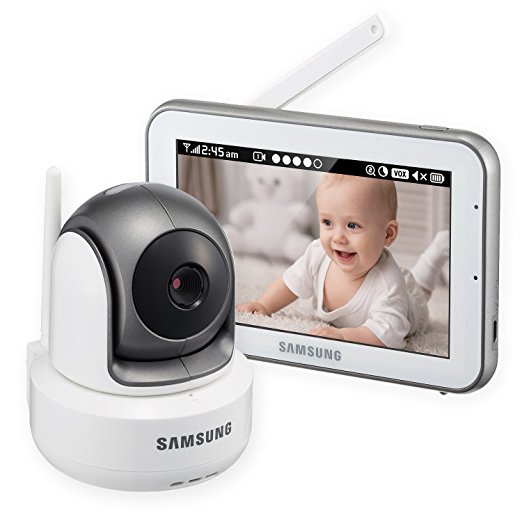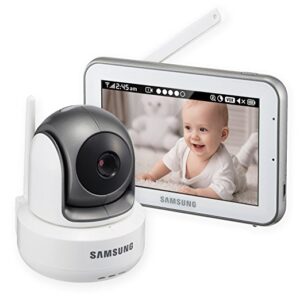 This Samsung SEW-3043W is a video monitor with a range of up to 900 feet. This unit has a 720p high definition camera and a parent unit with an in-built microphone and high definition Audio.
This monitor is able to support up to four cameras. It comes with pre-installed lullabies. The LCD touch screen display is 5-inch in size. The display is large and clear for easier viewing.
This unit has a voice-activated mode that alerts you when the baby is awake or crying. The 2-way talk feature allows you to communicate with your child. You can remotely control your camera to zoom, pan, or tilt.
This monitor is powered by a rechargeable battery. The unit has night vision mode up to 16 feet. In addition, there is a feeding timer feature.
7. Graco Digital Baby Monitor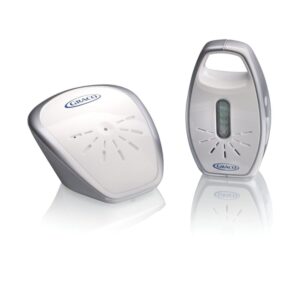 This long-range audio monitor covers a wider area of up to 2000 feet.
It features one parental unit, an audio monitor unit, and a rechargeable battery.
The monitor operates on a frequency band of 900 MHz to deliver clear, good quality sound. It functions well even through multiple walls.
It comes with flexible sound and vibration settings. The vibration feature vibrates when your child cries so that the vibes can wake you up, in case you are a sound sleeper. It also lights up when sound is made.
The unit for the parent has a low battery alarm alert and comes fitted with a belt clip to allow you to carry the unit easily around the house. It is a small, lightweight and portable unit. It is also easy to operate. The batteries are user-replaceable. The unit is cheaply priced, sturdy and has a sleek design.
Whether you have an audio model or a video model monitor, you will always be assured that if your baby makes some movements in the nursery, then you will be in a position to hear and make a response instantly no matter where you are in or out of the house.
Images courtesy of Amazon