These baby gates for extra wide doorways are designed to help keep the young ones safe, without accessing areas that may not be friendly to them.
These safety products usually help in making life less hectic for busier parents.
They are designed differently and are made of either metal, wood or plastic material. In order for them to have a secure and stable fit, they have to be hardware mounted by attaching them to the wall.
Most of them have expandable designs that are able to fit in a wide range of width measurements. Some of these safety barriers come with extension kits for added adaptability.
One of the things to take into consideration when choosing a gate for any wider doorway is the width of the area and the ideal design for that particular area.
For instance, if you intend to install it in an area where you often entertain guests and there is a lot of traffic passing through at certain times, you would want to consider installing a gate that is easier to remove or one that opens completely from any side.
Here are some of the top-rated designs available online.
1. Supergate Deluxe Metallic Gate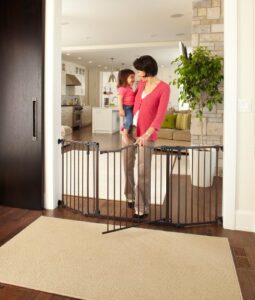 This Supergate Deluxe gate features heavy-duty, powder-coated metallic construction. It is designed to fit areas measuring 38.3 inches to 71 inches in width. It is 30 inches in height and has a superb finish. It comes in dark brown and linen color.
The space between one metal spindle to another is about 2 inches. Its hinged design allows it to fit a wide variety of entryway shapes and sizes. You can be able to install it even at an angle.
It has to be screwed in the wall at the top and bottom end pieces on both sides. It comes with screws included. It has a walkthrough panel that swings open. This walk-through gate has a stay-open design and a double-locking child-proof latch system.
The walk-thru opening is about 27 inches wide. The latch is easier for adults to operate with one hand by just pressing down the button as you lift and open the door. In the case of high traffic, you can disconnect on one side and swing the whole of it against the wall. It can also be used as a free-standing playpen.
2. North States Swing-Gate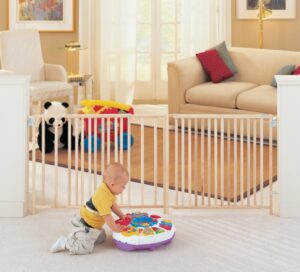 This North States swing-gate features a stylish wooden design. It is designed for doorways measuring 28 to 103 inches in width. It is 27 inches in height. Once installed, there is usually an open space of about 1.5 inches from its bottom to the floor. The vertical bars are about 2.75 inches apart.
It is hardware mounted and you have to drill small holes into the wall in order to attach it. It comes with 4-point secure mounting steel hardware. It is easy to uninstall when not in use. It is made in the USA.
It comes with childproof latches and opens at both ends. The whole gate swings open from the side when you unlatch it on either side. It is ideal for high traffic areas.
3. Summer Infant Expansion-Gate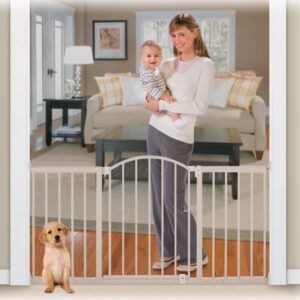 This Summer Infant expansion-gate is hardware mounted and has to be screwed and attached to the wall. It is designed for openings measuring 44 inches to 72 inches in width. Its height measurement is 30 inches. It is designed to be fixed on parallel walls and not on angled openings. It is well made and is constructed with a sturdy metal material.
It has a center walk-through opening that is easy to operate with one hand. This walkway is about 19 inches wide and it swings open in either direction to allow easy access. The slats/bars are 2.75 inches apart.
Once installed, it is very simple to detach if need be. It has an off-white neutral finish. It comes with mounting hardware.
4. North States Supergate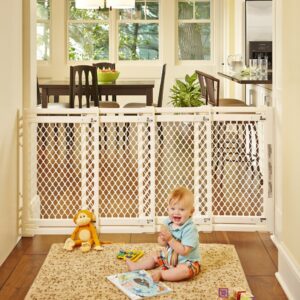 This North States supergate is constructed with durable non-toxic plastic. It is designed to swing open either when fully extended or when telescoped back. It blocks spaces that are 22 to 62 inches wide.
It is a hardware mount design and the required mounting brackets, screws and others are usually included with the purchase. It has to be attached to both sides.
It has a neutral ivory color and features easy one-hand operation. When not in use, simply retract the panels and swing it out of the way. It is 31 inches tall. It is ideal for high traffic entryways. It is manufactured in the USA. It comes preassembled and is simple to install.
5. Regalo Configurable Gate For Angled Doorways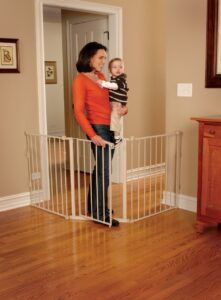 This Regalo configurable design fits wide openings up to 76 inches. It features sturdy steel construction. It measures 31 inches in height. It is secured by screwing it into the wall. It has a great almond color. The space between the vertical slats is about 2-5/8 inches.
It is ideal for both angled and straight doors or stairways. It has a walkway opening with a safety locking feature. This walkway is easy to open with one hand and measures 24 inches wide. It is certified by JPMA. (Juvenile Products Manufacturers Association.)
Always ensure that your child is supervised at all times.
Images courtesy of Amazon