Child baby gates for large openings are ideal for odd-shaped and irregular large areas especially where mounting points are not directly lined up across each other.
They can also be fixed on areas with parallel straight walls, especially when separating rooms or from one corner to another.
They can be used as an extra-large barrier, especially at the bottom of the staircase and large door or hall openings. They can be used in both indoor and outdoor environments.
These safety barriers usually help to keep children away from dangerous areas such as wood stoves, pools, spas, and even the fireplace.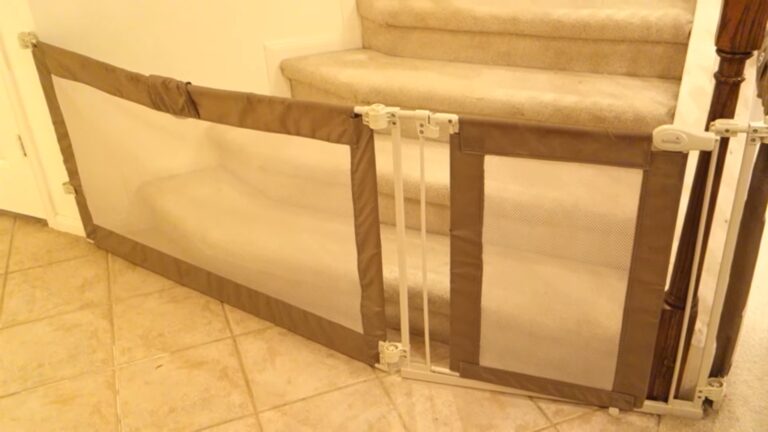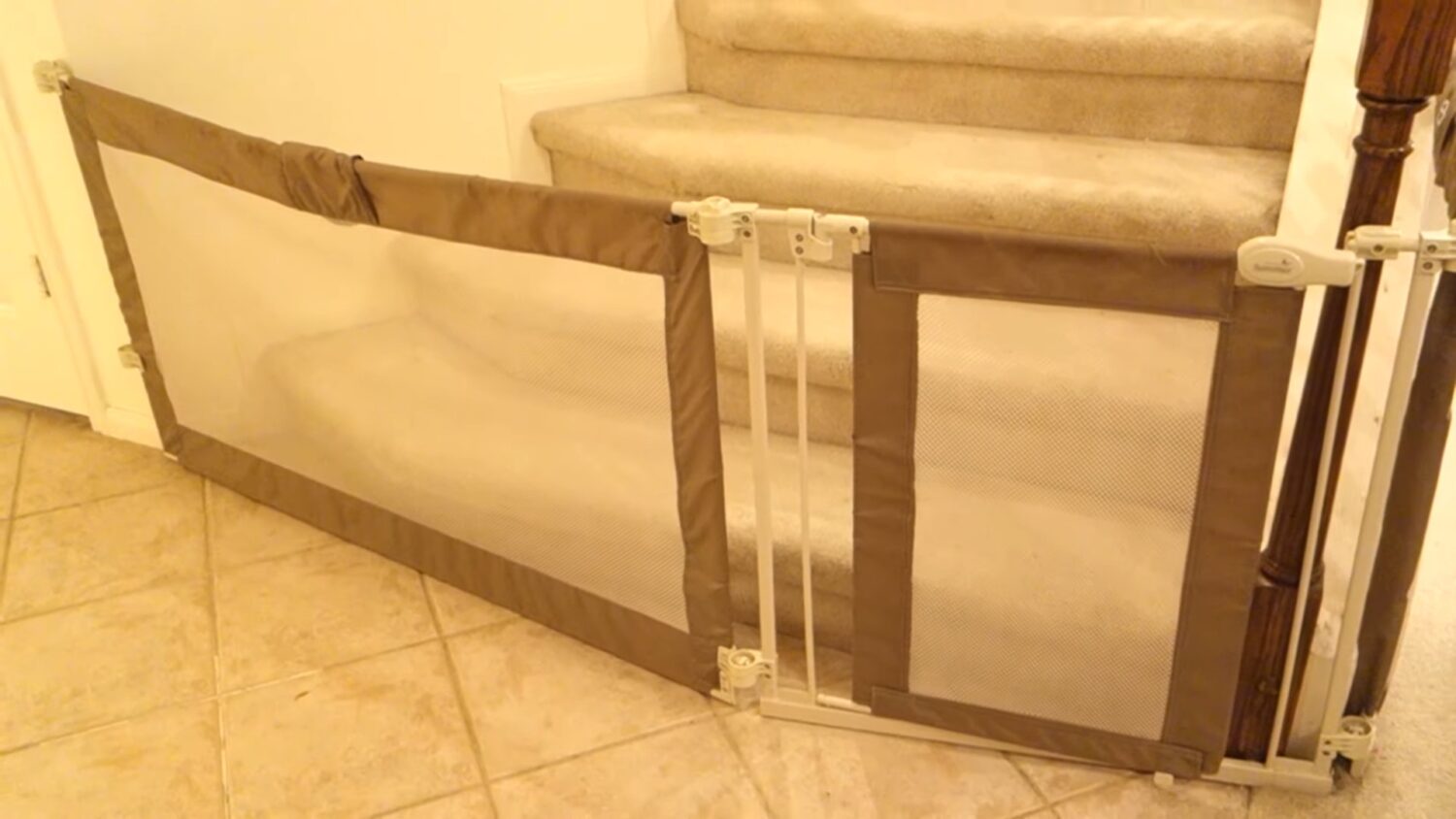 These gates are constructed with wood, mesh fabric, or steel material. They feature adjustable and flexible designs that allow the parent to be able to position them in just the right shape for whichever space. Most of them come with detachable panels that can also create a safe enclosure for your child to play in.
No matter the size of your opening, you will be able to find the ideal gate to keep your kid safe and secure.
Here are some of the top-rated available at Amazon.com:
1. North States Industries Superyard 3 In 1 Arched Decor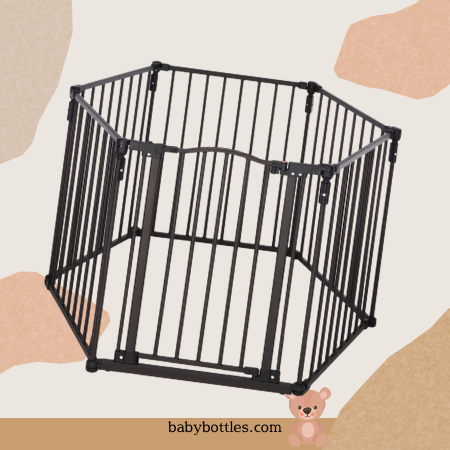 This 3 In 1 gate can be used as a fireplace screen, an extra-wide gate or as a play yard. It comprises six detachable and adjustable panels which cover a width of 144 inches. If your area is larger than this, you can add extra panels.
Adding only two panels will increase the width by an extra 48 inches. Each of the panels is 24 inches wide. You can also remove some panels to make it shorter. One of the panels is designed as a walkway that has a self-closing door, a stay-open feature and a childproof, dual-locking system.
The panels stand at a height of 30 inches. The vertical bars are 2-1/4 inches apart. It features powder-coated, durable metal construction with a matte bronze finish. It is ideal for children aged 6 to 24 months.
It is versatile and easy to assemble. It is scratch-resistant. If you desire to use it as a barrier and not as a play yard, it has to be screwed on angled or straight walls. It comes with hardware for wall-mounting.
2. Summer Infant Walk-Thru Design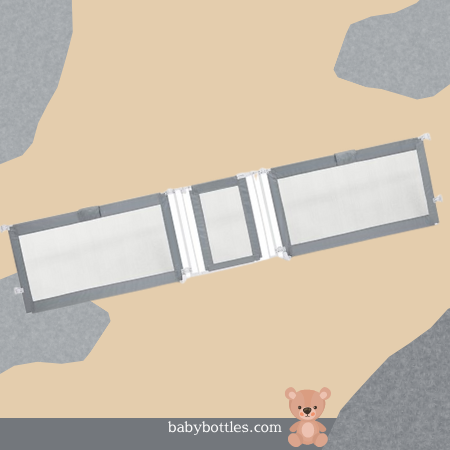 This Summer Infant gate is designed to fit openings from 70 inches up to 141 inches wide and has a height of 32 inches. It is ideal as a large room divider or as a barrier on an extended opening.
It is made of durable, soft fabric mesh. It fits nonparallel walls very well and you can stretch it out or shrink it down in order to fit in any area.
It has a walk-through door that is self-locking and swings open on both directions. It has to be fixed on the wall and it comes with mounting hardware included with the purchase. It is easy to clean, adjustable and easy for adults to operate. It is lightweight and very portable.
3. Regalo White Gate And Play Yard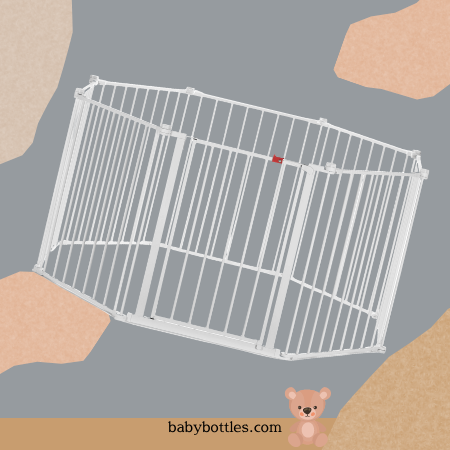 This white Regalo gate features sturdy, PVC-free, all-steel construction. It consists of 8 panels that cover a width of 192 inches. It measures 28 inches high. Each panel measures 24 inches wide. These panels are configurable and removable. The bars are 2.5 inches apart.
It has a walk-through opening with a safe childproof locking feature. It can be used as a barrier for the stairway and extra-wide openings, as a fireplace guard and as a play yard. It is easy to install and comes with mounting hardware. It is easy to fold for compact storage and portability when not in use.
4. KidCo Black AutoClose HearthGate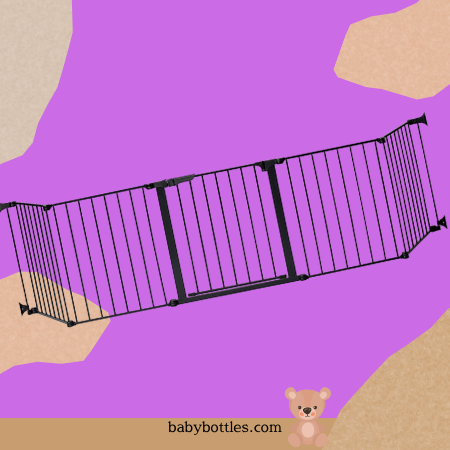 This autoclose hearth gate is constructed with sturdy, heavy-duty, heat-resistant steel with a non-toxic attractive finish. It is 31 inches in height and 132 inches wide. This gate has four fence type panels and each of them measures 24 inches wide.
Another larger panel measuring 30 inches wide has a walk-thru door that has a width of 23 inches. These panels are easily adjustable and you can rearrange, remove or add in order to get your desired shape and size.
The pass-thru door has an automatic closing latch with a magnetic lock that automatically locks the door. It also has a stay-open design which normally suspends the automatic lock to allow traffic to pass easily.
It installs easily on angled and straight areas. It comes with adjustable wall mount hardware. It can be used as a fireplace screen or as a room divider. Additional panels can be bought separately.
5. 3-in-1 Wood Superyard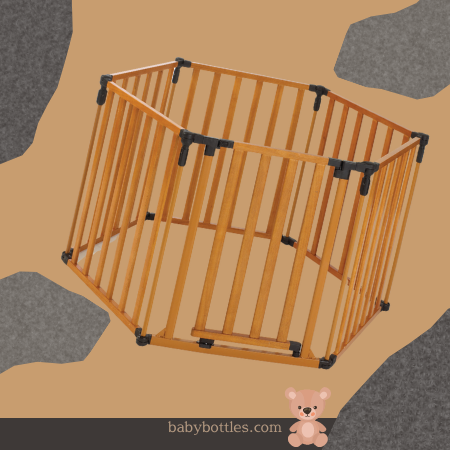 This 3-in-1 Superyard can be used as a baby gate, as a fireplace barrier and as a play-yard. It has six panels that cover an area of 151-inches wide. The panels are adjustable and removable. You can either remove panels to make it smaller or add more panels to make it bigger. Extra panels are bought separately.
This Superyard is made of heavy-duty, quality wooden material. It features a 16-inch wide walk-through easy-access door and one-hand operated latch. It measures 30-inches in height and the distance between the vertical bars is 2.5-inches.
It is fitted with rubber pads at the bottom to protect the floor from scratches. When used as a fireplace barrier, it is advisable to mount it at least 2 feet away from the fireplace or the wood-burning stove. It can be used in a freestanding style when used as a playpen.
It can also be hardware mounted on angled walls. Wall mounting hardware is included.
6. Swing-Gate by the North States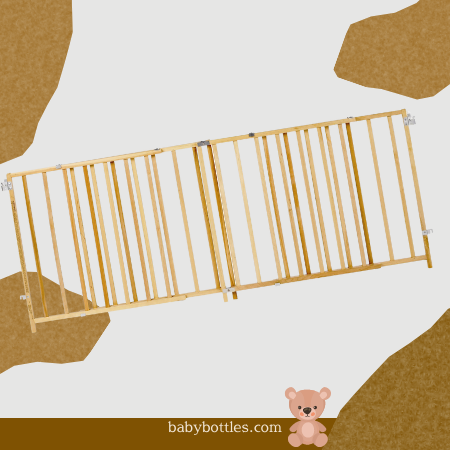 This Swing-gate is extra wide and fits openings from 60-inches to 103-inches wide. This swing-gate is ideal for wide straight openings. It is made of natural non-toxic wood and measures 27 inches high. The space between the bars is 2.5-inches. It is designed to swing fully open on both directions.
It is hardware mounted and connects to the walls with two eye hooks on each side. It is made in the USA. It comes with a Childproof latch for one-hand operation. The installation is easy. It slides together for storage when not in use.
7. Auto Close Configure Gate




This self-closing gate features sturdy steel construction. This gate has 3 panels. Each of the two panels has a width of 24 inches and one larger panel measures 30 inches wide. The large panel has a wide walk-through opening measuring 23 inches.
This walk-thru opening has an automatic magnetic lock that allows the user to lock the door automatically and also has a hold-open button to help keep the door open as required.
This gate stands at 31 inches tall and covers an area with a width of up to 84 inches. If your opening is larger than this, you can purchase an additional 9-inch panel or a 24-inch panel to cover a larger area.
When used in wider areas such as fireplace areas or the staircase, it has to be mounted and screwed firmly into the wall. It comes in black and white colors. It has a non-toxic powder coat finish.
FAQ
Are pressure-mounted baby gates safe for top of stairs?
How do you gate off a large area?
Do stair gates come in different sizes?
What is the widest baby gate available?
Where should I place baby gates in my house?
At what age do you stop using baby gates?
Remember to keep your children attended at all times.
If these weren't enough, check out some other picks from Amazon also: